A Christmas angel saves a life
BUFFALO, NY, December 27, 2022—First reported by The Buffalo News, is a heartfelt story of a Christmas Eve rescue seen by over 18 million people on Twitter is nothing less than a miracle by an angel.
The posts by Kimberly LaRussa of "Sweet Buffalo" posted the amazing acts of Sha'Kyra Aughtry, who many are calling a Christmas angel, that saved the life of Joey White, 64, a man she heard screaming for help outside of her Buffalo home early Saturday morning during one of the worst blizzards in the city's history.
Her boyfriend Trent brought White inside their home to warm up. There, Aughtry and Trent notice White's hands encased in balls of ice, infected, and a shopping bad frozen to his arms.
White couldn't remember where he lived but did provide the number to his sister Yvonne who Aughtry called.
Because of the intensity of the blizzard, first responders were unable to respond to her emergency calls. Through a telehealth service, a doctor advised Aughtry that because of the extent of the frostbite, White needs medical attention immediately.
Aughtry took care of White by tending to his wounds, feeding him pancakes and Pepsi. She learned from White's sister, Yvonne, that he is developmentally disabled and has the mental capacity of an 11-year-old child.
Worried that White could die in her home, Aughtry went on Facebook Live for assistance. A group of men in a pickup truck arrived within an hour and carried White into their vehicle taking him to Erie County Medical Center.
Gofundme fundraisers were set up for White and Aughtry. Yvonne, White's sister, invited people to send get well cards to her brother at the hospital: Joe White in Room 1956, at ECMC, 462 Grider Street, Buffalo, NY 14215. Room 1956.
Twitter Posts of Sha'Kyra Aughtry saving Joey White
TRUE ANGEL IN BUFFALO 💯 A THREAD: A local woman received a call on Christmas Eve, "Hi, you don't know me but I have your brother." The woman's brother's name is Joey. He is 64 years old and mentally disabled. pic.twitter.com/iAVQTsf2xH

— Kimberly LaRussa (@KimberlyLaRussa) December 26, 2022
Her boyfriend Trent went outside to look and found Joey and carried him out of the snow bank and into their home. Joey was so frozen they had to cut his socks off, use a hairdryer to dry his pants that were frozen to his legs, and cut the straps of a Wegmans bag from his hands. pic.twitter.com/lfzClEKQPq

— Kimberly LaRussa (@KimberlyLaRussa) December 26, 2022
This is such a heartfelt story, it's almost unbelievable. Had it not been for Sha'Kyra, Joey would have died. The frostbite on Joey's hands looked like it was turning gangrene. Helpless, Sha'Kyra posted a plea on Facebook for emergency help. pic.twitter.com/jHLwwEDlK3

— Kimberly LaRussa (@KimberlyLaRussa) December 26, 2022
Sha'Kyra took the ride with Joey to the hospital so he would feel safe. "No one is going to hurt you honey," she said to him as they arrived and nurses took him into their care. Joey had fourth degree frostbite. He is currently in the burn unit at ECMC. pic.twitter.com/1aO2xpCKpt

— Kimberly LaRussa (@KimberlyLaRussa) December 26, 2022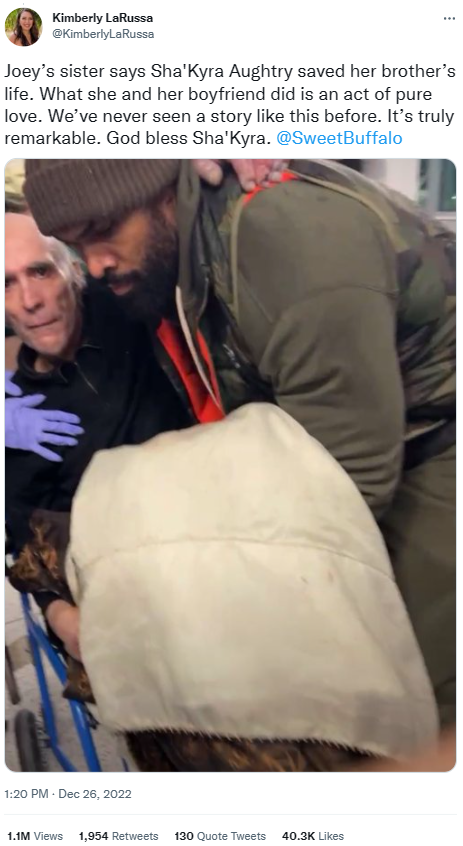 Sha'Kyra said Joey's sister says he is comfortable. Everyone is hoping for the best. ❤️

— Kimberly LaRussa (@KimberlyLaRussa) December 27, 2022
CARDS TO MAKE JOEY SMILE 💫

Joey's sister and the nurses at ECMC want to see Joey smile! Let's flood him with love and cards!!! He loves Bruce Lee, the Bills and the Sabres.

You can send a card to Joey to:

Joe White
ECMC
462 Grider Street
Buffalo, NY 14215
Room #1956 pic.twitter.com/nHKYONbUjp

— Kimberly LaRussa (@KimberlyLaRussa) December 27, 2022
Here are two valid GoFundMe pages to help bless Sha'kyra, and to help support Joe's recovery:

Sha'kyra: https://t.co/Q5RKZuTeyi

You can also drop off cards & Christmas presents for Joe at our box office.

He likes cookies, Bruce Lee, & the Bills ❤️ pic.twitter.com/sgqLscLjf8

— North Park Theatre (@NorthParkTheatr) December 27, 2022