Everett Councilwoman storms out of chamber after failed leadership attempt
EVERETT, Wash., January 5, 2023—Everett City Councilwoman Liz Vogeli packed her bag and abruptly left 30 minutes into yesterday's 84-minute Everett City Council meeting.
Approximately 14 minutes earlier both Councilwomen Paula Rhyne, District 2, and Brenda Stonecipher, Member-at-Large, were nominated for Council President / Mayor Pro Tempore for 2023. Councilwoman Stonecipher was nominated by councilmembers Ben Zarlingo and Judy Tuohy; whereas councilmember Mary Fosse nominated Councilwoman Rhyne which was seconded by Rhyne.
Vogeli raised her hand then asked to hear from both nominees prior to voting.
During her speech, Rhyne shared that working for King County Councilmembers Bob Ferguson and Rod Dembowski, and Snohomish County Councilwoman Megan Dunn has provided a "deep foundational understanding of how government can function and also how it cannot function."
She ran on a platform of transparency, open communication, and collaboration. She supports rotating council leadership. Rhyne was elected to the City Council on Nov. 2, 2021.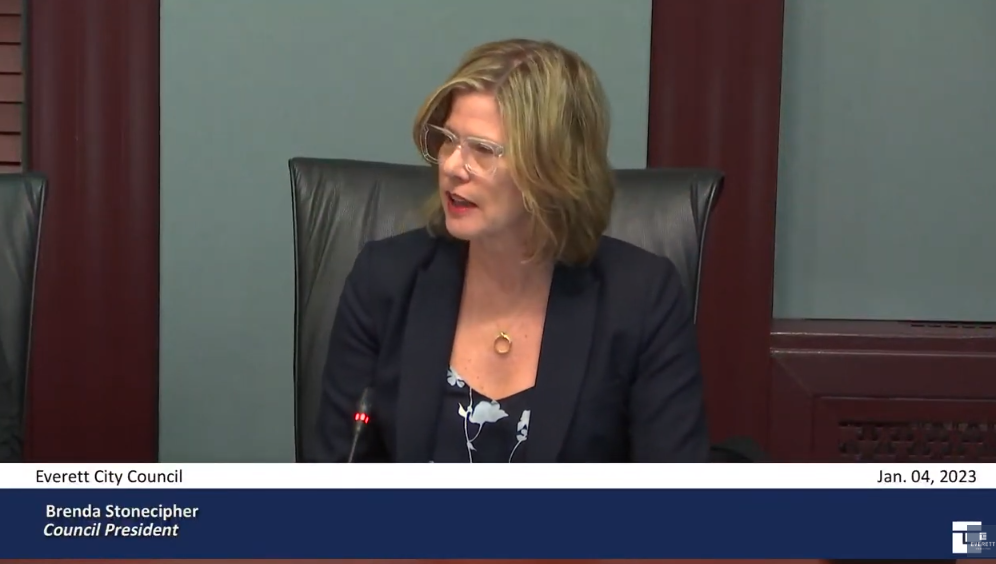 Stonecipher has been on the council for 19 years and will not be seeking re-election in May. During her speech she stressed the importance of continuity.
The final vote was 4-3 in favor of Councilwoman Stonecipher, with councilmembers Vogeli, Fosse, and Rhyne dissenting. This will be her second year to serve as the Everett Council President / Mayor Pro Tempore.
After a call for nominees by Council President Stonecipher, councilwoman Vogeli, unaware of procedure abruptly asked, "Do we nominate for Vice President?"
Stonecipher nodded in the affirmative.
Vogeli then replied, "Ok, I nominate myself."
After no councilmember seconded her self-nomination for Vice President of the council, Vogeli smiled and said, "I take it [her nomination] back."
At this point, Vogeli began staring towards the end of the council chamber.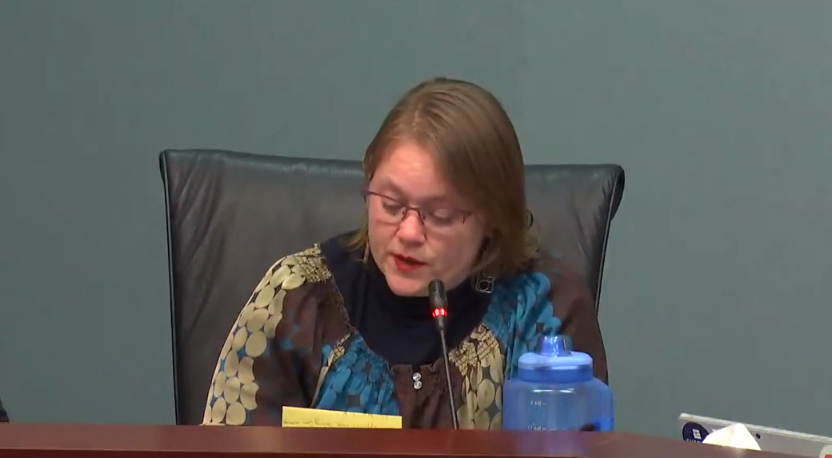 Councilman Don Schwab proceeded to nominate Councilwoman Tuohy which was seconded by Councilman Zarlingo. Councilwoman Vogeli shook her head from right to left, leaned back into the chair and then stared toward the ceiling.
Councilwoman Fosse then nominated Rhyne for Vice President who seconded her own nomination.
Tuohy thanked Schwab for the nomination then shared her vision to complete legacy goals from the previous year. Rhyne thanked Fosse and reminded other councilmembers of the importance to cross train and learn from senior councilmembers.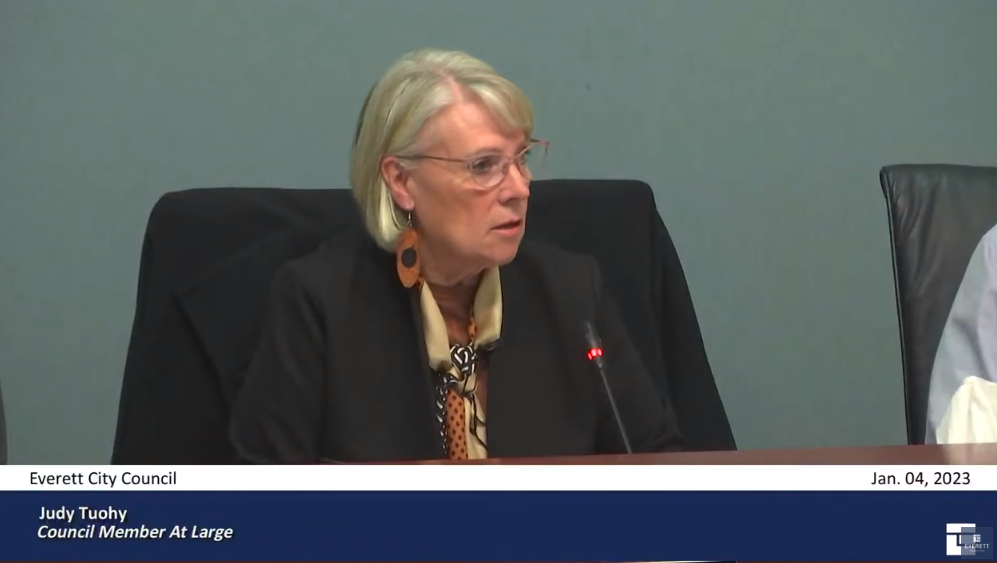 Prior to the vote, Vogeli proceeded to challenge Council President Stonecipher's and Tuohy's tenures in their leadership positions.
"I heard Council President Stonecipher this would be your second year in a row…but it is your third as President," Vogeli said. "In 2021 and 2022, Judy Tuohy, was 2020, Bader was 2019, Roberts was 2018, Tuohy was 2017, Murphy was 2016, Bader was 2015, More was 2014, More again in 2013, Gibson in 2012, Holter in 2011, Roberts in 2010, and Hatlow in 2009. So, 2023 would be the third year."
Vogeli then looked over to Stonecipher, smiled and said, "So that would be pretty awesome. Congratulations."
Stonecipher corrected Vogeli by saying, "I believe your record is incorrect. Judy Tuohy served two years in a row."
"Interesting…I apologize," Vogeli replied.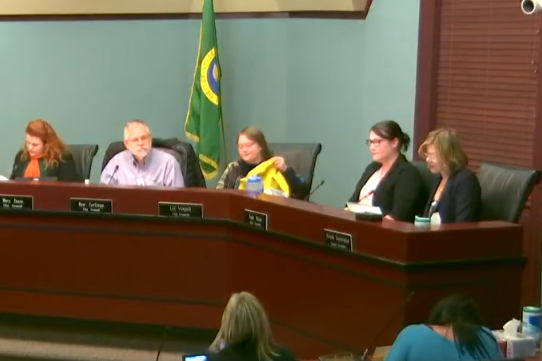 Vogeli then turned to Tuohy and said, "Isn't that interesting having Tuohy…again?" Then sarcastically continued, "We're gonna get a lot of stuff done. Congratulations, everybody. I know we haven't voted yet."
The final vote was 4-3 in favor of Councilwoman Tuohy, with councilmembers Vogeli, Fosse, and Rhyne dissenting. This would be councilwoman's Stonecipher's third year as president, and councilwoman's Tuohy's second year as vice present of the council.
Immediately following the vote, Councilwoman Vogeli picked up her yellow bag off the floor and began placing her contents into it. She then walked out of the meeting as Tom Hingson, Everett Transit Director began to address the council.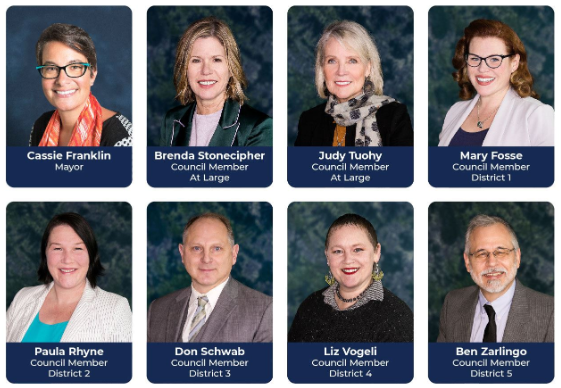 ---
ARTICLE UPDATES: [3:38 p.m., January 6, 2022] Clarified the leadership tenures of Everett Councilwomen Stonecipher's and Tuohy's, "This would be councilwoman's Stonecipher's third year as president, and councilwoman's Tuohy's second year as vice present of the council."