Edmonds School District announces forum for superintendent finalists
LYNNWOOD, Wash., February 4, 2023—After interviewing candidates to become the next Edmonds School District Superintendent, the Board of Directors has narrowed the search to two finalists. The finalists (in alphabetical order) are: 
Dr. Rebecca Miner, the Interim Superintendent for the Edmonds School District (left photo)
Dr. Concepcion Pedroza, the Associate Superintendent for Seattle Public Schools (right photo)
"We are very pleased with the highly qualified candidates moving forward in our superintendent search," said School Board President Dr. Nancy Katims. "We look forward to next week's community forum where our students, families, staff and community members can learn more about them and how they can make a positive impact in our district."
Community forum with superintendent finalists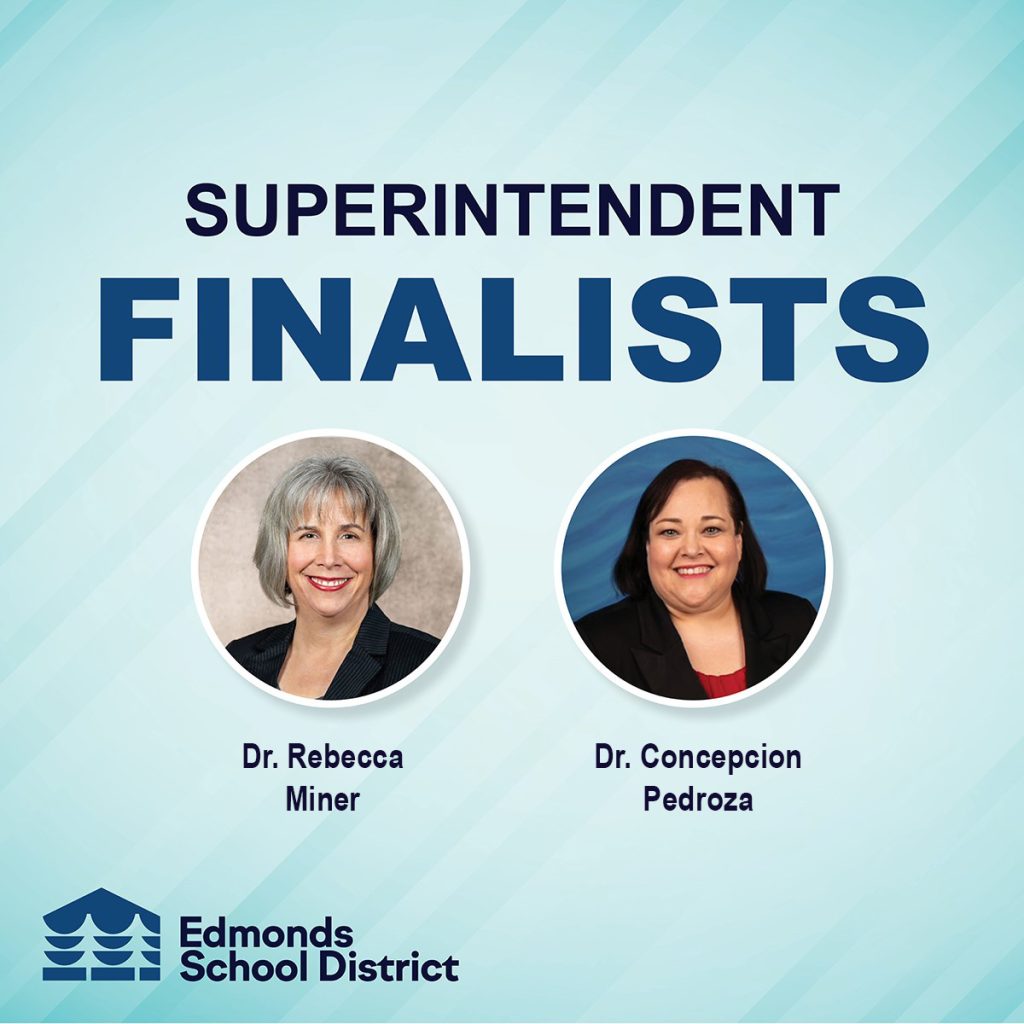 The Board of Directors invites students, families, staff and community members to attend a community forum where candidates will introduce themselves and answer questions from the audience.
When: 6:30 to 8:30 p.m., Tuesday, Feb. 7, 2023
Location: Mountlake Terrace High School, 21801 44th Ave W, Mountlake Terrace, Wa 98043
Watch the live stream: We will have a link on our website and our social media that will take you to a live stream of the community forum
Those who attend the event in-person will be asked to fill out a paper feedback form.
About the finalists (listed in alphabetical order):
Dr. Rebecca Miner
Currently serving as the Interim Superintendent for the Edmonds School District, Dr. Miner's prior roles include seven years as Superintendent in the Shoreline School District, and three years as Superintendent for the White Pass School District. She holds a doctorate in Educational Leadership from Washington State University, a master's from Willamette University and a Bachelor's of Arts from Lake Forest College, Illinois. Dr. Miner has served as a public educator for thirty years in roles that include classroom teacher, associate principal, special services director, assistant superintendent, and superintendent.
Dr. Miner believes that effective school district leaders hold themselves to a high standard, show integrity and practice accountability for student-centered systems in which adults have opportunities for professional growth as they support their students and student growth. She is experienced in using data to work collaboratively with staff, students, and families toward making improvements for students.
Dr. Concepcion Pedroza
Dr. Pedroza is the Associate Superintendent for the Seattle Public Schools. She has served as an administrator in Seattle since 2010, as a principal and in leadership positions at the district office. Dr. Pedroza holds a doctorate in Educational Leadership and Policy Studies from the University of Washington.
Dr. Pedroza's career is grounded by a commitment to academic excellence and educational justice. In her current role and in her former role as the former Director of Leadership Development for Equity in Seattle, she demonstrated skill in designing, scaling, and systematizing initiatives and programs that resulted in positive student outcomes. She believes that district leaders should focus on supporting principals and teachers in the service of improving outcomes for students.
---
SOURCE: Edmonds School District press release