Snohomish County jail's IN2WORK program holds second graduation
SNOHOMISH COUNTY, Wash., February 16, 2023—The Snohomish County Jail's IN2WORK program held its second graduation ceremony on January 27 to congratulate the second class of inmate students on passing their exam and becoming certified.
In 2022, the Snohomish County Jail started a new program, IN2WORK, focused on reducing recidivism and preparing inmates for a successful post-incarceration journey to offer second chances to inmates. IN2WORK is a program sponsored by Aramark that allows inmates to enroll in a kitchen and food safety certification program.
The course is taught by the jail's on-site Aramark food team and individuals accepted into the program have the opportunity to complete all the necessary training and education requirements prior to their release.
Once students complete the kitchen and food safety course requirements, they take a final test and earn a ServSafe certificate from the National Restaurant Association.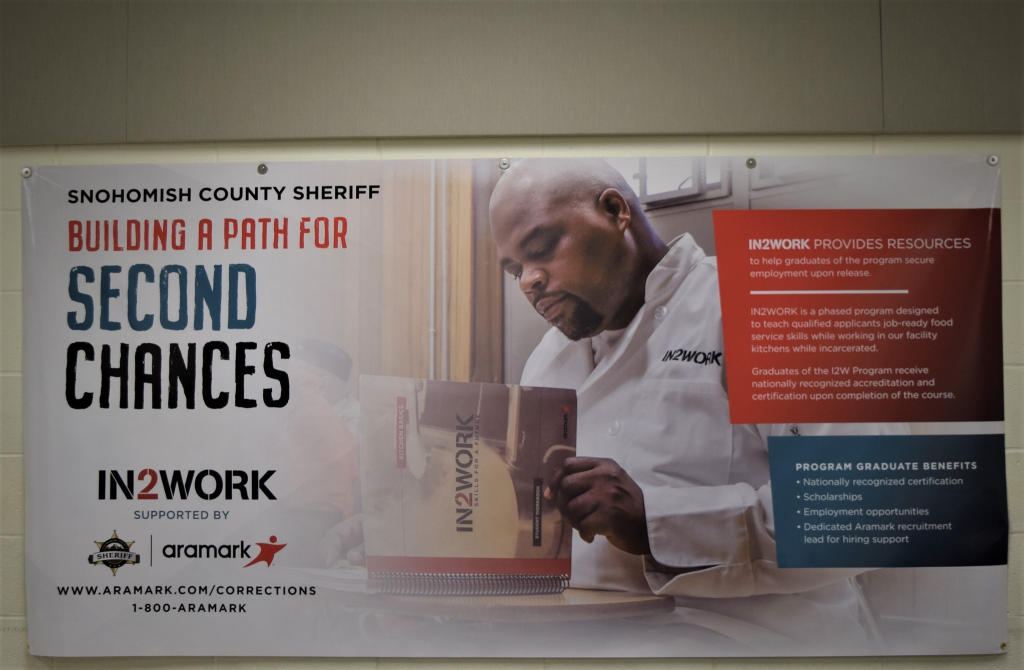 "We are very excited to participate in this groundbreaking inmate education program," said Sheriff Adam Fortney. "Aramark's training gives inmates an opportunity to learn new skills and provides them with the necessary tools to open new doors to a successful career post-release. We are hopeful that this program will lessen the likelihood of re-offending and give our inmates the ability to transition directly into the workforce. While some in our community may find themselves in our facility, I am committed to providing them a different path for their future if they choose to do so. I hope to see each of them very successful out in the community and never residing in our facility again."
"It has been an honor to work alongside our partners with Aramark as we launch this new program inside our jail," said Major Alonzo Downing. "It would not have been possible without our incredible kitchen managers and their commitment and dedication to serving our inmate population."
The Snohomish County Jail's first group of IN2WORK students completed their training and the ServSafe test at the end of July 2022.
Upon release, many of the individuals who receive their certificate through Aramark's program are later hired to work for the Aramark Corporation.
"You've done the hardest part and made the decision to invest in your future by graduating from the IN2WORK program. You should be proud to count yourself among a unique group of individuals that have made it to this point," said Aramark to graduates. "We are proud of you, and this journey is only beginning."