Alderwood Boys & Girls Club and Comcast partner to open new digital computer lab
LYNNWOOD, Washington, March 7, 2023 — Boys & Girls Clubs of Snohomish County (BGCSC) and Comcast opened a new Lift Zone Lab at the Alderwood Boys & Girls Club in Lynnwood on Tuesday, February 28. Comcast provided an $85,000 investment and state-of-the-art technology makeover for the lab to take full advantage of the free internet connectivity already offered by the company through its Lift Zone program. The technology equipment installed in the lab includes a 3D printer, 20 computers, webcams, TV displays to support group video lessons and more.
The contribution is part of a long partnership between the two organizations and will provide immersive tech and STEM-related activities for kids in Snohomish County. Lynnwood Mayor Christine Frizzell, Snohomish County Executive Dave Somers and Lynnwood City Councilmember George Hurst joined the Boys & Girls Clubs of Snohomish County, Comcast, and more than 50 local families at the unveiling ceremony yesterday at the Alderwood Boys & Girls Club.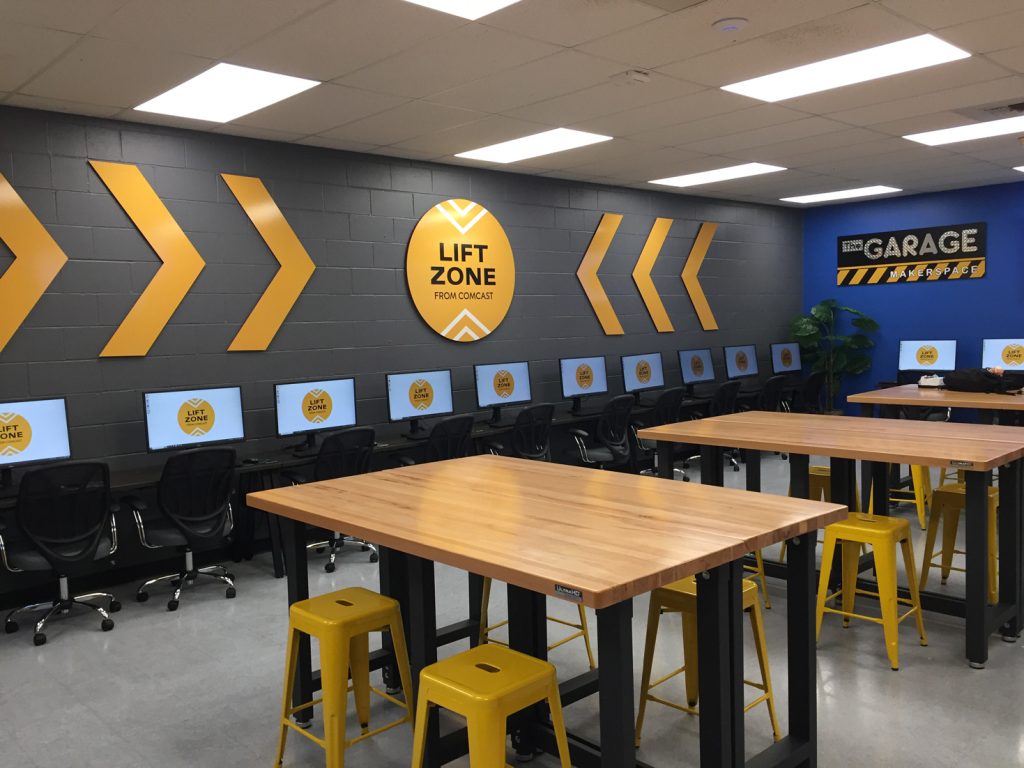 According to a K12 Report Card from the Washington Office of Superintendent of Public Instruction (OSPI), fewer students in Washington state schools have met English, Math, and Science standards since the pandemic. Further complicating this trend is that 20 percent of fourth-grade and 10 percent of eighth-grade students in Washington do not have access to the internet and a computer at home, according to a study from the National Center for Education Statistics.
"Lack of internet access in the home limits access to education, and our new Lift Zone Lab from Comcast can play a critical role in supporting kids to help them with their schoolwork and activities in reading, writing, math, and science," said Marci Volmer, COO – The Boys & Girls Clubs of Snohomish County. "This lab is part of a much larger effort with Comcast to connect students in the home through discounted service programs like Internet Essentials and outside the home with additional Lift Zones at our 12 clubs in Snohomish and Island Counties."
Lift Zones and Lift Zone Labs are a part of Comcast's ongoing commitment to help connect students and families in need to the internet so they can fully participate in educational opportunities and the digital economy. Since 2020, Comcast has collaborated with cities, community organizations, and local nonprofit partners to install Lift Zones with free WiFi service in nearly 100 community centers across Washington state.
"Connectivity in the home continues to be our top priority with Internet Essentials, and the number one solution for income-constrained households," said Boys & Girls Clubs of Snohomish County Board Member and Comcast Pacific Northwest Region VP of Finance and Business Operations Kevin Harrison. "But it is not the only answer. Comcast also plays an important role in connecting people to the internet outside the home, and our Lift Zones and Lift Zone Labs seek to address that need."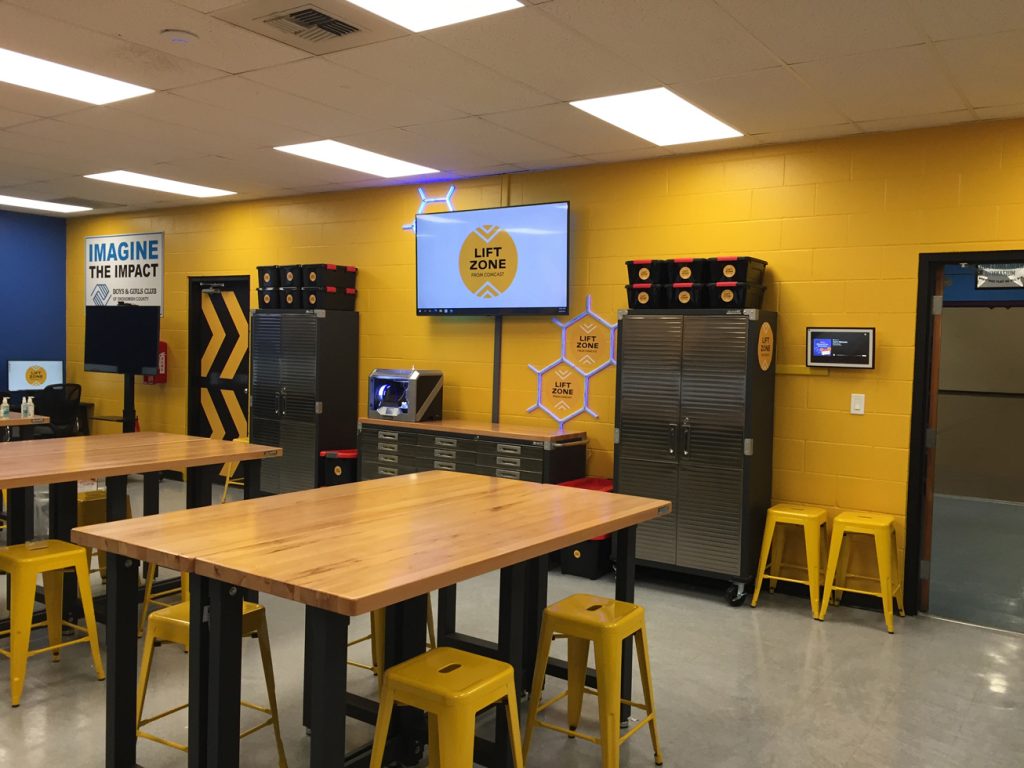 This effort is part of Project UP, Comcast's $1 billion commitment to reach tens of millions of people over the next 10 years with the tools, resources, and skills needed to succeed in a digital world. Project UP is Comcast's company-wide initiative to advance digital equity, which includes Internet Essentials, the nation's largest and most comprehensive broadband adoption program.
Since 2011, Internet Essentials has connected more than 140,000 households in Washington, including nearly 14,000 households in Snohomish County, to high-speed internet at home, many for the first time. Internet Essentials' comprehensive design addresses three significant barriers to broadband adoption, including access to free digital literacy training in print, online, and in-person; the option to purchase a heavily subsidized, low-cost internet-ready computer; and low-cost, high-speed internet service for $9.95 a month, plus tax.
For more information about Internet Essentials and Comcast's commitment to education and digital equity, please visit https://corporate.comcast.com/education. To apply, visit www.internetessentials.com or call 1-855-846-8376 for English or 1-855-765-6995 for Spanish. For more information about Comcast's comprehensive connectivity program for low-income Americans visit https://corporate.comcast.com/values/internet-essentials
Comcast is also proud to participate in the Affordable Connectivity Program (ACP), which provides eligible households a credit of up to $30/month towards internet and mobile services. For more information, visit https://www.xfinity.com/learn/internet-service/acp
About Boys and Girls Clubs of Snohomish County
The Boys & Girls Clubs of Snohomish County is a non-profit organization providing young people ages 5-18 with a safe and positive place to spend their time before and after school and during the summer. Clubs are strategically located in neighborhoods and are accessible to all kids. Since 1946, the Boys & Girls Clubs of Snohomish County has been helping young people, especially those who need us most, to reach their full potential as productive, caring, responsible citizens. To learn more, please visit our website: https://bgcsc.org/
About Comcast Corporation Comcast Corporation (Nasdaq: CMCSA) is a global media and technology company that connects people to moments that matter. We are principally focused on connectivity, aggregation, and streaming with 57 million customer relationships across the United States and Europe. We deliver broadband, wireless, and video through our Xfinity, Comcast Business, and Sky brands; create, distribute, and stream leading entertainment, sports, and news through Universal Filmed Entertainment Group, Universal Studio Group, Sky Studios, the NBC and Telemundo broadcast networks, multiple cable networks, Peacock, NBCUniversal News Group, NBC Sports, Sky News, and Sky Sports; and provide memorable experiences at Universal Parks and Resorts in the United States and Asia. Visit www.comcastcorporation.com for more information.
---
SOURCE: Alderwood Boys & Girls Club press release