Mukilteo citywide Curbside Cleanup scheduled for May 20
MUKILTEO, Wash., March 8, 2023—Mukilteo Mayor Joe Marine is pleased to announce that the City of Mukilteo will be hosting the annual citywide curbside cleanup event on Saturday, May 20th, 2023, in coordination with Waste Management. This event is open to regular residential customers with cart service or cart-based service (not commercial or multi-family residences) and takes place the weekend after the Mukilteo Garage Sale.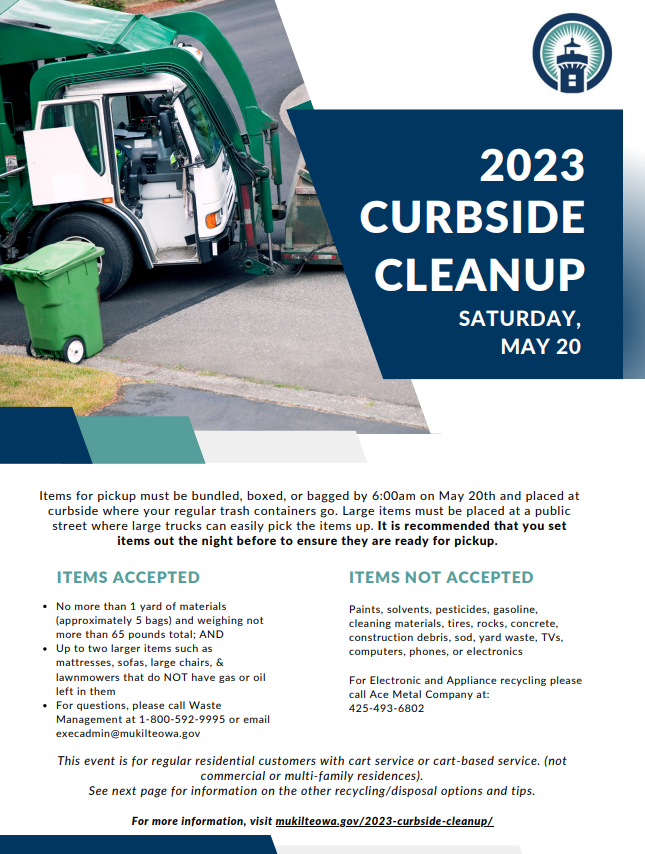 Items accepted for pickup include no more than 1 yard of materials (approximately 5 bags) and weighing not more than 65 pounds total, as well as up to two (2) larger items such as mattresses, sofas, large chairs, and lawnmowers that do not have gas or oil left in them. All items must be bundled, boxed, or bagged and placed at curbside where your regular trash containers go by 6:00am, Saturday morning on May 20th. Large items must also be placed at a public street where large trucks can easily pick them up. It is recommended that you set items out the night before to ensure they are ready for pickup.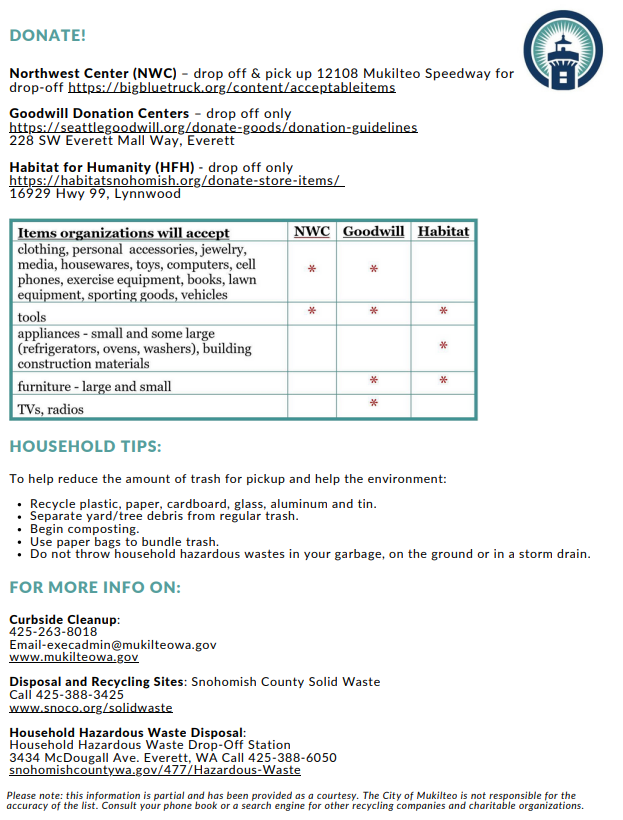 Unfortunately, there are some items that will not be accepted at the cleanup event. These include paints, solvents, pesticides, gasoline, cleaning materials, tires, rocks, concrete, construction debris, sod, yard waste, TVs, computers, phones, or electronics. Any such items left out for pickup will be left on the curbside.
"We hope you take advantage of this opportunity to do some spring cleaning and keep Mukilteo looking beautiful," says Mukilteo Mayor Joe Marine.
For more information, please visit City of Mukilteo | 2023 Curbside Cleanup – City of Mukilteo (mukilteowa.gov).