The Cowlitz Indian Tribe advances vision for Mount St. Helens with $900,000 donation
Amboy, Wash., March 12, 2023—The Mount St. Helens Institute (MSHI) is pleased to announce that it has received a $900,000 gift from the Cowlitz Tribal Foundation, one of the largest contributions the Tribe has ever made to a nonprofit organization. This investment plays a critical role in efforts to grow youth outdoor school, establish a campground, and improve nearby trails and recreation. It is also the first step in pursuing the Institute's bold, long-term vision to create the Mount St. Helens Lodge and Education Center, a major new regional destination with outdoor school and public overnight accommodations that will transform the National Volcanic Monument into more than just a day trip for students and other visitors alike. 
"Our long-standing partnership with Mount St. Helens Institute is extraordinary. MSHI's excellent work allows everyone to explore our region's beauty, teaches our children the importance of our environment, welcomes guests, and provides a space to foster relationships within the Cowlitz Indian Tribe's ancestral mountains. We are grateful for this opportunity; we strongly support MSHI's goals and initiatives and honor their good work!", said Timi Marie Russin, Tribal Foundation Manager for the Cowlitz Indian Tribe.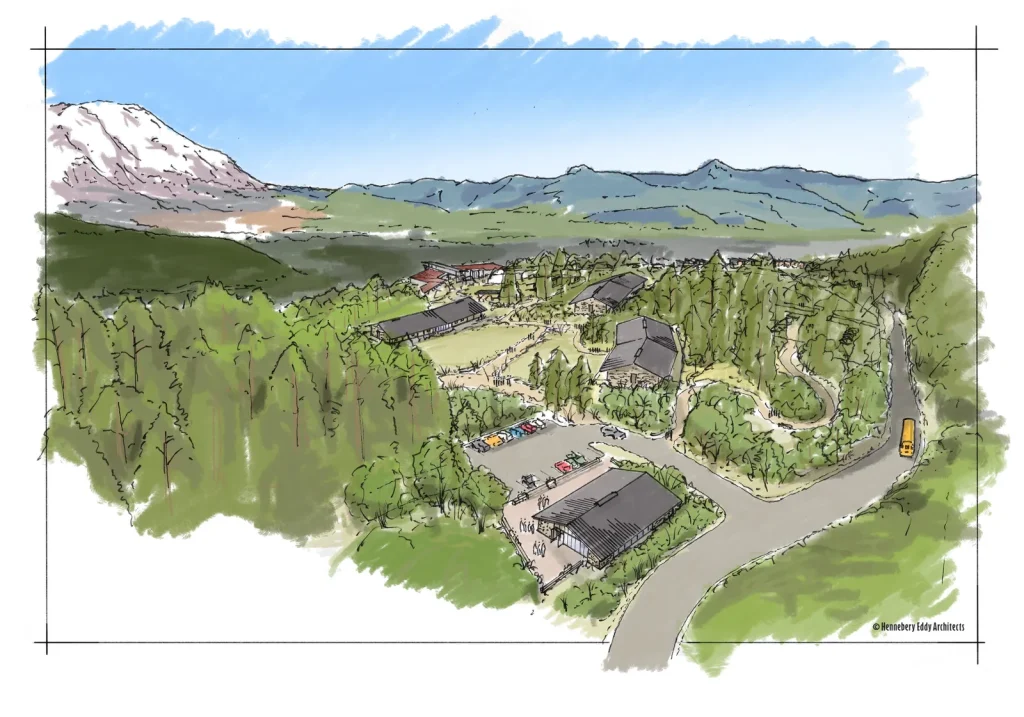 For over a decade, MSHI has worked closely with local leaders, the community, and partners to envision a destination that reflects the cultural and natural significance of the region. The new lodge and education center will create economic opportunities and provide a much-needed platform for visitors to learn about the cultural history, ecology, and geology of the area.
"Mount St. Helens is one of the most iconic landscapes and unique outdoor learning laboratories in the Pacific Northwest and thanks to the support of the Cowlitz Indian Tribe, more people will experience its wonder," said Ray Yurkewycz, Executive Director of the Mount St. Helens Institute. "We are humbled by this generous gift and honored to continue our long-held partnership with the Cowlitz Indian Tribe. Their investment at this scale illustrates the value we both place on deepening the human connection to these lands."
Adding new overnight accommodations for youth participating in MSHI's outdoor school program, developing the 40-site campground, and improving nearby trails is the first phase of the larger vision for transforming the Monument. Of the $900,000 from the Cowlitz Tribal Fund, $500,000 will directly support this initial phase of work and the other $400,000 of the Tribe's grant provides ongoing programmatic support for MSHI's youth education and volunteer stewardship work.
The Tribe's investment builds on the momentum of previous contributions in support of the early implementation of the lodge and education center including $300,000 from private individuals; $250,000 from the Washington State Recreation and Conservation Office; and $210,000 from the U.S. Endowment for Forestry & Communities, among other sources.
"We are thankful for these critical early investments," Yurkewycz said. "These leadership contributions demonstrate our community's enthusiasm for the vision and are indicative of support to come."
Once the first phase of construction is complete, future project phases will add overnight lodging, dining, a welcome center and new educational spaces. The total cost of this initial phase of the vision is $10 million and with these new investments, MSHI has now secured more than $2 million toward that goal.
Economic analysis shows that once these new amenities are added, the future renovated campus will generate $125 million in increased regional spending over 15 years, and create 80 or more local education, tourism and service sector jobs.
"The development of this new opportunity will be a significant draw for Washington's tourism industry, an economic and employment benefit for the Mount St. Helens region and local economies, and a major asset for visitors seeking outdoor access and cultural understanding," said David Blandford, CEO of State of Washington Tourism.
MSHI is seeking public funding from state and federal sources to complete the project, as well as continuing to garner community support. For more information about the vision for the lodge and education center or to contribute, please visit mshinstitute.org/about_us/MSHLEC/