Paine Field Master Plan opens to public before FAA approval
EVERETT, Wash., March 13, 2023—The latest Master Plan for Paine Field Airport that assesses and directs airport improvements for the next 20 years, has solidified its final draft and is open for public comment before the Snohomish County Council and FAA stamp off on its final approval.
As part of this community engagement, the public is invited to review the, approximately, 500-page document, leave comments and feedback, and attend an upcoming webinar Wednesday, March 15, for a crash course on what the plan entails. The document will be available for public review until April 3, 2023.
As of 2018, Paine Field (PAE) supports 158,227 jobs and has a total economic impact/business revenue of $59.9 billion annually. It has the highest economic impact of any airport in the state of Washington, its website states.
An Airport Master Plan is a long-range planning document that recommends a strategy for development of airport land and facilities. The plan's goal is to prepare the county's airport to support the needs of the future, the airport states.
The current Master Plan for Paine Field was adopted by Snohomish County Council December 4, 2002, and accepted by the FAA about a year later. With Seattle's Sea-Tac Airport expected to reach capacity in the next 20 years, projected growth in the county, and changes in aviation technology, the airport is long overdue to update its plan, officials say, with most airports updating their Master Plan typically every five to seven years.
Developing the latest Master Plan was a two-phase process that lasted two and a half years, with phase one – which deals with gathering information – beginning in 2020 and ending in Spring 2021. If all goes according to plan, its second phase – identifying a preferred alternative, gauging environmental impacts, and engaging in public discourse – will come to a close this year.
The Master Plan's final draft is separated into an introduction and eight individual chapters: Inventory, Forecast, Facilities Requirements, Alternatives, Development Plan, Airport Plans, and Environmental Overview.
The facility requirements laid out in the current Master Plan draft include expansion of deicing positions, expanding General Aviation (GA) facilities as the number of based aircrafts increase from 563 to 654, improving segments of 100th Street Southwest, and major changes to 100th Street Southwest and Airport Road. Airport Support facilities, including Administrative and Maintenance, are also exploring new facilities but the new sites should be sufficient through the planning period, the plan states.
These street projects consider the future Everett Link light rail extension, pedestrian, transit, and passenger vehicles in order to fold in multiple avenues of transportation.
The Master Plan for Paine Field Airport is set up to accommodate about 4 million passengers in the next 20 years, which nearly doubles passenger traffic since opening Propellor Airport's passenger terminal on March 4, 2019. The plan makes way for this expected increase with two potential expansions to the privately-owned passenger terminal, adding additional gates and parking spaces.
"We are staying within our existing boundaries," Kristin Banfield, Public Information Officer for Paine Field, told the Lynnwood Times. "We are not extending runways, or anything of that sort. What it really does is take a look at the land that we already have and [ask] what are the potential uses throughout 2040."
The airport has two parallel runways for arrivals and departures: Runway 16L/34R serves general aviation aircraft, while the 9,010-foot-long Runway 16R/34L accommodates large jet aircraft, up to and including the largest aircraft in the world.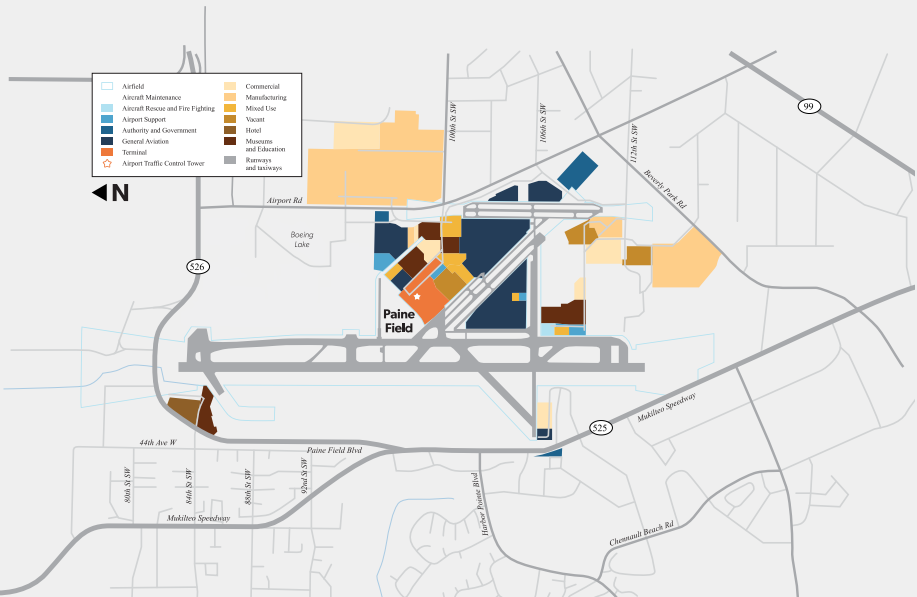 To make way for future technology, including electric planes, vertical take-off, and landing electrically powered aircraft and urban air mobility, the Master Plan is also considering potential land reservations to accommodate these emerging land uses.
"We have this new set of air travel that could be upon us," said Banfield. "[With] All of these potentials for new technology, we really need to be thoughtful on putting those in places where they might make sense."
Also included in this, is adding electric charge stations for electric vehicles in the parking lot as well as charging stations for electric aircrafts on the airfield.
In a separate chapter the Master Plan considers environmental impacts of the Paine Field expansion including noise, air quality, biological resources, wetlands, stormwater, floodplains and rivers, and natural resource and energy supply.
"It's a general overarching view of the environmental impacts at the project level, under the state Environmental Policy Act", Banfield explained adding that many of these findings, such as noise impact, will be covered at Paine Field's upcoming webinar – which she urged the public to attend.
Some of the projects set forth in the Master Plan could never come into fruition, being highly dependent on private developers to actualize. However, the plan prepares the airport to have the capacity to accommodate the needs of its airliners if need be, such as hangars for general aviation, and additional flights.

"A lot of it is dependent upon the private market but we need to make sure that we have that land and space available to make that happen," said Banfield.
One of those private markets is Boeing, one of Paine Field's largest tenants who has participated in the Master Planning process throughout, which plans to open a fourth 737 MAX line in Everett next year.
Paine Field is home to approximately 535 general aviation-based aircrafts. In 2019, there were approximately 710 total aircraft operations per day, over 90% of which are general aviation.
The airport will also be amending its Passenger Facility Charge of $4.50, which is used to fund FAA-approved projects that enhance safety, security, or capacity. It is not an additional charge but an amendment to the existing $4.50 Passenger Facility Charge which expires in 2024. By extending the charge until 2029, the charge will provide additional funding to support the Inter-Terminal Ramp Project, which starts construction this summer and is scheduled to complete this Fall.
The Master Plan will ultimately be approved by County Executive and the Snohomish County Council, and then submitted to the Federal Aviation Administration (FAA) for acceptance. The airport anticipates final approval by third quarter of this year.