Alleged Washington child rapist captured by bounty hunters in Arizona
TUCSON, Ariz., March 17, 2023—A man suspected of sexually assaulting a 13-year-old girl in Pierce County, Washington, was found in Tucson, Arizona, Friday, March 10, after he failed to appear in court.
The suspect, 58-year-old Michael Barber, was arrested and charged in 2021 for two counts of raping a child in the second degree, rape in the first degree, kidnapping in the first degree, and felony harassment. The incident happened at a park in Spanaway, near where the girl lives, authorities say.
Barber allegedly threatened to kill his victim if she told anyone, according to Tacoma/Pierce County Crime Stoppers.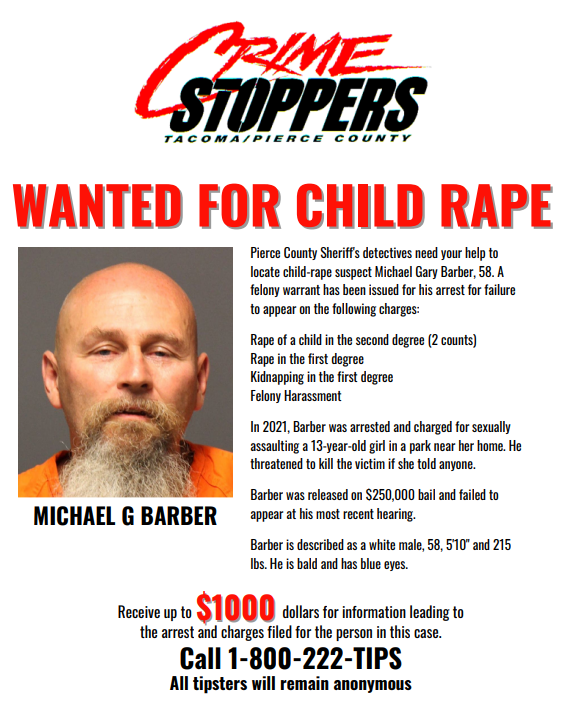 Court documents indicate Barber lived close to his suspected victim and was at her home earlier in the day looking for yard work. The assault reportedly took place later that day and the victim, and her mother, were able to properly identify Barber from surveillance footage.
When Barber was originally arrested in 2021, SWAT were called to his residence after he refused to come out of his home, resulting in a hours-long standoff, FOX News reported last week.
In 2021, Michael Barber was originally released on a $250,000 bail but failed to appear at his court hearing. He fled the state but was tracked down by a bounty hunter on behalf of the bail bonds company, Washington Fugitive Investigations, living in an RV in Tucson that had been provided to him by his wife.
Barber was transported back to Pierce County Jail, on March 10, where he is being held on bail set at $2,500,000.
---
Editor's Note: Featured photo courtesy of Crime Stoppers of Tacoma/Pierce County