Welcome USS Barry to your new home port, Everett!
EVERETT, Wash., March 17, 2023—The Arleigh Burke-class guided-missile destroyer USS Barry (DDG 52) arrived at its new port in Everett today following six years of service forward-deployed to U.S. 7th Fleet in the in the Indo-Pacific.
USS Barry (DDG 52) departed Yokosuka, Japan on February 17, 2023, to Everett where the ship will undergo routine maintenance and modernization, joining the U.S. 3rd Fleet. It is the Navy's oldest destroyer, commissioned in 1992 and is now led by Commanding Officer, Cmdr. Grant Bryan.
"Barry has maintained the sharp edge on the tip of the spear for over 30 years," said Bryan. "Commodore Barry set the bar high for our sailors to emulate, he was scrappy in a fight with unwavering dedication to country."
Bryan said, "The crew is proud to keep it shipshape and seaworthy. I could not be more proud of this crew for how well they have executed our forward deployed missions and I am thankful for the families who have supported their sailors during this move."
After arriving in Yokosuka in 2016, the USS Barry (DDG 52) participated in numerous multilateral maritime exercises such as MALABAR, Maritime Counter Special Operations Exercise (MCSOFEX), Bilateral Advanced Warfare Training (BAWT), working alongside Allies and partners from Japan, South Korea, India, Australia, New Zealand, Singapore, Great Britain, and the Philippines, to ensure a free and open Indo-Pacific, according to United States Navy.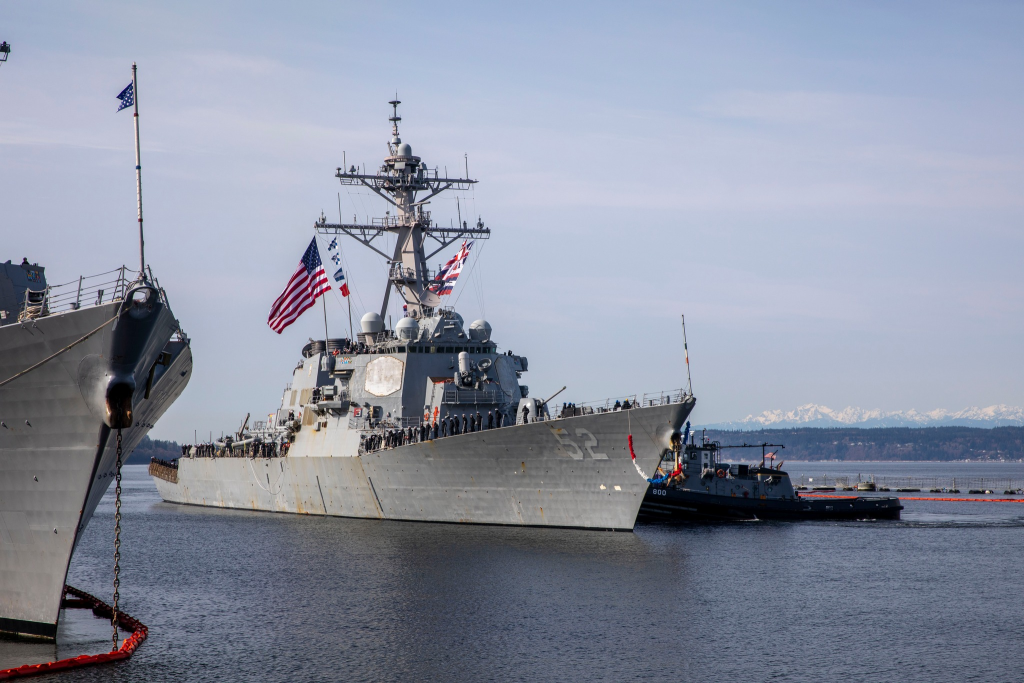 The USS Barry was the first ship to be awarded the Spokane Trophy and the Battenberg cup in 2020, the Battle Efficiency "Battle E", the Unit Tactics Award, and Bloodhound Anti-Submarine Warfare award in 2021.
The ship's arrival brings the total number of U.S. Navy ships homeported in Everett to eight that include the following:
USS Momsen (DDG 92)
USS Gridley (DDG 101)
USS Sampson (DDG 102)
USS Kidd (DDG 100)
USS John Paul Jones (DDG 53)
USS John S McCain (DDG 56)
USS McCampbell (DDG 85).
---
Editor's Note: Featured picture from Navylife Naval Station Everett Facebook post.