Women in Careers: A tribute to Snohomish County Public Utilities District
In honor of Women's History Month, the Lynnwood Times is highlighting women working in a few "blue-collar" fields traditionally associated with men; here is our second tribute: Snohomish County Public Utilities District.
Snohomish County PUD (SnoPD) is a municipal corporation of the state of Washington that provides electric and/or water utility service. Headquartered in Everett, SnoPUD serves approximately 367,000 customers making it the second largest publicly owned utility in the Pacific Northwest and the 12th largest in the nation. The Jackson Hydro Project, Woods Creek Hydro Project, Youngs Creek Hydro Project, Calligan Hydro Project, and Hancock Hydro Project generate 132 megawatts (MW) of electricity per year providing cheap and clean energy to Snohomish County.
Kim Smith, a Meterman with Snohomish County Public Utilities District
"The variety of tasks, plus mental and physical challenges make this the ideal career," Smith said. "All the trades are members of the I.B.E.W. and — whether male or female — receive equal pay. That is important to me."
Smith started as a customer service representative (CSR) with PUD in 2000.
"One of the functions of a field CSR is to go out and disconnect/reconnect meters," Smith said. "I enjoyed the independence and physicality of the job, so when apprenticeships opened up for Metermen, I applied."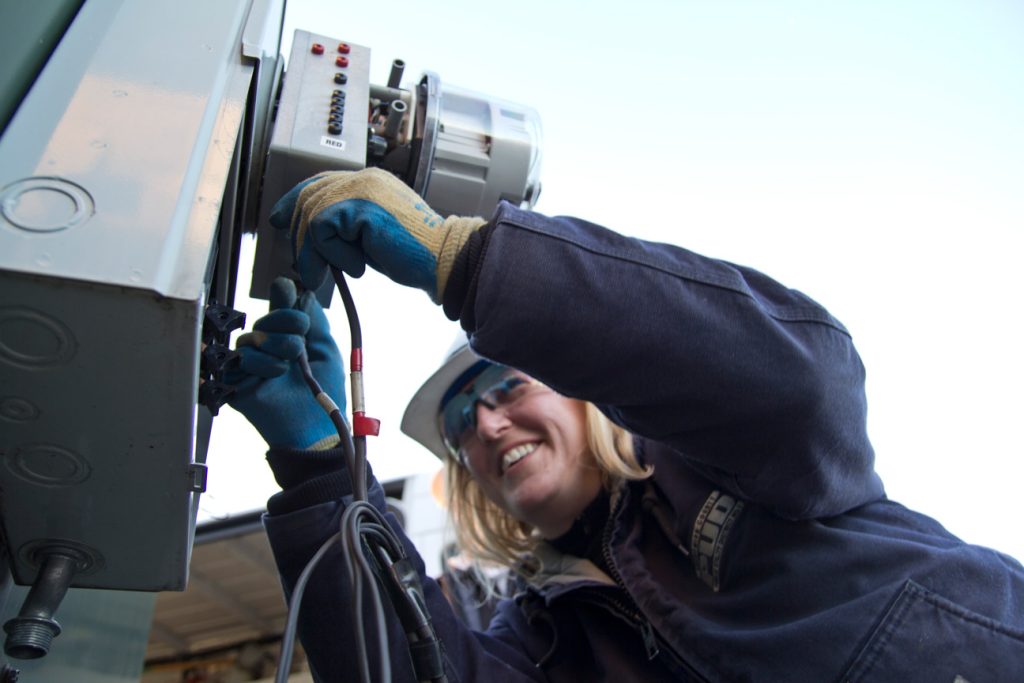 Smith began her apprenticeship in 2006 and had to complete over 6000 hours of training. Three years later, she took her journeymen test and passed in 2009.
"Before working at the district, I hadn't given much thought to electricity or how it worked. During my stint as a field CSR, I became intrigued with electric meters and electricity in general," Smith said. "It's fascinating! Measuring electricity accurately is vital to our customers and the District, and I'm so grateful to do it."
Smith also had advice for any women considering work in public utilities.
"If they have a passion for all things electricity, and a strong desire to succeed, then by all means, go for it! It's not for the faint of heart. It requires a lot of mental toughness and it's a big commitment. It becomes almost the sole focus in your life for 3+ years. It's probably the biggest and most important thing I've accomplished in my life, and have no regrets!" Smith said.
Smith may humbly downplay her role in normalizing careers for women, but she is undoubtedly doing so. It is arguably just as important to tear down gender stereotypes at all levels, as it is to "break the glass ceiling" for seats of power in government and company boards.
Something highlighted by all of the women in our series is the importance of personal fulfillment in their respective careers. A mindset that, regardless of gender, is important to foster.