Mill Creek Chamber offering scholarships to graduating high school seniors
The Mill Creek Chamber of Commerce is committed to encouraging and assisting local high school students in their pursuit of higher learning in Business or a field in which they would like to pursue a career in business. The Chamber is offering four scholarships of $2,000 each to graduating seniors. All are open to students who are goal-oriented toward business, regardless of their actual majors.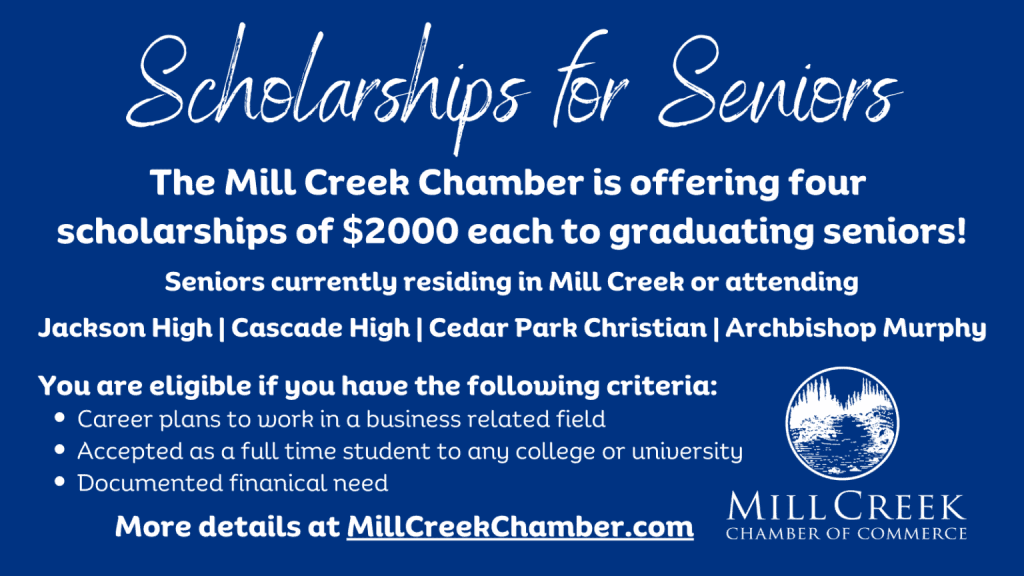 Committee Members:
Information Sheet: (Printable Scholarship-Application)
Questions? Contact: Lindsay Rucker-Robinson at scholarships@MillCreekChamber.com
Application Criteria
Applications are open for the current school year and are due no later than Wednesday May 31, 2023. 
Applicants must:
live in Mill Creek and/or attend school at either Cascade High School, Jackson High School, Cedar Park Christian School, or Archbishop Murphy, and be a senior in good standing at the time of application.
be accepted to attend a full-time accredited College, University or Fine Arts School.
be planning an academic course of study in the field of their choice, but plan to pursue a career in business.
submit ALL of the following materials under "How To Apply" together to the Scholarship Committee by May 31st (DEADLINE):
How to apply
Typed application form (Printable Scholarship-Application)
Two letters of reference and recommendation from teachers, advisors, and/or local business people (cannot be a relative).
Copy of the letter of acceptance from the institution they plan to attend.
Typed Essay (less than 200 words about their academic and career plans).