EMS Week Open House & Teddy Bear Clinic this Saturday in Edmonds
South County Fire will celebrate Emergency Medical Services (EMS) Week with a Fire Station Open House and Teddy Bear Clinic on Saturday, May 20, 11 a.m. to 1 p.m., at Edmonds Downtown Fire Station 17, 275 Sixth Ave. N.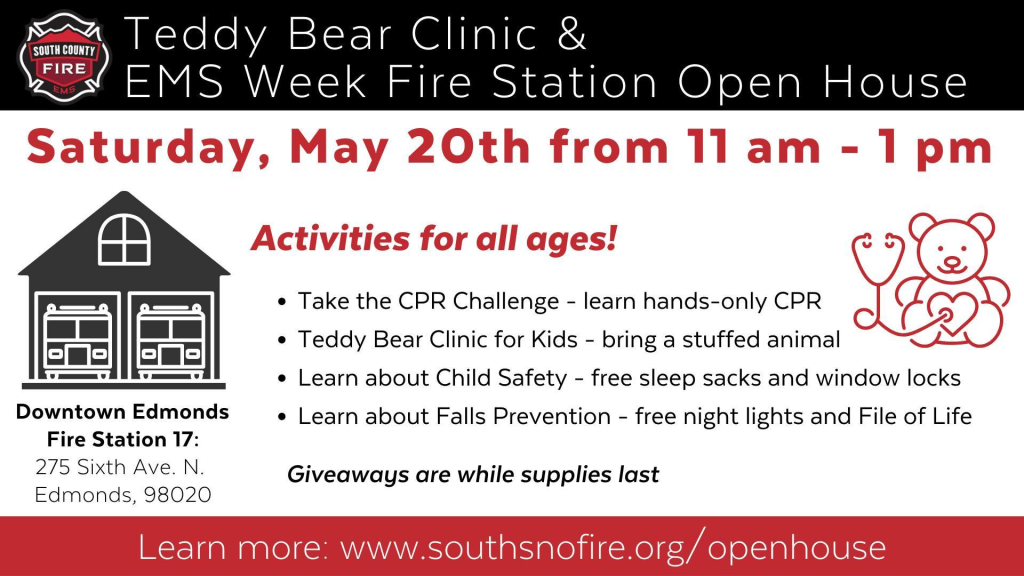 Meet your firefighters and learn about the lifesaving services they provide in the community every day. Activities at this free event include:
CPR Challenge: Learn CPR and help reach the CPR Challenge goal of 500 trained during the month of May.
Teddy Bear Clinic: Bring a favorite stuffed animal to be a "patient" and receive emergency care from firefighters.
Child safety: Learn about child car seats, bike helmets, water safety and more. Free while supplies last: infant sleep sacks and window locks.
Safe and healthy aging: Learn about falls prevention and other South County Fire programs for older adults. Free while supplies last: night lights and File of Life refrigerator magnets.
Public safety partners: Learn about pedestrian safety from the Edmonds Police Department and disaster preparedness from Edmonds Emergency Management.
South County Fire serves 300,000 residents in unincorporated South Snohomish County, Brier, Edmonds, Lynnwood, Mill Creek and Mountlake Terrace. More than 85% of the nearly 37,000 calls that South County Fire responded to last year were medical emergencies. All firefighters are certified as either emergency medical technicians or paramedics.
South County Fire's emergency medical service program has received national awards for excellence and innovation. The regional fire authority's cardiac arrest save rate of 61.5% for 2022 is well above the state average of 38.5% and the national average of 34.3%.