Pro Wrestling, strange lamps, and a superhero: The odd story behind SnoCo's oddest event
MONROE, Wash., May 22, 2023—Captain Slinky may not be your typical superhero. He doesn't fly around the streets of Monroe late at night fighting crime, but he does put on what may be Snohomish County's oddest craft fair at the Evergreen Fairgrounds at least three times a year — Oddmall: Emporium of the Weird.
Oddmall advertises itself as a "celebration of the unusual" showcasing arts, crafts, and products that are untypical of what could be purchased at a local country craft fair – anything weird, freaky, bizarre, or just plain different. This includes jewelry, original art, prints, t-shirts, stuffed animals, clothing, games and toys, home decor, and just about anything else.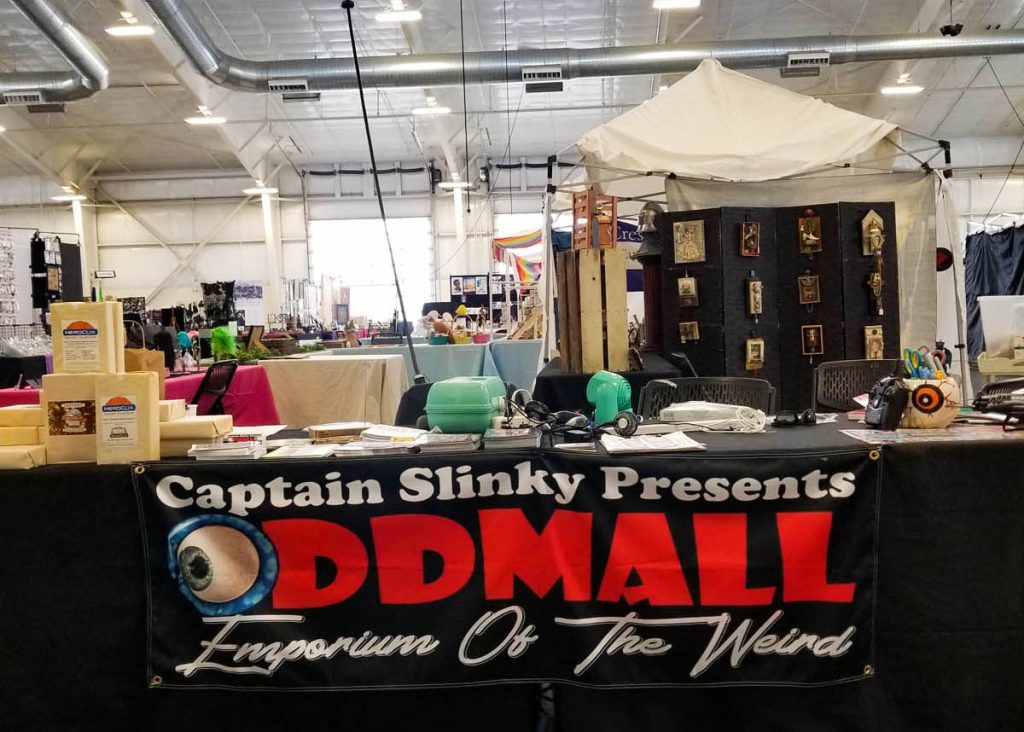 The first Oddmall kicked off in Hudson, Ohio, from an idea Andy Hopp had while bringing his offbeat, somewhat grotesque, artwork to display at craft shows around the area. Hopp quickly noticed his work often wouldn't fit in with the wares of a typical craft show and would leave many attendees feeling off-put. He formed Oddmall: Emporium of the Weird in 2009, as a place for likeminded artists to display their off-beat creations and continues to run the event in Ohio to this day.
After seeing the success of Ohio's Oddmall, Andy's brother, David Hopp, decided to expand the show to the Seattle area — where he relocated to pursue a career as a professional wrestler but retired after suffering an injury during a professional match. The first PNW Oddmall took place in Seattle's University District in 2013 but later moved to Everett in 2017, hosting three shows a year.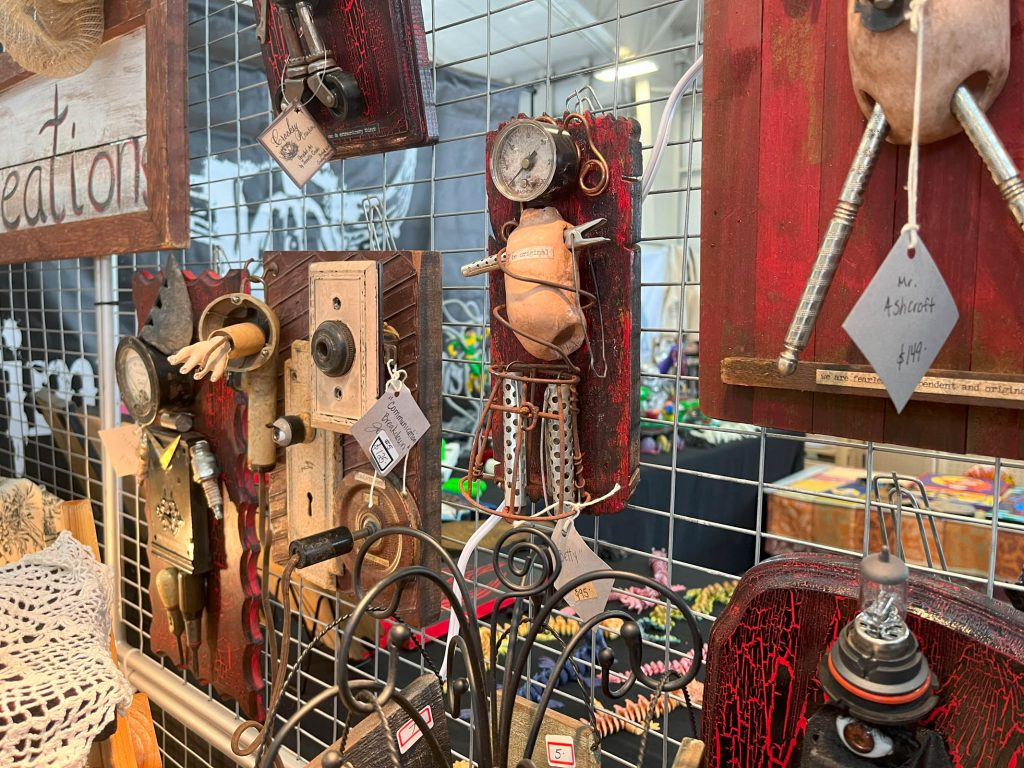 Many of these shows were held at Everett Community College, which specified in its contract that it could cancel the event any time without reimbursement, since it was considered a donation to the school. When this inevitably happened to clear the gymnasium for a sporting event, participating vendors, who had already paid for booths, were understandably upset. However, rather than explain the situation properly or offer credit, Hopp simply told his vendors he had no legal obligation to return their money to them, thus severing the relationship with many of them.
With a steady decline in participating vendors, and the pandemic in the beginning of 2020, Hopp was ready to throw in the towel but Captain Slinky, a vendor since Oddmall's inception, wasn't ready to see it go. Slinky took up the reins from Hopp, along with his wife Crystal, and the two have been running Odmall in Washington ever since.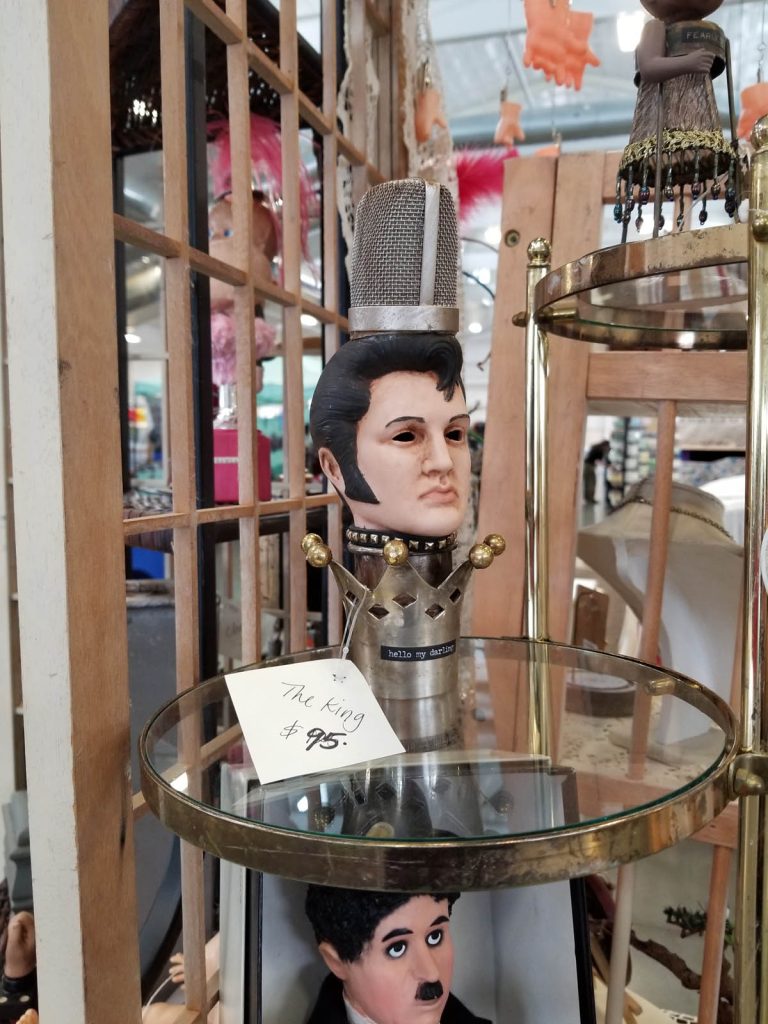 Captain Slinky had become somewhat synonymous with the PNW Oddmall, selling his "weird lamps" made from repurposed toys. For years Captain Slinky made it a hobby of buying broken toys, fixing them up, and reselling them at conventions. Sometimes he would come across toys beyond repair and with those, he made lamps.
"We had this immediate connection with the way the show was set up, with the other vendors, with the type of art and artists that were being showcased at the shows," said Crystal Pierce, Captain Slinky's wife and co-host of PNW Oddmall. "It's like a family reunion or going home."
Captain Slinky, who's real name is Brien Pierce, got his name while running a comic bookstore in Anacortes called the Ape from Reality. Pierce sponsored the local high school's after-school art club and, as a token of the student's appreciation, he was given a superhero alias: Captain Slinky, who was bitten by a radioactive slinky.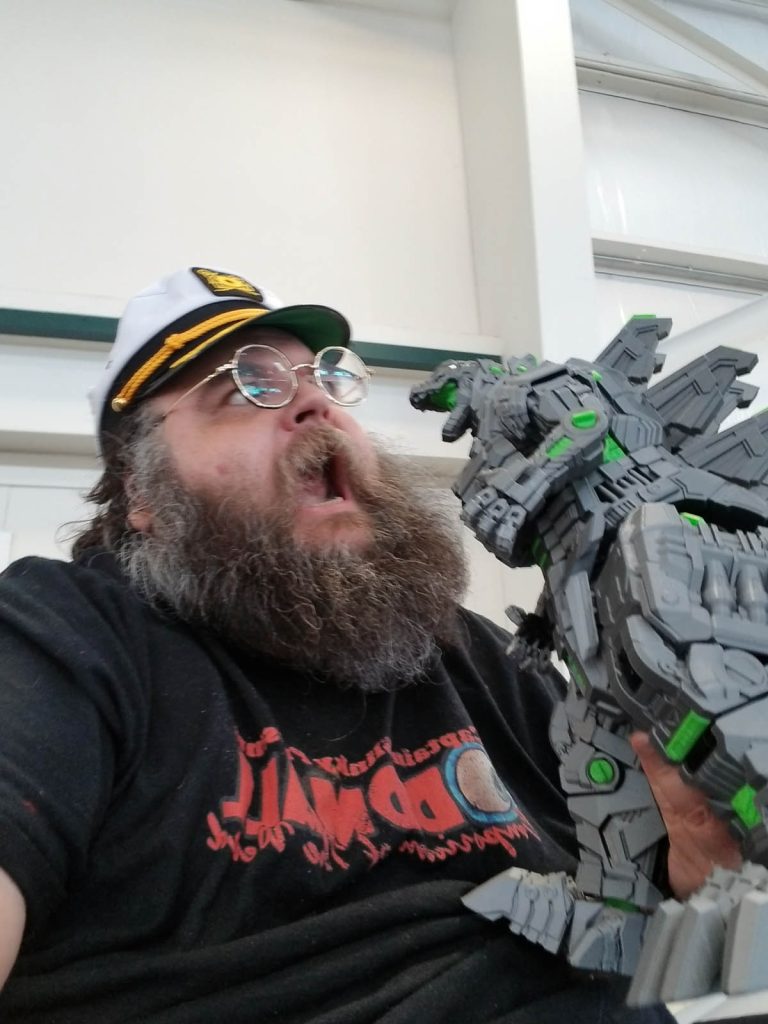 "My one weakness is stairs. I can go downstairs just fine but upstairs? I can't do it – not with my powers," Captain Slinky told the Lynnwood Times.
After Captain Slinky, and his wife Crystal, took over Oddmall their first step was to rebuild the trust with the vendors who they lost during the Everett Community College's cancellation. They offered free booth rentals at an event called Creepsness, which took place between Halloween and Christmas, to allow vendors the opportunity to try out new things they were planning on showing that holiday season, but also to clear out their inventory from Halloween.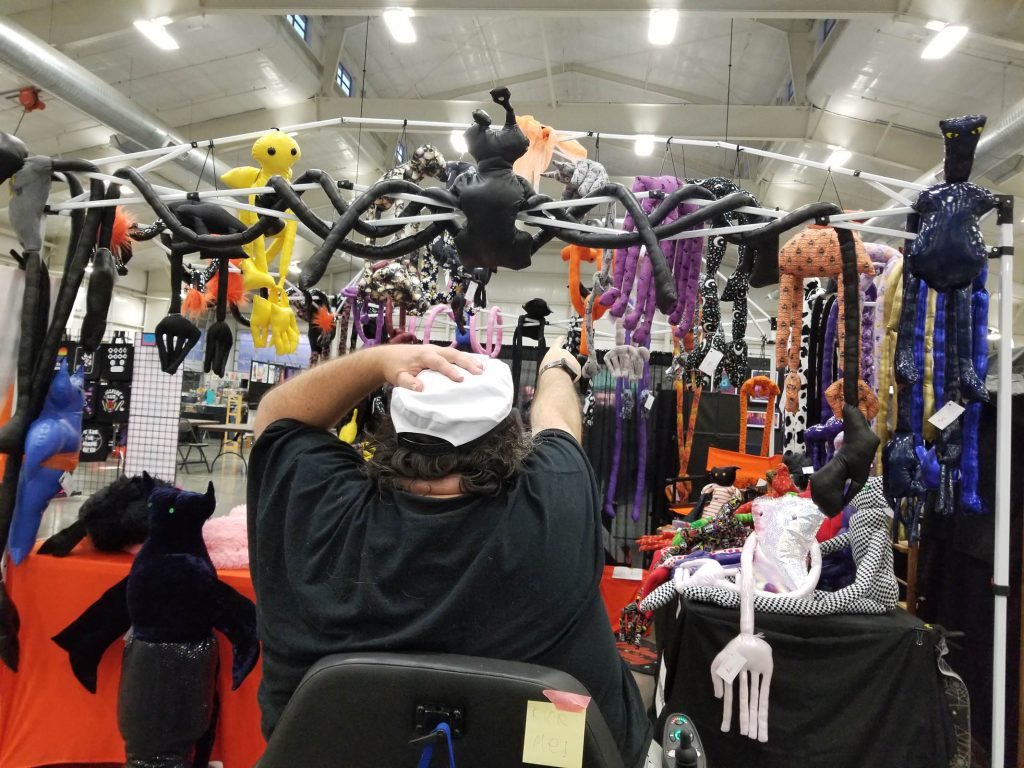 "It was the weekend before Black Friday, because there's craft shows galore during Black Friday weekend but not very many the week before," said Captain Slinky. "It was that sweet spot between too soon to throw away your Jack-o-lantern but too soon to set up your tree."
Captain Slinky and Crystal's approach to hosting Oddmall is to create the event that they would have liked to participate in as vendors, offering plenty of booth sitters for lunch and restroom flexibility, snacks and water, and rotating spotlights on many of their artists.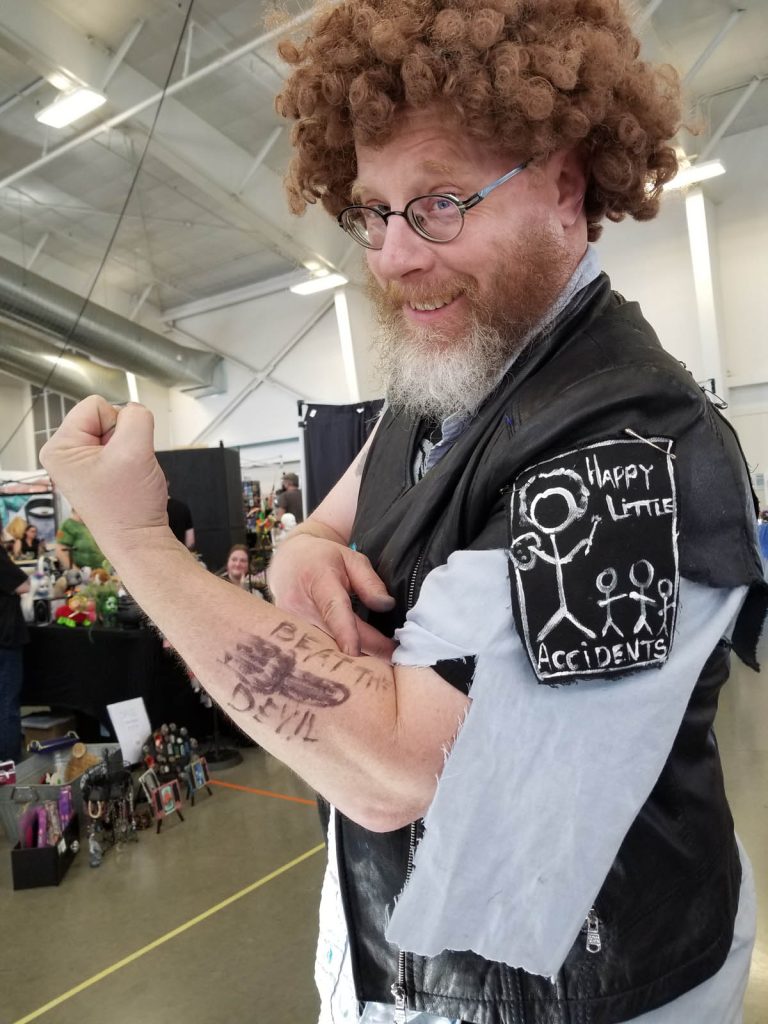 When David Hopp handed over Odmall to the couple he started the Snohomish County Toys and Collectibles Show.
Captain Slinky and his wife have no plans of "taking over the world" with Oddmall but he would like to grow his event, up his vendor participation, and eventually start a Comic Book Convention centered on showcasing local comic book writers and illustrators.
"We're not capitalists, we don't want to take over the world. We just want to throw a little craft party for our friends and as long as it doesn't cost too much," said Captain Slinky.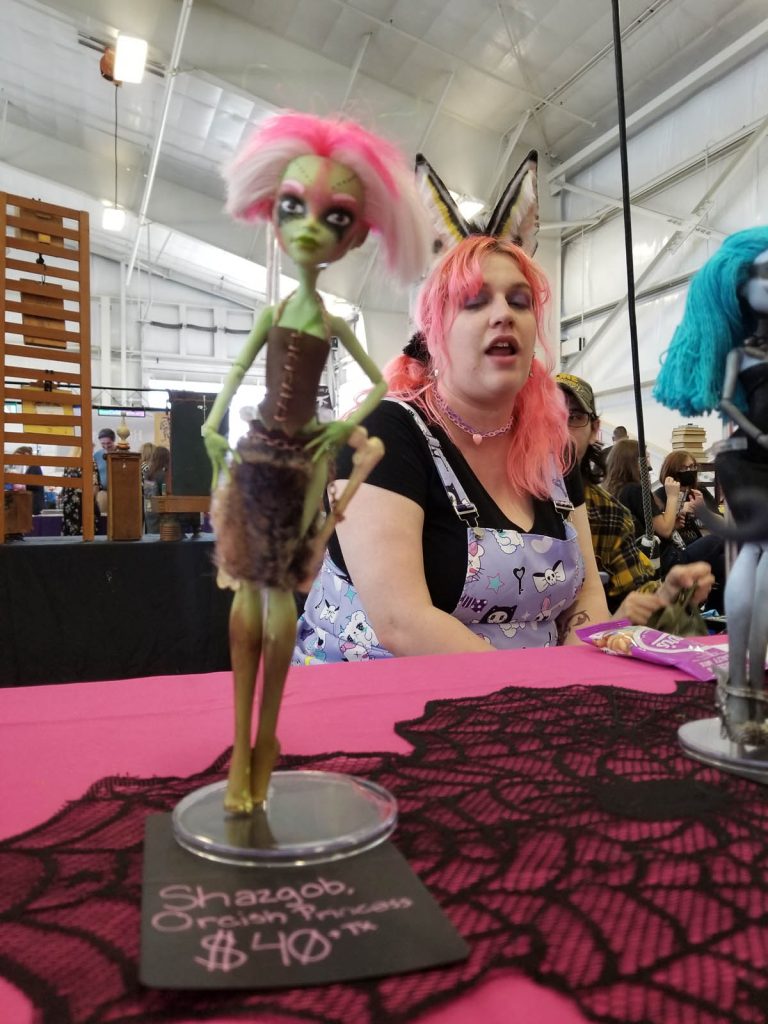 To boost visitor attendance the two began giving away door prizes, although they weren't always favorable such as a can of creamed corn or processed lunch meat. Somewhere in the mix of oddball door prizes, there were actual prizes, however, donated from many of the vendors featured.
Ghosthunters, taxidermists, eclectic artists, and gamers alike congregated at the Evergreen Fairgrounds on April 29 to April 30, for Oddmall: Emporium of the Weird in what may be Snohomish County's "bizarrest" bazaar.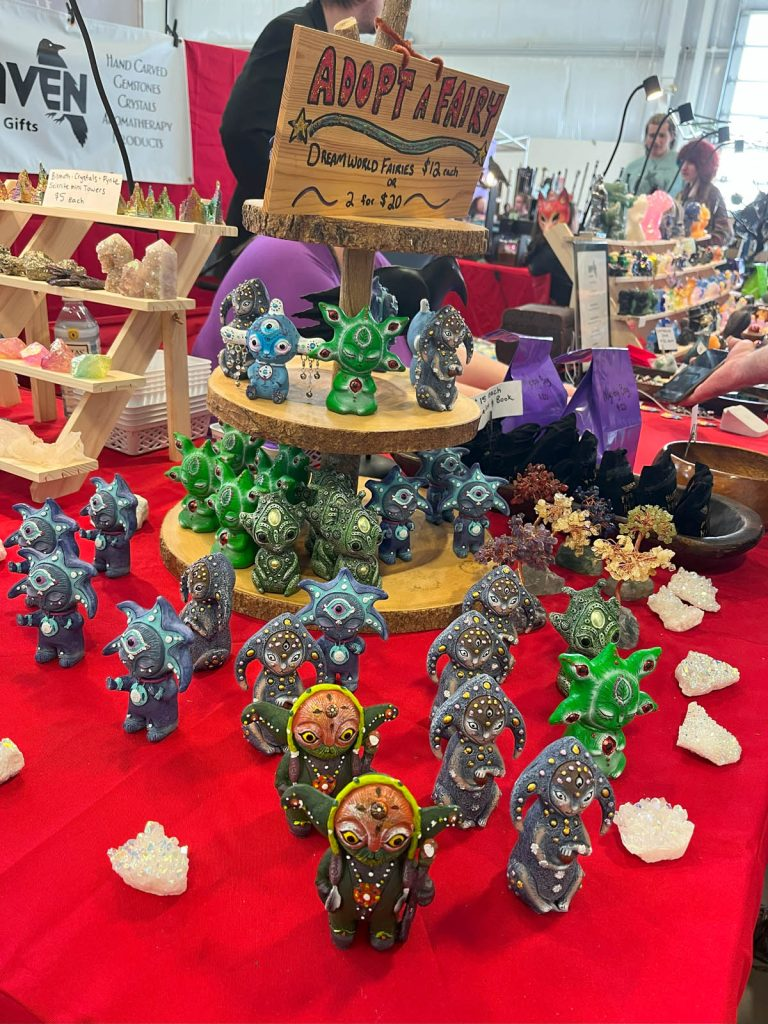 A woman dressed like an M&M candy juggling toilet plungers ushered attendees into the show floor, lined with over 160 vendors selling carnivorous plants, ghost hunting tours, steampunk baby dolls, unique art, and adopt a fairy programs while Captain Slinky enthusiastically voiced announcements over a loudspeaker.
Local authors sold their books and, in the back, over 20 local game designers demonstrated their games and kick starters next to playable arcade games. One of these locally designed games is Dice Fights, a dice-rolling game published by Woodstock Games that involves two players "attacking," "defending against", and earning gold that can be used to upgrade their dice rolls. The project is currently being funded by Kickstarter and will be released, sometime in June, when its pledges have been fulfilled.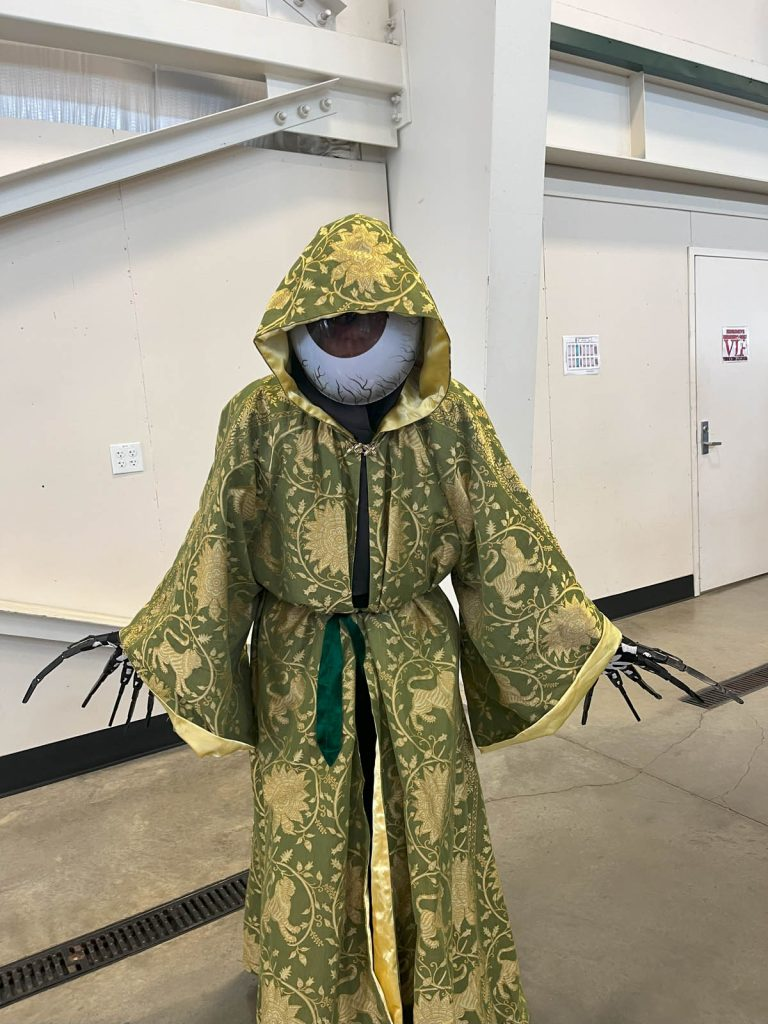 One of the many guests of honor this year was Jeff Davis, author of the popular travel book Weird Washington, which chronicles some of the state's "best kept secrets."
Odmall's Monroe event was free to the public, including free parking, and featured also featured a wide variety of food trucks where attendees could curb their appetite while shopping for weird gifts.
Recently Oddmall and SnoCo Toy & Collectibles Show announced they will be teaming up this November 11 through 12 for, what they call, a "Super Show" featuring 275 vendors selling both strange and unique gifts and collectible toys. The event will also be held at the Evergreen Fairgrounds and be free to the public.