All seven juveniles who escaped from security facility are now in custody
KING COUNTY, Wash., May 31, 2023—The four remaining juveniles who escaped the Echo Glenn Children's Center shortly after midnight on Sunday are now in custody after a statewide manhunt led to their arrest in Vancouver, Washington by Clark County deputies.
According to the King County Sheriff's Office, three of the seven teens were apprehended Sunday afternoon in Burien.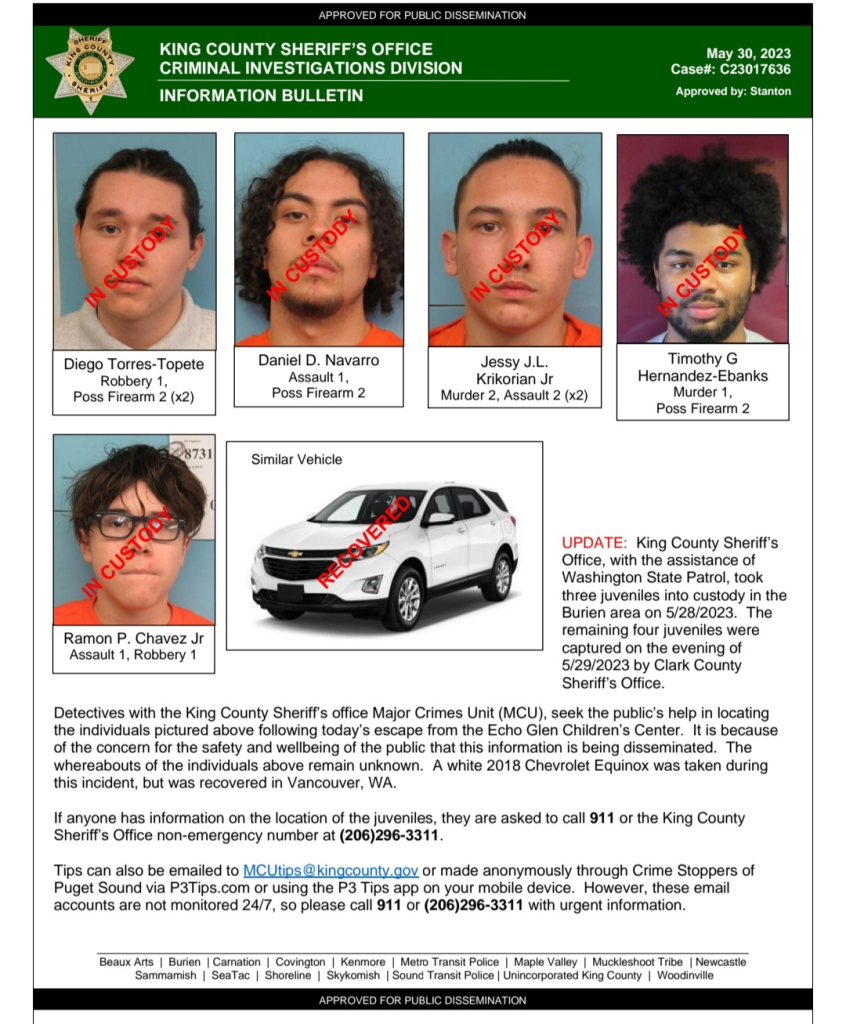 Two of the juveniles on the run were convicted murderers. Jessy J.L. Krikorian Jr., who was convicted of fatally shooting 16-year-old Shawn Dwight Tolbert outside of Eisenhower High School in 2022, was one of the juveniles who escaped. The other teens were in Echo Glenn for the following charges:
Timothy G Hernandez-Ebanks – Murder and possession of a firearm
Diego Torres-Topete – Robbery and possession of a firearm
Daniel D. Navarro – Assault and possession of a firearm
Ramon P. Chaves Jr. – Assault and robbery
On May 28 shortly after midnight, the King County Sheriff's Office received a 911 call from Echo Glenn Children's Center — a minimum/maximum security facility. When deputies arrived, they were advised seven juveniles (ages 15-17) assaulted a staff member, stole a vehicle, and fled the area. Major Crimes detectives investigating.
The suspects fled in a white 2018 Chevrolet Equinox with Washington state license plate CEP1939 which has been recovered in Vancouver.
An investigation has been launched to determine how the juvenile inmates escaped.
Overnight the remaining four juveniles were captured by Clark County Sheriff's Offfice and are now in custody. Thank you to @ClarkCoSheriff. The investigation into the events surrounding the escape of the seven juveniles is still ongoing and active. pic.twitter.com/g2JoeLCldw

— King County Sheriff's Office PIO (@kingcosoPIO) May 30, 2023