A pooch led police on a chase down Mukilteo Speedway
MUKILTEO, Wash., June 2, 2023—A red-haired Australian Shepherd mix-breed lived up to its name Friday afternoon leading her caretakers on a 3-mile chase throughout southern Mukilteo that stopped traffic on a major state highway and outran the police!
Honey, the clever pooch, got away from her owner's caretakers near the Front 9 Condominium complex on Harbour Pointe Blvd in Mukilteo shortly before 3 p.m. on Friday, June 2. Honey ran half a mile east along the boulevard to continue south on Harbour Reach Road. There, residents got out of their vehicles to capture honey, fearing the beautiful pooch would be struck by a car.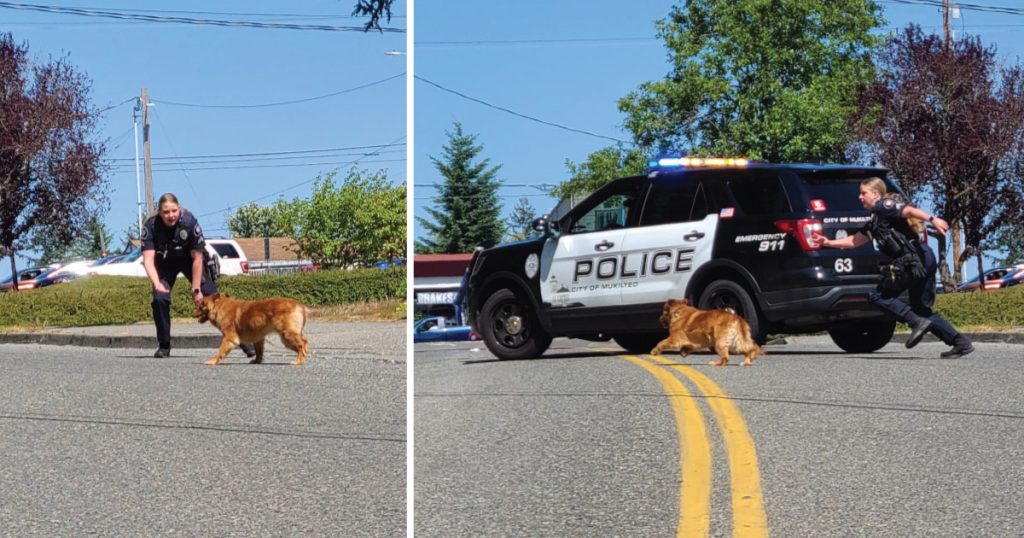 Honey had a different frame of thought, interpreting the humans' goodwill as a threat and continued running. The smart and cunning dog would wait until rescuers got within arm's length, then bolt with lightning speed!
Running to the roundabout on Harbour Reach Road, then down S Road where humans thought they outsmarted the pooch waiting at Mukilteo Speedway. Well, Honey outmaneuvered several people and cars, did a 180 degree turn and bolted back down S Road, but this time turning right on Evergreen Drive, into oncoming traffic.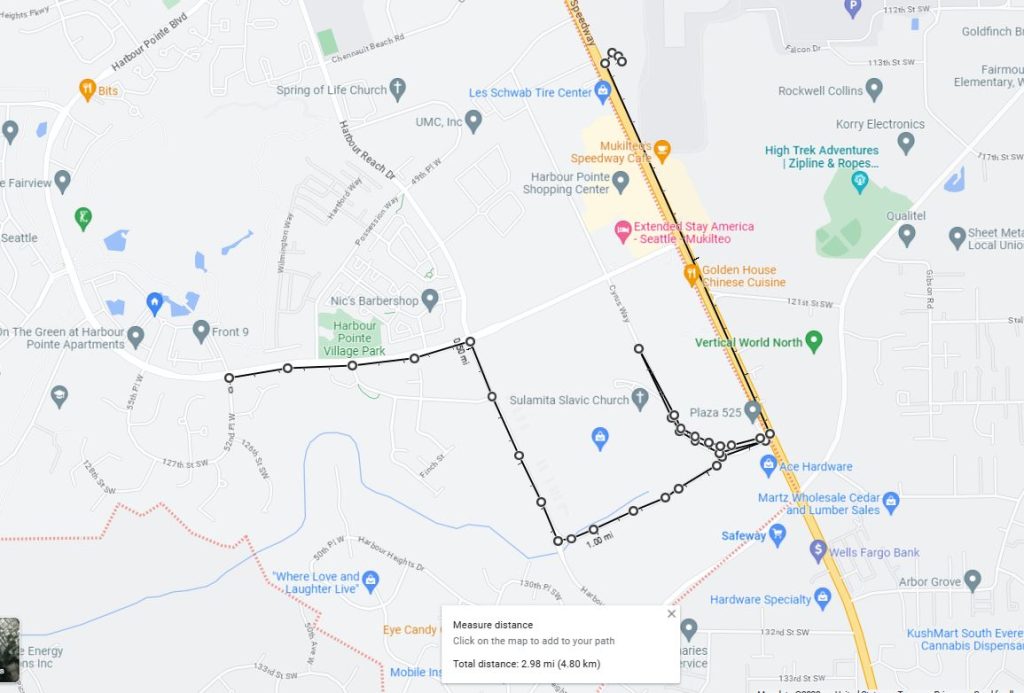 By this point, a truck coming down the hill almost struck Honey but veered to the side just in the nick of time. Honey was on her way to City Hall but was thwarted when another attempt by motorists to capture the pooch failed.
Now it was approximately 3:15 p.m. and the Mukilteo Police arrived and made several attempts to apprehend Honey but the fast and nimble pooch outran the cops and crossed over the Mukilteo Speedway stopping traffic.
Taking a direct approach wasn't working, so the Mukilteo Police and a good Samaritan named Jamog Koo, followed Honey for three-quarters of a mile on Mukilteo Speedway when the tired dog succumbed to chicken flavored dog treats, courtesy of Jamog.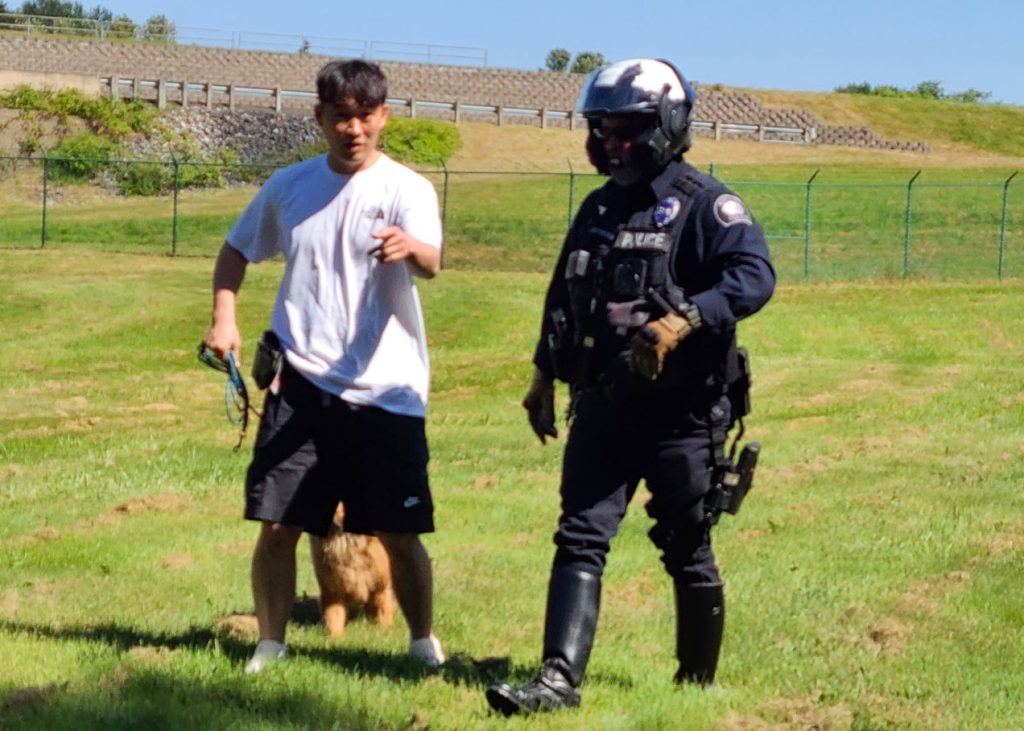 "I was with my dog, and I saw that beautiful Aussie just running," Koo told the Lynnwood Times. "I was worried she would get killed in the road. I didn't want that to happen."
Koo shared that he calmed Honey down and gave her some treats.
"She opened up to me and came to me; so, I just rubbed her a few times and then grabbed her," said Koo.
Minutes later at 3:54 p.m., Honey was reunited with her caretakers at the Mukilteo Police station.
Honey is a rescue dog originally from Houston, Texas. She is part Australian Shepherd; a breed used to manage livestock and is known for being very intelligent.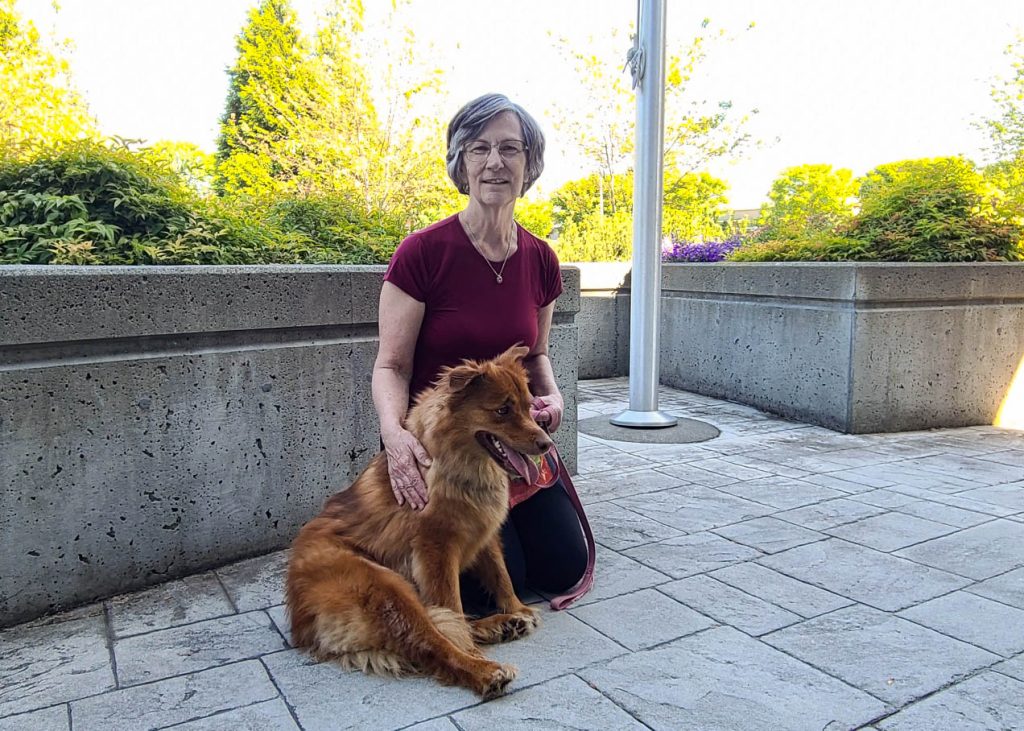 "It is good to know that there are good people in the world," the dog's caretaker told the Lynnwood Times. She is very grateful to Jamog, the Mukilteo Police and the many commuters who helped retrieve Honey from her afternoon Friday adventure.