Marysville Strawberry Festival returns this Saturday through June 18
MARYSVILLE, Wash., June 6, 2023—The Marysville Strawberry Festival returns this Saturday, June 10 through Sunday, June 18 — a week-long, family-oriented celebration that includes a market, carnival, and parade. A Marysville tradition since 1932, the Strawberry Festival has been bringing communities from all over the county together for 91 years and counting.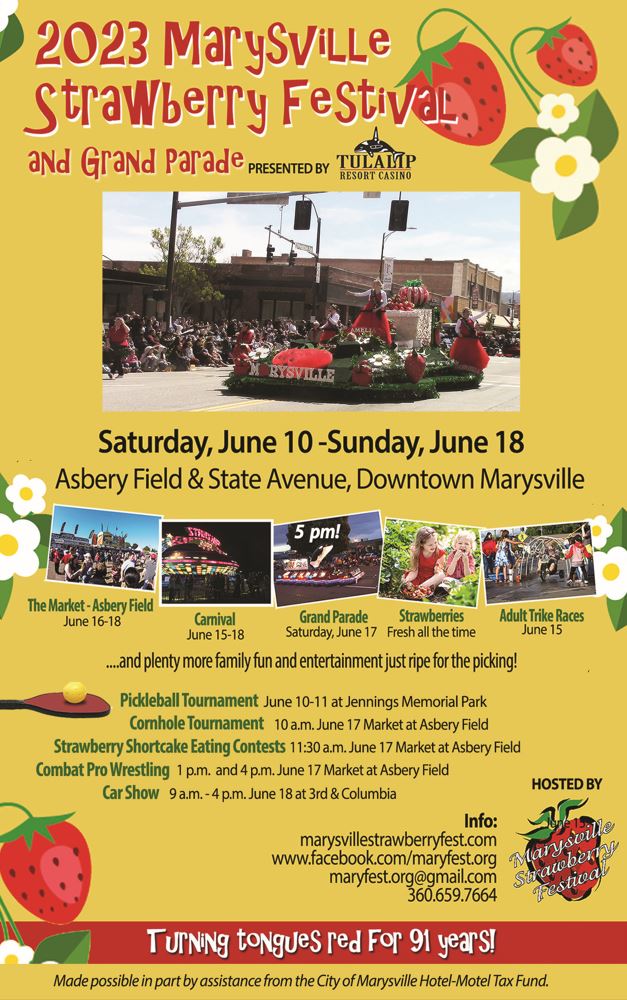 The Marysville Strawberry Festival (incorporated as Maryfest, Inc.) is a nonprofit 501(c)3 organization. The annual Strawberry Festival and Grand Parade treat the community and visitors to a memorable summer event the third week each June.
Marysville's Strawberry Festival also travels to many other communities throughout Washington, Oregon and British Columbia. One of its goals, along with offering scholarships, is to promote the city of Marysville while encouraging tourism in the area.
Sponsored by Tulalip Resort and Casino, this year's Strawberry Festival includes a fashion show, live music, trike races, car show, pickleball tournaments, corn hole tournaments, golf tournaments, combat pro wrestling, strawberry shortcake eating contests, and of course the annual tradition of a Grand Parade, markets, and carnival, among many other things.
The market's co-chair, Veronica Hamblin, says that vendors from all over the county, and even some from out of state, come to take part in the festivities every year.
"I look forward to visiting with the vendors' cause some of them become friends," says Hamblin. Hamblin has been coming to the festival ever since she was a teenager and even managed to ride a float when she was young.
In addition to the festivities, the Festival provides scholarship opportunities for area students, supports other community non-profits, and serves as professional goodwill ambassadors for the greater Marysville community and Washington state.
Events are held all throughout Downtown Marysville including Asbery Field, Jennings Park, the Marysville Opera House, and on several blocks surrounding the Marysville Town Center Mall. This year's parade route will travel long State Avenue from 4th Street to 76th Street Northeast. The parade will be held on June 17.
For a complete schedule of events visit the festival's website at https://www.marysvillestrawberryfest.com/