Arlington police seeking public's help in identify robbery suspect
ARLINGTON, Wash., July 28, 2023—The Arlington Police are investigating an attempted robbery that occurred in Haller Park/Eagle Trail area on July 20, 2023, at 9:08 p.m.
Below is a sketch of the suspect. A suspect is a Caucasian male in his late 40s to mid-50s, 5'8″-5'9″ tall, weighing between 150 and 160 pounds, with a long, black beard with gray spots in the beard that extend over his nipple line. The suspect was dressed in a worn, tan colored Carhartt jacket, blue or black pants with holes above and below the knees, dark tennis shoes, and a gray beanie cap.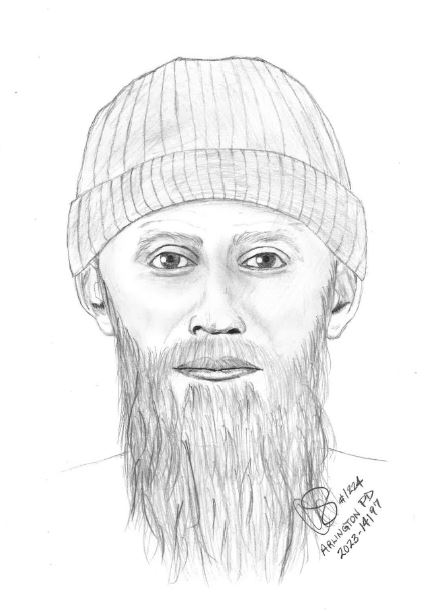 If anyone has additional information about this incident, please contact the Arlington Police Department at 360-403-3400, referencing case number #2023-00014197.
The Arlington, WA Police Department is in the process of developing a strategic plan for the next five years. We have launched a community survey, please take a few moments to provide your feedback. Your thoughts are important to us.
The 5-minute survey asks you about your experiences with APD, your priorities for the department, and your suggestions for how we can improve.