Cole Langdon sworn in as next Police Chief for Lynnwood
LYNNWOOD, Wash., August 9, 2023—Cole Langdon was sworn in as Chief of the Lynnwood Police Department by Mayor Christine Frizzell on Tuesday, August 8, at City Hall.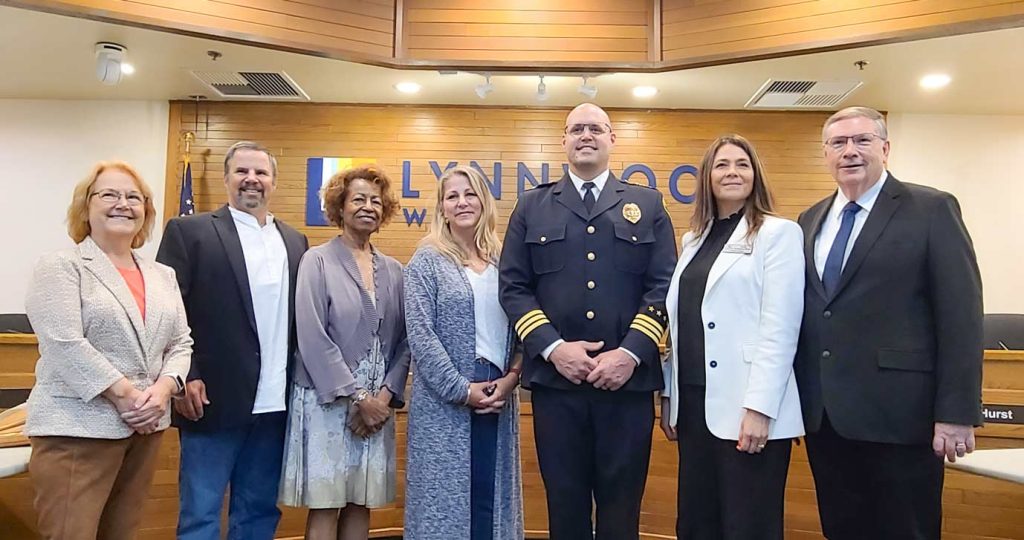 "I absolutely love this department," Police Chief Langdon said. "A lot of what has made this such a fulfilling career, first of all it is a great community, but really its walk[ing] along side an awesome group of people."
"Everyday when we show up to work, we know what we are there for; we have meaning, we have purpose. That is one thing this job gives back to us…when I come here this is home and this feels right," Langdon added.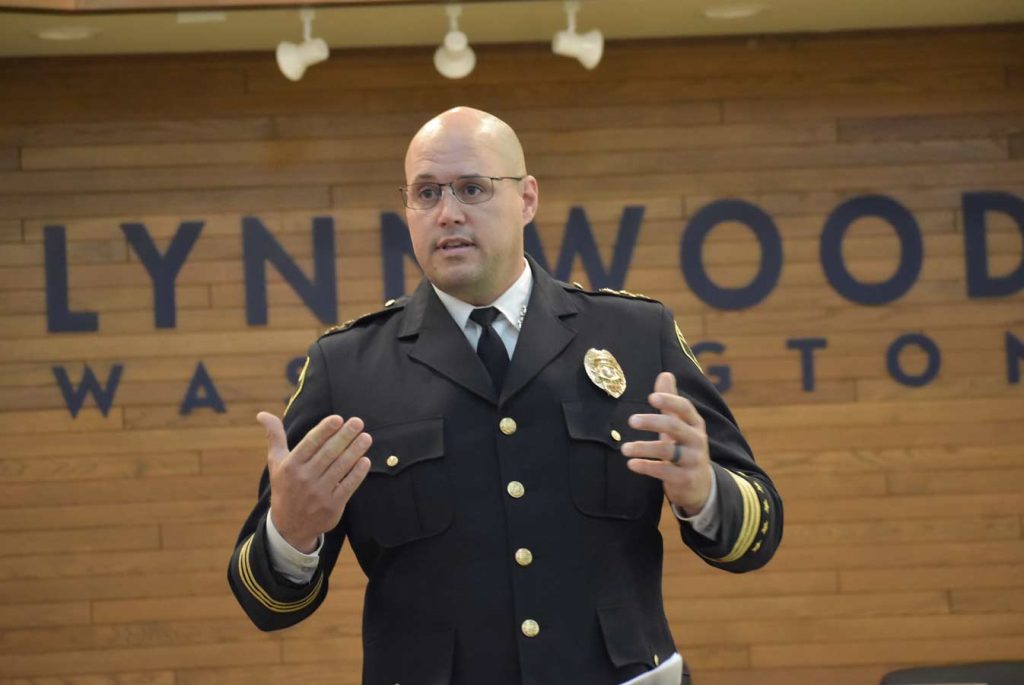 Langdon shared he would continue the direction of the Lynnwood Police Department to recognize its role in the community through outreach, compassion, and supporting one another.
Mayor Frizzell shared an overview of the eight-week process promoting Langdon to Lynnwood Police Chief by speaking with members of the community, councilmembers, the local police union, and members of the police chief advisory group. It was a consensus that the Lynnwood Police Department possessed the talent for an internal hiring process.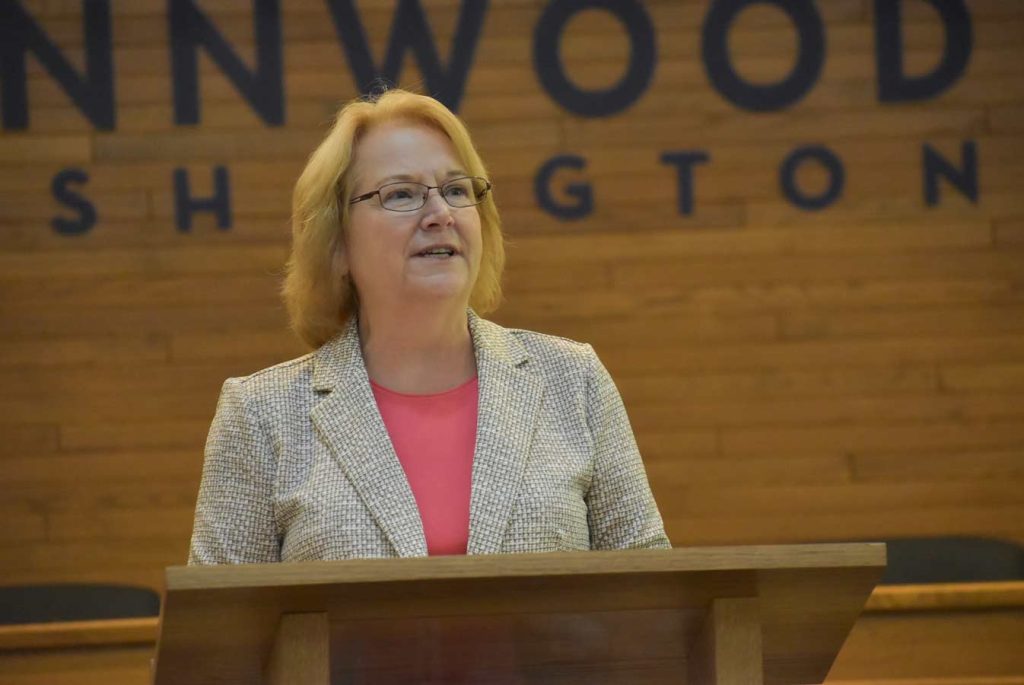 "Cole has been so active in the community since I have known him," Mayor Christine Frizzell said. She shared firsthand accounts of Cole's compassion and professionalism in action during his work with Neighbors in Need, Cops and Clergy, and his outreach to what she called Lynnwood's "homeless neighbors."
Langdon was joined by his wife Kimberly and their three kids, parents, and about one hundred other friends, family members, and Lynnwood employees. Lynnwood City Council President Shannon Sessions, Vice President Julieta Altamirano-Crosby, and council members Shirley Sutton, Patrick Decker, and George Hurst. Councilman Jim Smith was attending a family matter or would have attended he told the Lynnwood Times.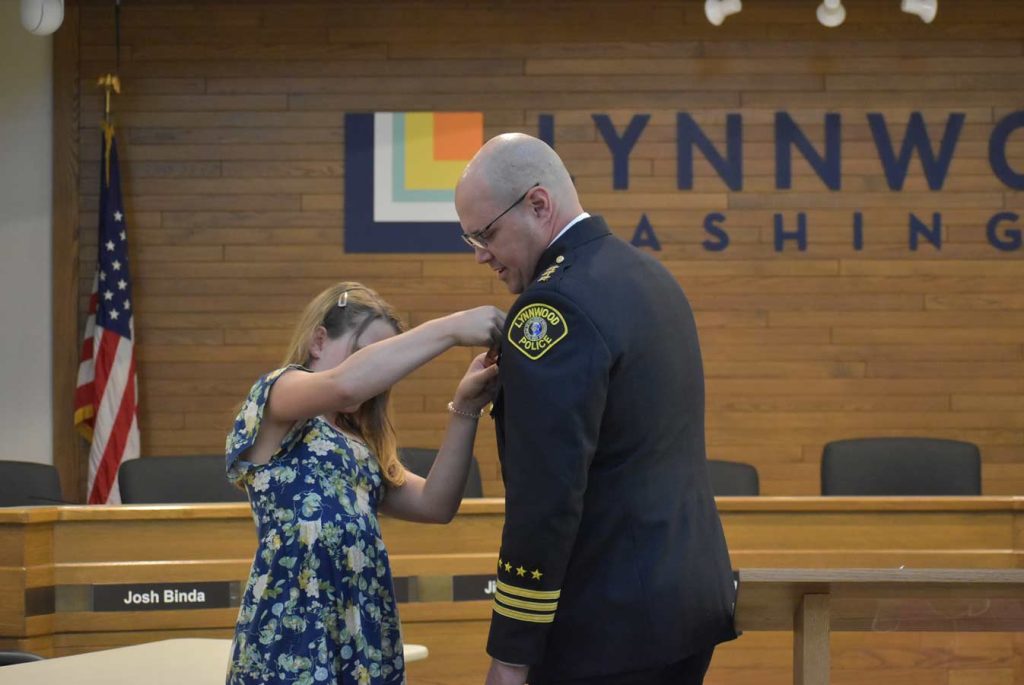 "I couldn't think of a better person to be leading our city in this way," Council President Sessions said.
Council Vice President Altamirano-Crosby emphasized that Chief Langdon has his "heart in his place." She thanked him for believing in people and being open to new projects such as the Let's Talk About Safety forums.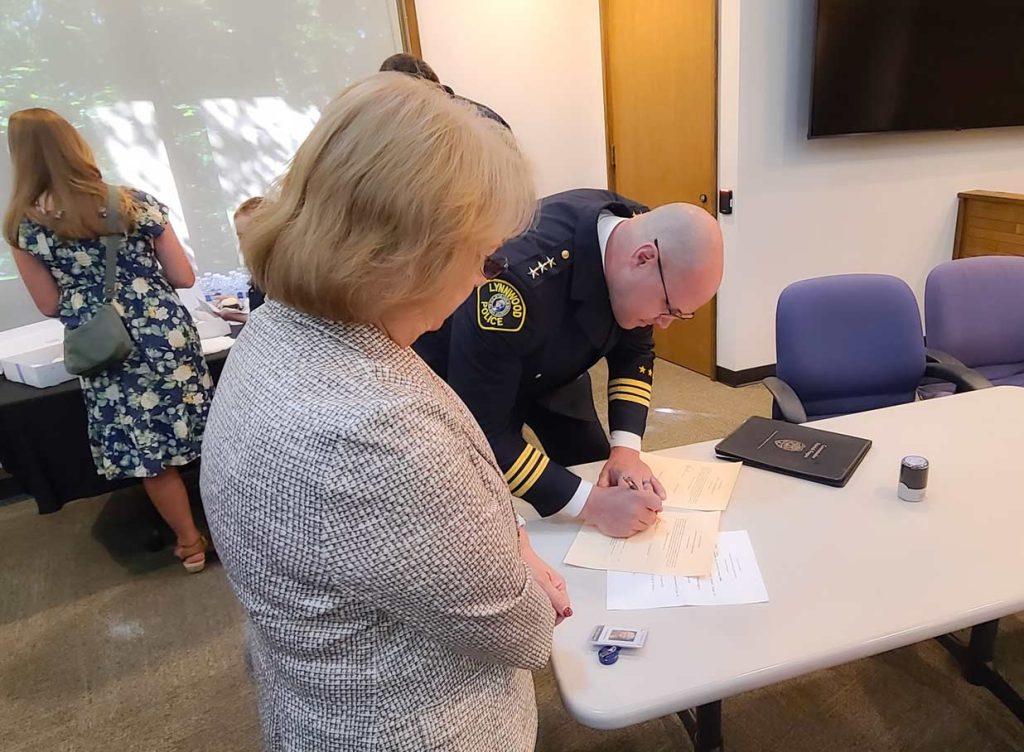 The vote to confirm Langdon at its Business Meeting on July 24 succeeded with six council members in favor with Councilman Josh Binda abstaining stating he is confident in the then-Deputy Police Chief's qualifications to be police chief, but cited concerns about the process — believing external candidates should have been considered.
Langdon is the first Lynnwood resident since 1972 to hold the office and the first to have worked in every rank of the force. He replaces Jim Nelson who was appointed in 2020.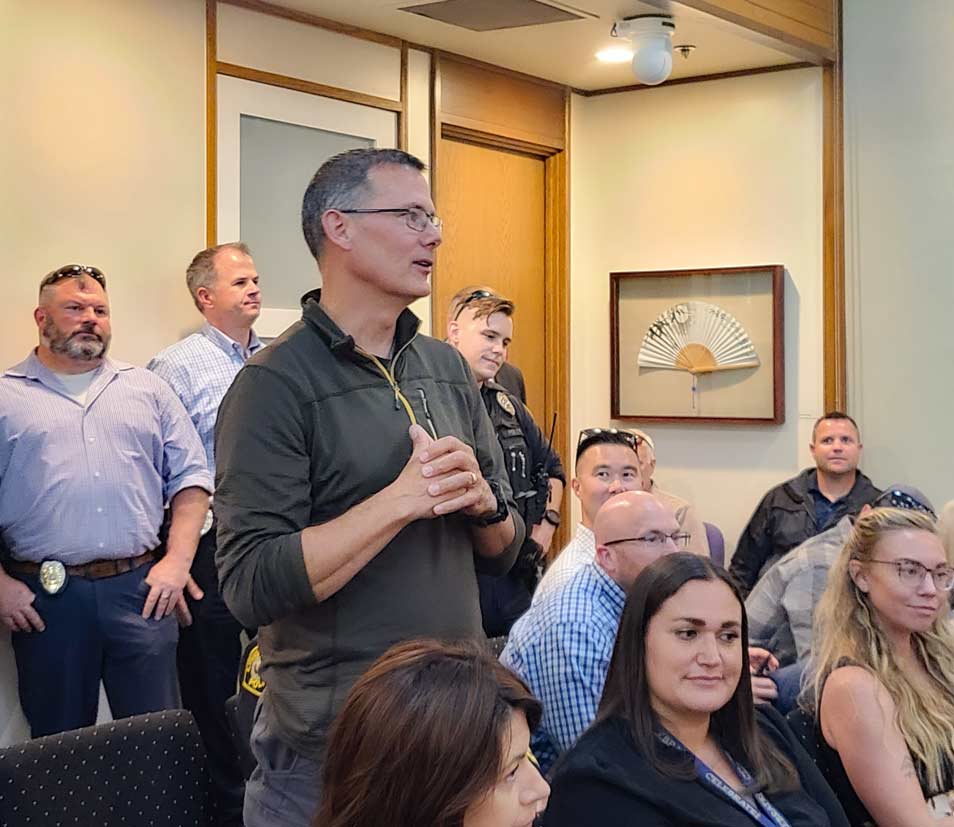 "You will do a great job, you have good people," now retired Chief Nelson said. "I have my upmost faith in your ability to take this organization further and better."
Cole Langdon joined the Lynnwood Police Department as a college intern with the Police Cadet program in the summer of 1996. After graduating from the Basic Law Enforcement Academy, he worked as a patrol officer for several years before transferring to the Traffic section. While there, Langdon served as a collision investigator and police motorcycle instructor. Langdon successfully transferred to the K-9 unit, where he worked with two cross-trained dogs, Tanner and Buddy, and served as a master trainer for the Washington State Police Canine Association. He has also served on the regional SWAT team.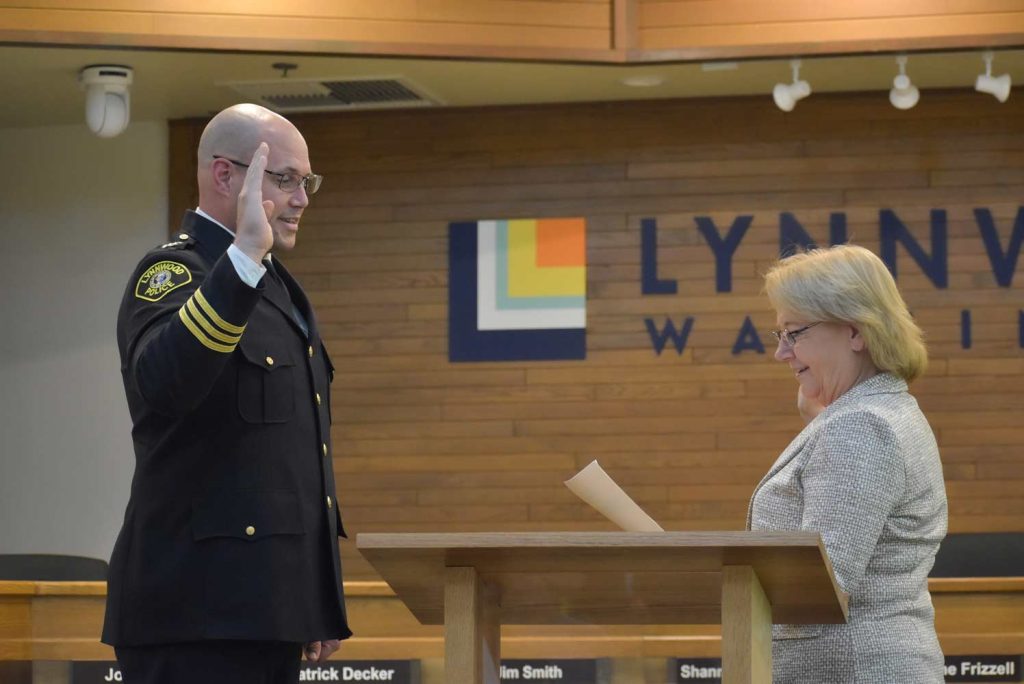 After 11 years with K-9, Langdon was promoted to sergeant. After supervising a patrol squad for several years, he transferred to the department's Community Health and Safety Section (CHSS). From CHSS, Langdon was promoted to the rank of commander. Langdon commanded the Patrol division, which included Patrol, K-9, and Traffic sections, before transferring to the Administrative Services division. He was then appointed to the rank of deputy chief overseeing the Bureau of Field Operations, which includes the Patrol and Detention divisions.
Langdon holds a Bachelor of Arts in sociology from the University of Washington and is currently working towards his Master of Science in Law Enforcement and Public Safety Leadership through the University of San Diego.