Meet Marianne Brown, owner of Mukilteo's coffee hotspot Red Cup Café
MUKILTEO, Wash., September 12, 2023 — "Let's meet at Red Cup Café," is a statement familiar to many local Mukilteo residents. Whether it's for conversation, a rich meal, fresh coffee, or focused study sessions, Red Cup Café has become an enduring destination for all. Working as a bookkeeper at the time, Marianne Brown wished to expand her horizons beyond the financial role.
"I wanted to do something that I really enjoyed. I really liked the idea of a coffee shop," said Brown. "I think I've kind of had that feeling since high school."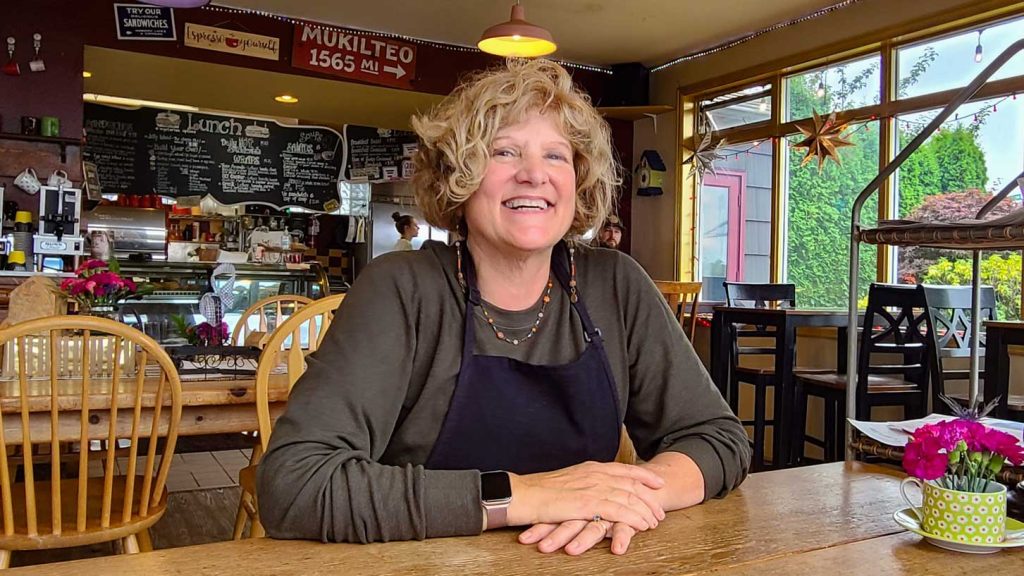 Brown decided to experiment in 2005 with a job working in a café first, before envisioning the prospect of her own in the future. In pursuit of the perfect location, Brown began visiting various cafes, looking for a place to gain hands-on experience as an employee.
As she visited different establishments, each presented its unique atmosphere. But when she stumbled upon Whidbey Coffee, the future location of Red Cup Café, Brown instantly knew "this was the place." Brown felt an undeniable resonance. "It was like a connection. I knew this was where I wanted to be. This is it," Brown recalled.
Brown knew she wanted to work at that café, but was taken aback when she found out they weren't hiring. "When they said no, no we're not going to hire you, I was like 'what?' I knew that if the right person met me, they would hire me."
Undeterred, Brown persisted on getting that job. She crafted a candle modeled like a latte, adorned with a "Whidbey Coffee" sticker, and sent that to the cafe owner alongside her resume.
"[The previous owner], Dan Ollis, said no one's ever done that to him before and I think he kept it," she said.
Her tenacity caught the attention of the café's owner, who not only gave her the job but in 2009, sold her the establishment, marking the official beginning of Red Cup Café. Now, Red Cup is celebrating over 14 years in business.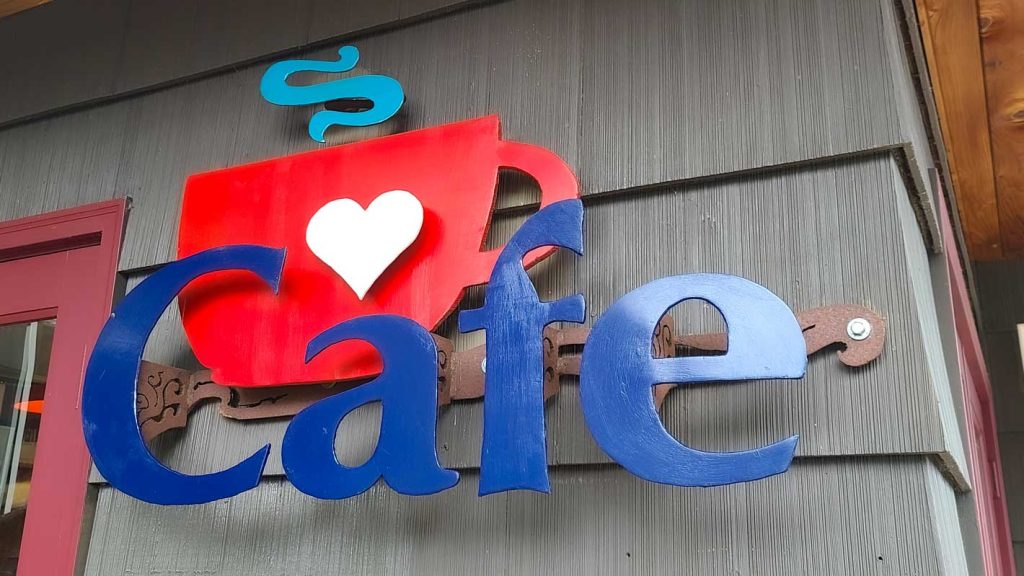 "My husband and I were talking about what we were going to name the café, and so I was drawing a picture of a cup, and just as we were talking about it, I was coloring the cup red, and my husband said, 'that's the name!'"
The name "Red Cup Café" was simple, easy to remember, and it rolled off the tongue smoothly. Only later would Brown find out that red cups were actually the most expensive cups.
As the new owner of the café, Brown made simple changes, such as renaming sandwiches after nearby islands, and revamping the decor. Her vision balanced "fun and funky" with a hint of sophistication, evident in the mix of dark tables near the windows and a dynamic interior roof.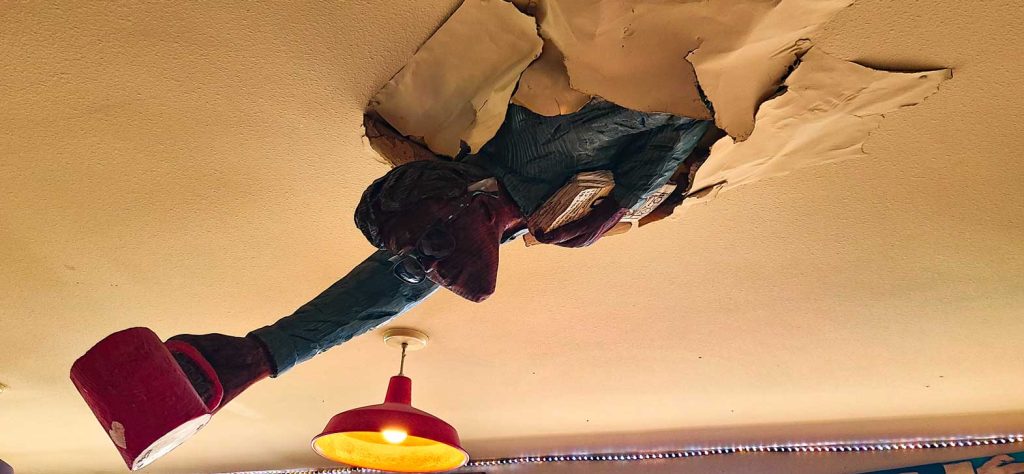 Scattered throughout the café, one can find intricate wooden sculptures, including the iconic descending figure through the roof. ​​Crafted by a Whidbey Island artisan, the sculptures were there in the very beginning, over 35 years ago – from its inception as Mukilteo Coffee to Whidbey Coffee, into its current identity as Red Cup Café.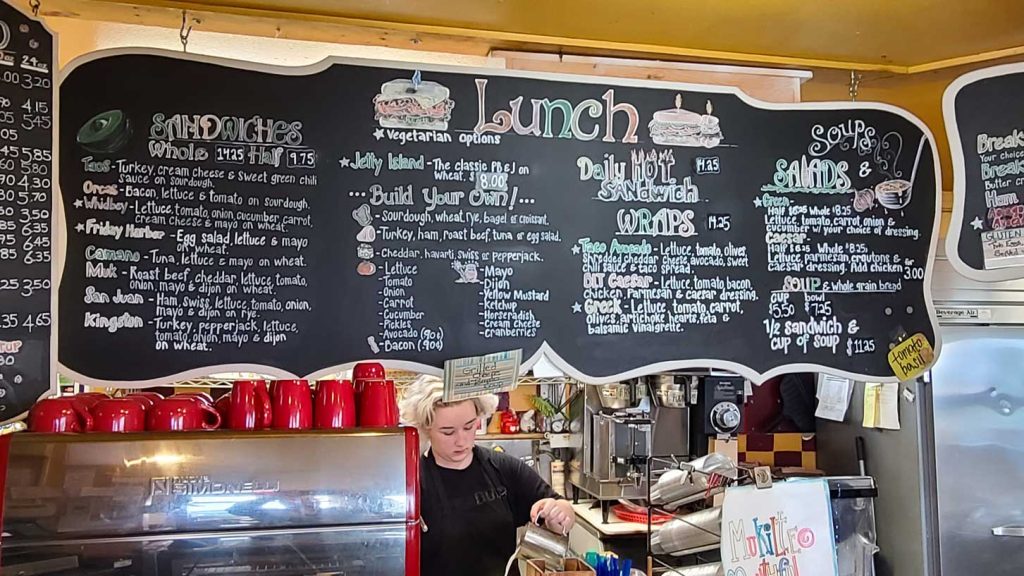 At Red Cup, a diverse array of patrons come together to create a lively yet peaceful atmosphere. Families with children sharing morning meals, elders relishing coffee with a good book in hand, and students engrossed in their studies all find their place within Red Cup's walls. Whether its business partners engaged in financial discussions or friends gathered for hearty conversation over sandwiches and coffee, the café holds a distinctive ambiance that becomes immediately tangible upon entry, with the rich contrast between the myriad individuals sitting next to each other.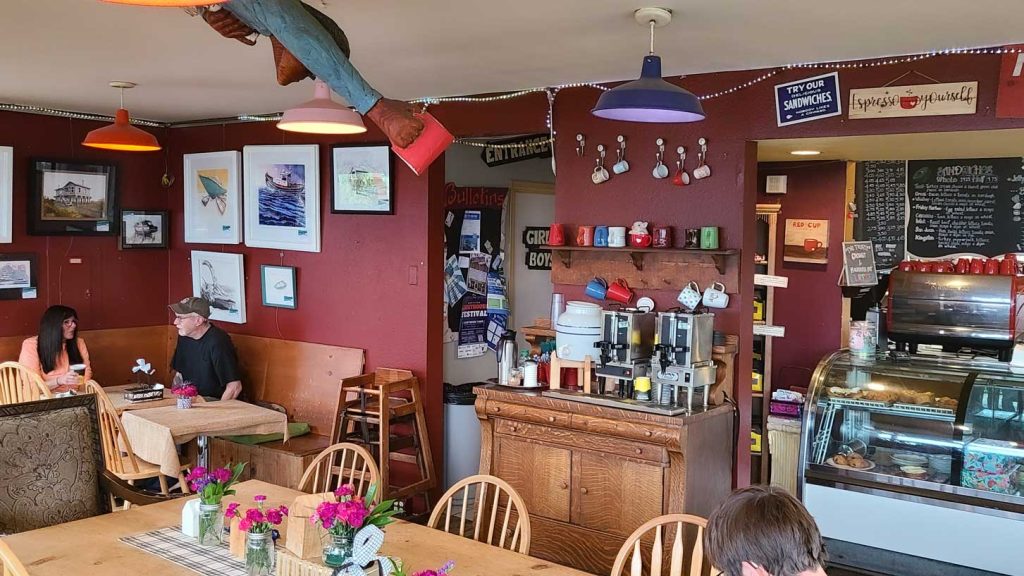 Every day at 6:30 a.m., Brown diligently arrives at Red Cup to begin her day. And every day, there's always a problem to be solved.
"I don't know what it is, but it will happen," she said. "And just remaining calm during that is key."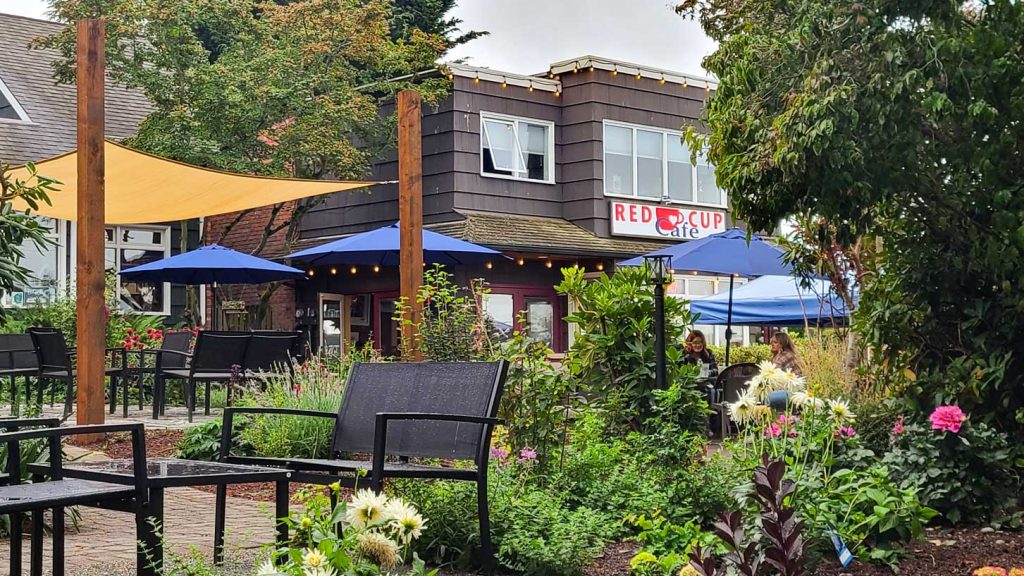 For her, the café is more than just a culinary destination; it serves as a space to feel welcomed and connected. "And that's my personal passion," she said. "To be kind to people because everyone's hurting. So that's what motivates me, just knowing that you're making a difference to someone, and even the grumpy people you really don't know."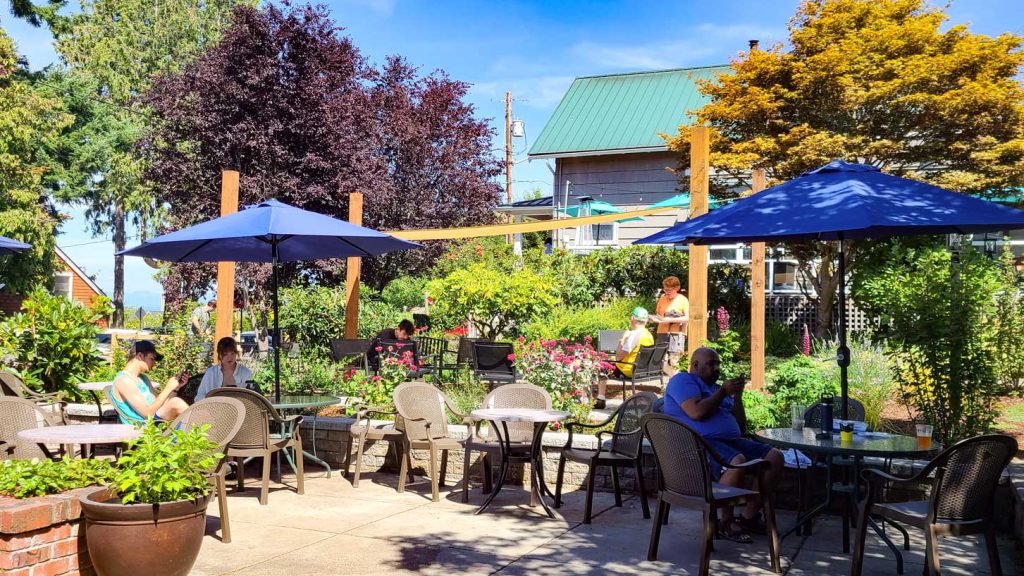 Brown's journey from aspirations to reality embodies the essence of determination and hard work, coupled with kindness and consideration for both patrons and staff. For those aspiring to follow a similar path, Brown offers, "my advice would be to not be afraid. You have to work hard. It's not going to come easy."
Red Cup Café can be found at 619 4th St, Mukilteo, as well as on Facebook and Instagram.