NW Indian College opens nation's first tribal presentation sovereignty kitchen
TULALIP, Wash., November 9, 2023—Northwest Indian College (NWIC) held a soft open for its new Tribal Food Sovereignty Presentation Kitchen Friday, November 3 – the first tribal food sovereignty presentation kitchen in the nation, according to the College.
The kitchen is a state-of-the-art camera-ready space which students and instructors can utilize to study and make presentations based on the premise that Native Americans have all they need to sustain themselves within a 5-mile radius of where they live, grow their community, and raise their families.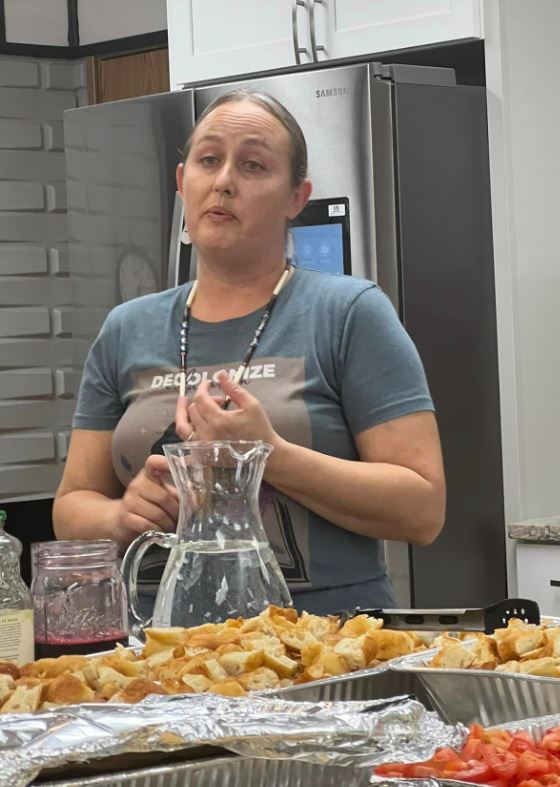 "The new kitchen will allow our students a place where they can take instruction using traditional food sovereignty practices and create their own contemporary results," said Lindsey Crofoot, a long time adjunct Native Environmental Science and Food Sovereignty instructor at the NWIC Tulalip site.
The kitchen has quartz countertops, floating islands with silver rain hoods, a big smart double-door refrigerator, and top-notch chef's utensils including knives, mixers, and every utensil you could ever need – made possible by grants from the Tulalip Tribes Charitable Trust, The Puyallup Tribe of Indians and 2020 Cares Act funding. It is located at the college's Tulalip site – one of six extended campus satellite sites belonging to the Bellingham-based school.
At Friday's event, NWIC President Justin Guillory, PhD. and the NWIC Board of Trustees caught first glimpse at what the kitchen has the offer while sharing a meal of Indian tacos and elderberry sweet grass lemonade with faculty, students, and community members alike. There were approximately 35 attendees in total.
The NWIC's Board of Trustees were headed to the Tulalip site for their annual meeting last Friday so Colette Keith, NWIC Site Manager, Public Speaking Instructor, and brains of the operation, proposed they open the kitchen for an impromptu soft opening to showcase what it has in store.
"It went really, really well. It was really well received by the community," said Keith. "It was just a night for everyone to get together, check it out. It was the first time anyone really got to lay eyes on the kitchen other than our staff people and contractors."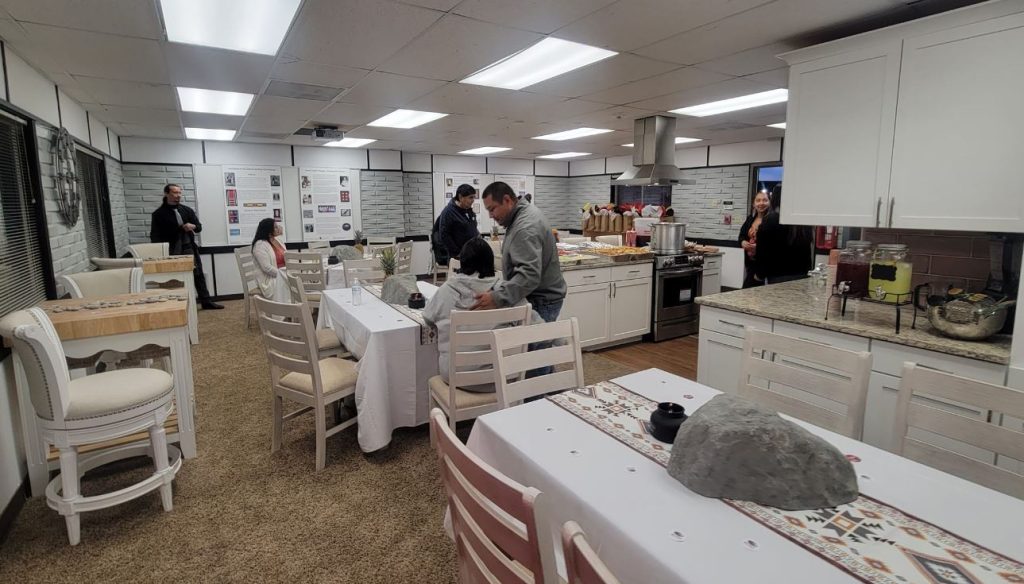 The kitchen will be used for instructional purposes such as Environmental Science classes, Public Speaking classes, and rented out for certain events.
In Kith's Public Speaking course, her final assignment is for students to present a "Food Network-style presentation", she said, where they present a recipe from beginning to end. This is where the kitchen will come in to play with the Public Speaking program and where the idea for a kitchen came from in the first place.
Keith wanted to provide a space "you would see on television" she called a "presentation kitchen" – where someone could hold a presentation on how to can salmon and they could record a video and put it on YouTube, she gave as an example.
Keith started writing several grants to secure the funding for her idea. While the COVID-19 pandemic had many negative consequences for the community at large, one of the positives was the COVID relief funds tribes were granted, which helped get the project up and running. After the NW Indian College pulled from wherever they could for the last five years to finish the project.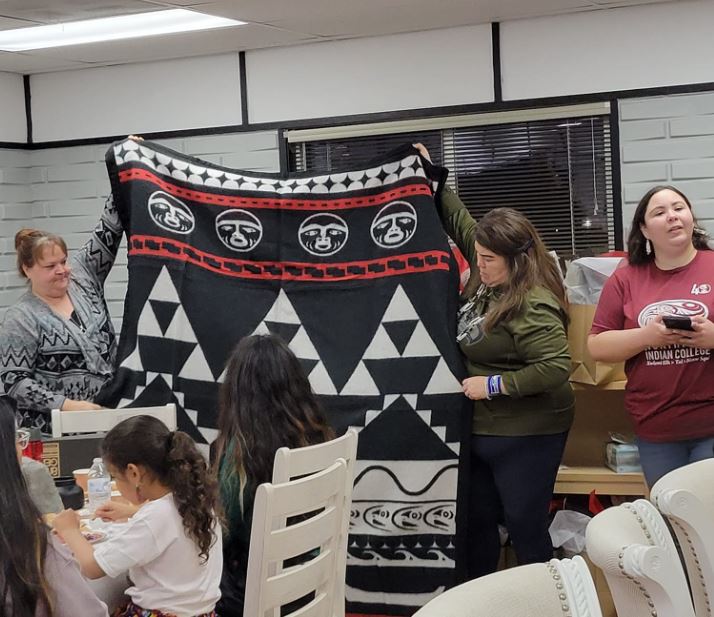 Before deciding on the modular building, it now resides in, Keith looked at several places on the campus but none of the options seemed quite right – one was too small, another had a wall in the middle of it that couldn't be torn down, and so on. Shortly after the Tulalip tribe granted the school permission to use an old modular building.
"Things just kind of worked out," said Keith.
As for Environmental Science – which is the most popular degree nationwide for tribal colleges, Keith noted – in NW Indian College's Environmental Science program students are beginning to learn about traditional food sovereignty so the kitchen provides the perfect setting for this curriculum.
By "tribal food sovereignty" Keith means harvesting, collecting, and preparing food from right where the tribe is located.
"At one point in time, within a five-mile radius of where you live, you were able to harvest, gather, fish, hunt – everything – right within that radius," said Keith. "We were allowed to practice our traditional ways and of course today it's not that way."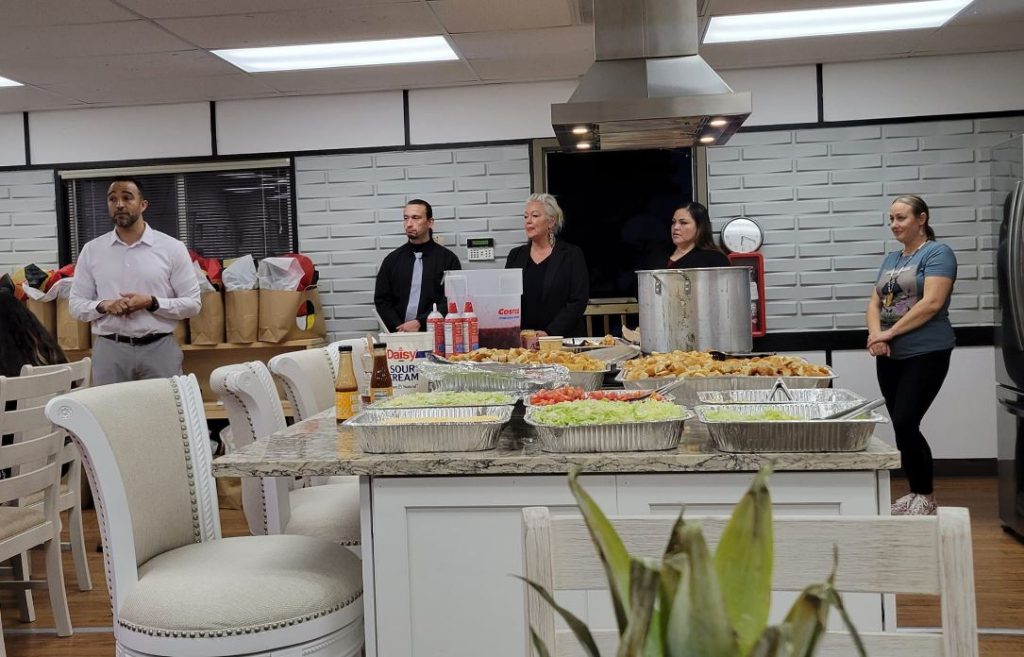 The NW Indian College has a garden of its own in addition to being surrounded by several other community gardens that the kitchen can utilize for this purpose. The college has already received interest from many of these community gardeners to use the space for canning and other purposes.
"This will be such an asset not only for students but also the Tulalip tribe community," said Keith.
The project cost about $65 thousand in total, Keith said, with most of that funding coming from grants and COVID relief funds. Design began back in 2019 and the kitchen will officially open May 2024.
"There are other people that do food sovereignty work but as far as being a kitchen just dedicated to issues surrounding food sovereignty – it's the first in the nation," said Keith.
The ultimate objective of the kitchen is to address issues surrounding food sovereignty and to teach Native Americans that tribes can sustain themselves if they practice traditional means of harvesting seasonal fruits and vegetables, fishing, and hunting – the "original farm to table," as Keith put it.
Northwest Indian College's student body is diverse, ranging from students straight out of high school, many attracted by its growing athletic program, to returning adult learners of all ages. Over 75 percent of the college's students come from a federally recognized Indian tribe and its students represent over 90 different Tribal nations. The Northwest Indian College proudly serves over 1,200 students annually.
To learn more about this project or how to get involved contact Colette Keith at ckeith@nwic.edu.