Lynnwood prepares for the next 60 years of growth
by MAX ERIKSON and LUKE PUTVIN
 max.erikson@lynnwoodtimes.com
 luke.putvin@lynnwoodtimes.com
Lynnwood has come a long way since 1959 as the city prepares to celebrate its 60th birthday and reflect on the progress it has made, and the future it holds for tomorrow. The city is already looking to what the next 60 years might bring and is preparing for how Lynnwood will grow, modernize, and sustain livability as it moves further into the 21st century.
The population of Lynnwood now stands at around 37,000 with the city expecting an increase of 2,000 residents a year over the next decade. With that equation, the city could have up to 157,000 residents by the year 2079.
Plans for the future include adding several high-rise apartment buildings to accommodate the growth. Two dozen apartment projects are planned in the next decade including a 30-story high rise building, located at the site of the newly approved light rail station, that will have up to 1,000 apartments.
With the coming population growth, the city is projecting major road construction to accommodate traffic flow for the next 60 years. To address the future population density, the city also has plans to create more nonmotorized pathways for people to get around, including bicycle lanes, pedestrian walkways, and will also increase bus services.
Lynnwood Mayor Nicola Smith and the city council have their eyes on the future and are taking steps to ensure that the livability of the city is not only sustainable in 60 years, but also thriving.
From a statement by Mayor Smith:
"My vision for the next 60 years is that we are building a solid foundation that is safe, clean, healthy, environmentally friendly, efficient, and beautiful for our grandchildren and their children. I want to hand over a city that can be led by our up-and-coming leaders so they can continue to invest in this wonderful place to accommodate their families, education, and work. We don't even know what jobs will be available for the next generation so we must give them a stable foundation so they have the capacity to live, work, and play in this great city!"
As we move onward, let's reflect on the last 60 years and the eff orts of many whom contributed to the city we have today.
Before incorporating as a city, Lynnwood was known as Alderwood Manor. Puget Mill Company made this area of livable land while logging its 6,000 acres. In 1917, it divided an area of land they were logging into five to ten-acre pieces. Then, they sold these small farms to individuals that desired larger pieces of land, particularly those living in the city. Individuals bought these pieces of land for 200 dollars per acre, and if they did not have the money to buy the small farm outright, they could pay ten percent down.
Also in 1917, a realtor from California named W.A. Irwin had the idea of advertising these chunks of land as a way to earn income. He convinced Puget Mill Company to turn a 30-acre piece of land into a demonstration farm complete with chicken coops, vegetable gardens, and orchards. This demonstration farm would teach the buyers from the city how to run and maintain a farm of their own. In the span of five years (1917-1922), the population of Alderwood Manor increased by 6,550%; the area started out with a scarce population of 22 and by 1922 was up to 1,463.
With Highway 99 in the area in 1926, the area saw a lot of growth. At the time, this was the only North/South route that could get people from Alderwood Manor to Seattle and further south. Highway 99 started as a route that came up through the Siskiyou Mountains in California; it followed the path of an old Native American trail that was used for trade.
Many people fled areas like California to come up to this area via Highway 99 because of cheaper property, and the lumber industry was booming. With the introduction of Highway 99, Lynnwood saw an influx of gas stations, restaurants and motels.
Highway 99 was originally a simple gravel road with two lanes, no lines and no traffic lights. There were no barriers either; the forest came straight up to the edge of the road. As the number of cars on the road increased throughout the decades, this brought more problems, so eventually the road obtained stop signs and other types of signals.
In the late 1930s, Seattle realtor Karl O'Beirn portioned some land in the area, and using his wife's name Lynn, he named the area Lynnwood. He then began to sell lots. Soon after, others bought plots of land, and businesses like Lynnwood Lumber, Lynnwood Feeder Supply and others came to the area.
The area experienced rapid growth during the 1940s when King County's population increased sharply. People were coming to the area, and they needed places to live. Low-interest loans allowed people to live in the area, and using Highway 99, they could commute to Seattle.
After a failed attempt to incorporate in 1958 with a proposed area of 6.7 square miles and a population of 10,000 people, Lynnwood finally incorporated in 1959. The proposal changed to only three-square miles and 6,000 residents. Interstate 5 was constructed only a few years later as well.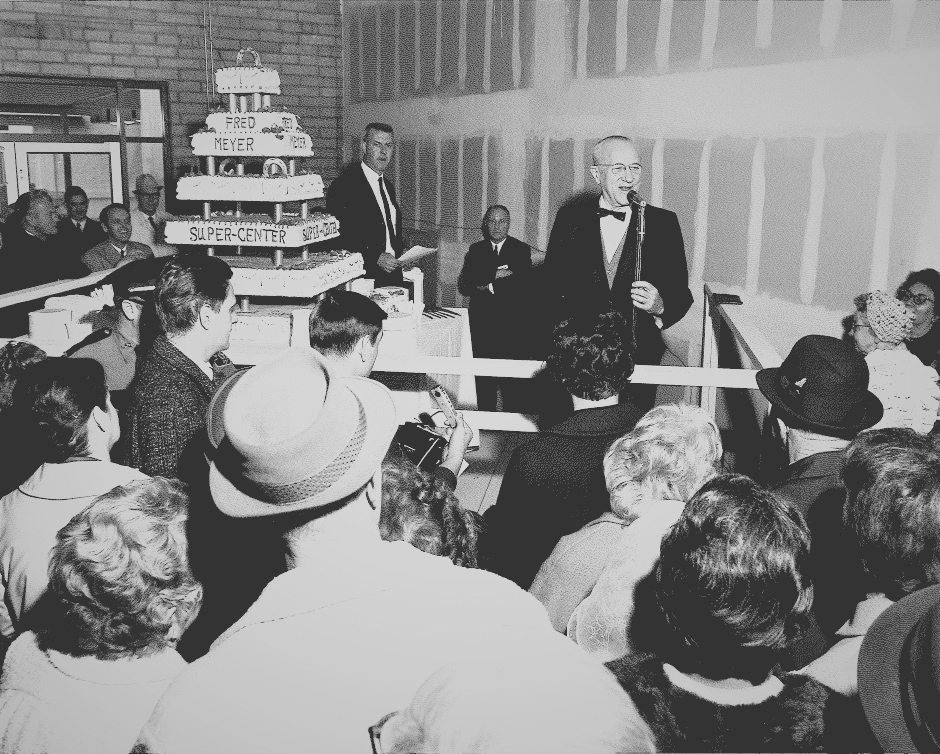 The area began to grow even more as large stores came. Fred Meyer opened in 1968; Fred G Meyer himself spoke at the grand opening of the store. After being announced in 1966, Alderwood Mall opened in 1979. This particular time period marks a time of business growth in Lynnwood; as of 1982 there were over 1500 businesses in Lynnwood, and the population had risen to 22,600 people. This is an increase of about 40% people in a decade, almost 6000 people.
The 1990s were a time of interest in community events and the arts. With Lynnwood becoming the third largest city in Snohomish County, residents wanted to retain the feel of a smaller town; developing a stronger sense of community was the perfect way to do that.
Additionally, the 2000s saw an increased focus on the preservation of history. The city began to recognize and preserve historical properties, and local historians wrote books to remind the residents of the past.
In September of 2003, Sound Transit and Community Transit rebuilt the previous park and ride located in Lynnwood and renamed the area Lynnwood Transit Center. This rebuild cost over 33 million dollars and added 300 parking spaces to the lot.
Today, Lynnwood boasts a population of approximately 37,000 people making it the 30th largest city in Washington, according to 2017 estimates from the US Census Bureau. The city maintains 350 acres of parks including small neighborhood and community parks.