by LUKE PUTVIN
luke.putvin@lynnwoodtimes.com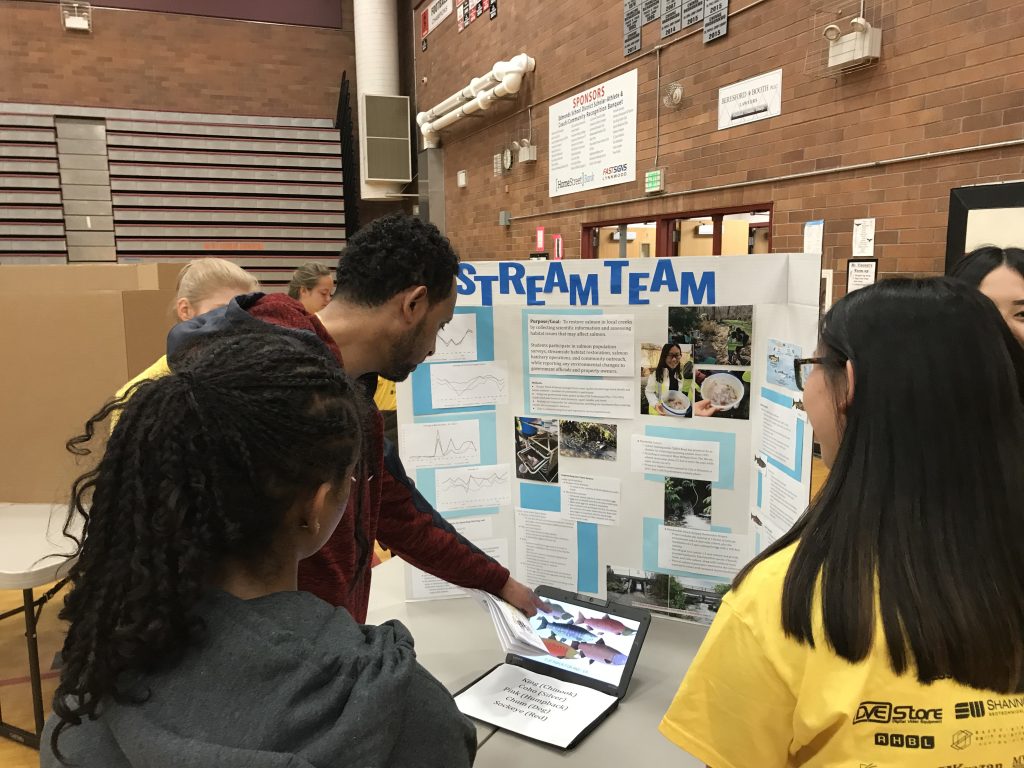 The STEM Expo is a celebration of students' learning in STEM (Science, Technology, Engineering and Math) fields, and it's a place where they can show how STEM can be used to impact the future. Approximately 450 students from 16 schools participated in the STEM Expo at Mountlake Terrace High School.
One-hundred ten students registered for the Lynnwood Mayor's Challenge where they could choose between six challenges, each of which are based on current issues affecting Lynnwood.
Barbara Martin's 5th Grade Class from Meadowdale Elementary researched invasive plant species, and then they visited Lynndale Park three separate times to map all of the invasive species that were present. The class split into groups, and each group focused on locating one plant. The invasive species spread and prevent native plants from growing; this results in a shortage of food for animals. "Every little thing can change a lot in one area," one student said. They hope this information will help eventually get rid of the invasive plants in the park.
Austin and Allen, two students at Mountlake Terrace High School, focused on city lighting by Lynnwood City Hall and the Senior Center. They found the area didn't have enough permanent lighting and pointed towards issues of safety, especially for those using these buildings in the evening hours. Austin and Allen both enjoyed working with the local city government and learning how it approaches and completes projects like these.
Aside from the Mayor's Challenge, students boasted a wide variety of projects. Faith and Christian, two 8th Graders from Alderwood Middle, built a robotic, claw-like mechanism powered by water pressure.
They sketched out plans for all the pieces, did the 3D printing and assembled the mechanism. The claw was powered with multiple syringes filled with water that when pushed or pulled, the pressure caused the claw to move.
Alexis, Cameron, Tyler and Madison, a group of students from Meadowdale High School, did their project on "The Ethics of CRISPR." CRISPR-Cas9 is a type of technology that allows gene editing within organisms. Their project explained how this process could allow individuals to change aesthetic differences like hair and eye color, but it could also change and cure potential diseases imbedded in one's DNA. Madison, one of the students, finds CRISPR-Cas9 to be unethical for aesthetic purposes but ethical for its use to solve health issues. Tyler believes the entire process is unethical, but he recognized how beneficial it can be.
Hannah, Sehe, Melissa and Stella, another group from Meadowdale High School, partnered with the AP Environmental Class and Environmental Club to work on Stream Team. They monitored three creeks. Keeping records on information like water temperature and pH levels, they reported changes to the city council.
The team also worked at a salmon hatchery that focused on salmon restoration, which was everyone's favorite part. "It was fun to watch the salmon grow, and it was rewarding too," Hannah said.
According to the Washington State STEM Education Innovation Alliance, Washington state ranks #2 in the concentration of STEM jobs and #3 in STEM job growth in the United States. However, underrepresented populations such as low-income and underserved minority families and gender imbalance are still challenges facing the STEM gap.