by LUKE PUTVIN
luke.putvin@lynnwoodtimes.com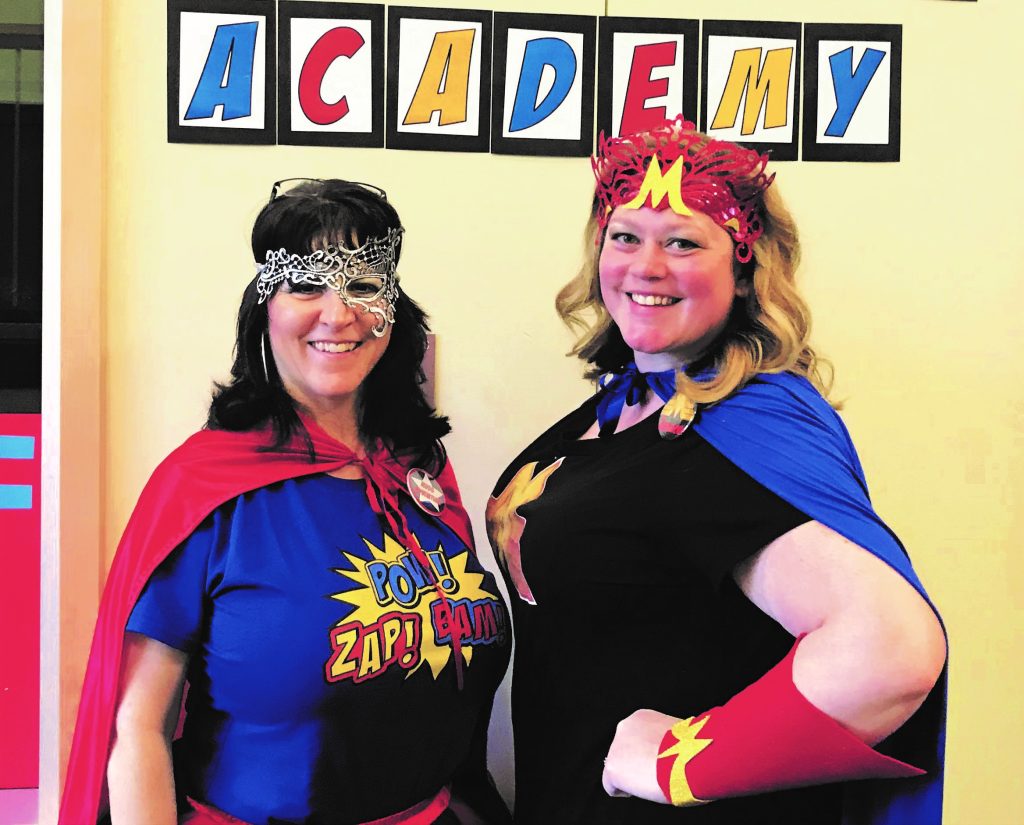 At the Lynnwood Recreation Center on April 27, a roomful of mothers and their sons, all dressed up as superheroes, spent a couple hours playing games and having fun. There were some set, structured activities like "How Well Do You Know Her?" (a play on The Newlywed Game where sons and mothers need to match questions for each other). There were also a couple chunks of free time where the kids went between a bouncy house, a racquetball court with multiple activities set up and making pins to wear.
"I mean, I get to dress up as a superhero," Jon Bullard, Recreation Coordinator told me. It was clear that the parents, children and staff were all having a great time.
Miss Marvelous (AKA Jamie) and Miss Adventure (AKA Darci) were the main ones who put the event together. Miss Adventure called herself the sidekick and Miss Marvelous the "Event Coordinator Extraordinaire."
Super Moms and Sidekicks has been going on for five years now. The desire for this event stemmed from the existing "Ties and Tiaras" event, geared toward fathers and daughters. Mothers wanted an event that was similar for their sons. It's all geared towards simply hanging out, having fun and making memories.
Kory, one of the mothers there, was dressed as Black Widow, and her favorite part of the event was that her son loved it. "He tried to go to bed at 2:00 p.m. yesterday because he was so excited," she said.

Six workers ran the event, all employees of the Rec Center. Miss Marvelous and Miss Adventure are preschool teachers and the rest of the event staff primarily do camp counseling. I talked with a couple of the workers who were dressed up as superheroes too. It was Elastigirl's first time working the event, and she was happy that it gave everyone something fun to do that isn't TV but is still an indoor activity, with the PNW springs being as fickle as they are. It was Super Swish's third year working this event. She particularly loved the agility competition and seeing the children overcome the challenges that it brings.
Jon Bullard told me later that this wasn't just playtime for the kids but for the adults as well. He liked that the parents were goofy along with the kids. Jon oversees youth and teen events for the city and told me the importance of building community through events he coordinates; he loves creating family events and seeing the smiles on the faces of everyone.
"The Parks and Recreation department is an essential part of the community; it helps build community," Jon said.
For more information on the Lynnwood Recreation Center, visit lynnwoodwa.gov and under the "Things to Do" heading, select "Recreation Center and Pool."