Eggs-plore Artist Rachel Sprague
by LUKE PUTVIN
luke.putvin@lynnwoodtimes.com
Rachel's "Scandinavian Spring Egg" was located at Anna's Home Furnishings on 40th Avenue.Though she has been an artist her entire life, Rachel's art career officially began in 2008 after completing a Natural Science Illustration certificate through the University of Washington. Since then, most everything she does is related to art.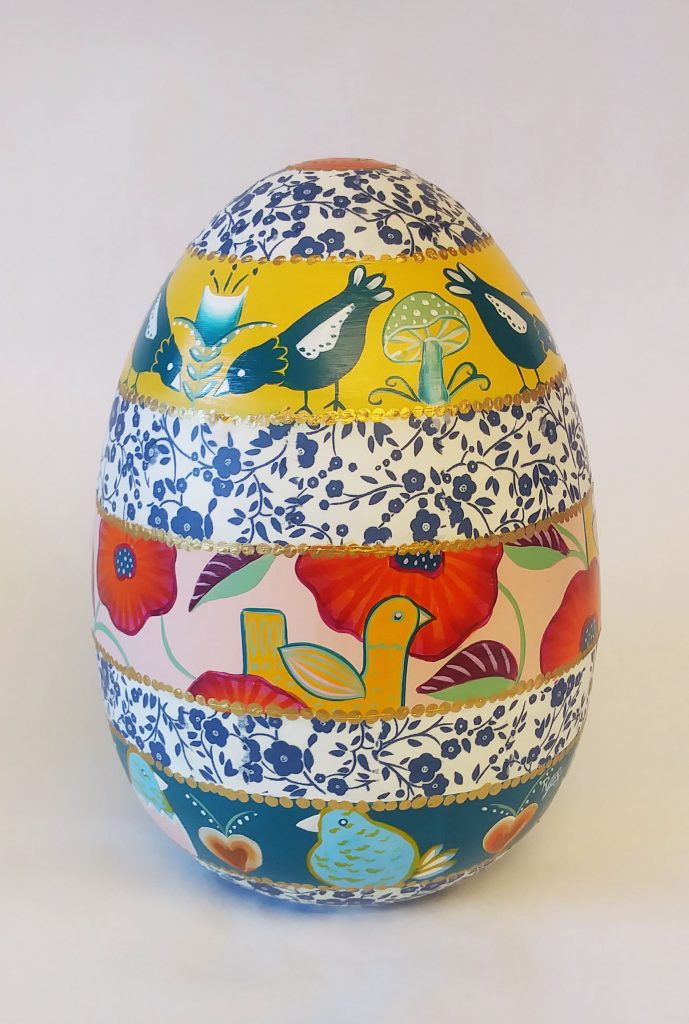 Rachel currently works fulltime as a freelance artist and illustrator. She is also one of the founding artists of Hourglass Footwear. There, she spends a great deal of time painting wedding shoes and clogs. Additionally, she is a proud mother of two young girls and loves exploring the outdoors with her family.
Rachel created the "Scandinavian Spring Egg" as an homage to her own Scandinavian heritage, but it's also an homage to the original egg farmers of the area from the early 20th century before Lynnwood was even a city. Many of the farmers of this time were Scandinavian, Rachel says.
"Part of being a successful artist is letting yourself be open to what being an artist means," Rachel said. "I never thought decorating an egg would be part of my career narrative, but it's something that I have really enjoyed doing for two years now and has helped me connect with an art community that I never would have been exposed to otherwise."
She advises aspiring artists not to box themselves in. "Decorate eggs, paint pianos, paint shoes, write poetry. Don't define yourself and what you do too early; you might miss out on a really fun opportunity."
Ultimately, Rachel says that she thinks art helps us understand not only one another but the world we live in. She said the community-sponsored art in particular has the power to bring people together, people who may not have come together otherwise. "In a world where it so often feels as though we are all just looking down at our phones all the time, art makes us look up and notice each other in real life."
For more of Rachel's work, visit HourglassFootwear.com.