by LUKE PUTVIN luke.putvin@lynnwoodtimes.com
As part of the city's Meet Me at the Park event series, about 70 people attended the South Lynnwood Park event on July 16. The City of Lynnwood has been putting on Meet Me at the Park for four years, but this was the third year at the South Lynnwood Park location.
Sarah Olson, Deputy Director of Lynnwood Parks, Recreation and Cultural Arts Department, said these events encourage healthy living and promote local park attendance. The idea started from the partnership of Verdant Health and the City of Lynnwood. "These sorts of park events happen nationwide," Olson said.
There were multiple activities including jump rope, hula hoop, Zumba, soccer and more. Edmonds Community College, Edmonds School District, South County Rides and the City of Lynnwood all had booths present for community outreach. A few police officers were also present.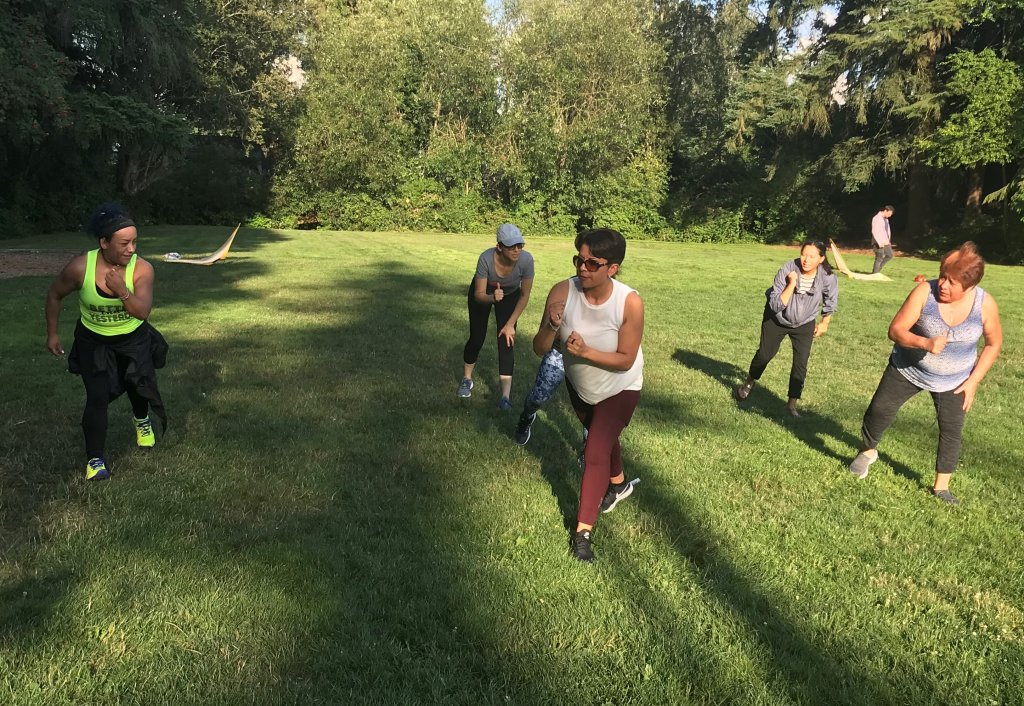 "We're here to bridge gaps," said Sgt. David Byrd of the Lynnwood PD. "We want to let people know we are part of the community, and we're here to collaborate. I hope people walk away with the fact that the police are here to serve them and make the community better for everyone."
Cameron Coronado, with the Public Works environmental and surface water team, was there teaching the public about pet waste and the importance of picking it up. "There's over 15,000 pounds of pet waste in Lynnwood every day," Coronado said. When rain washes the waste and its bacteria into waterways, this can lead to the closure of shellfish beds and the closure of areas for swimming or fishing. For more information, go to lynnwoodwa.gov/petwaste.
City Council Candidate Julieta Altamirano-Crosby also attended the event. Crosby and her firm were hired by the City of Lynnwood in the summer of 2018 to do community research of the South Lynnwood neighborhood. The research consisted of focus groups and asking the community what they liked about the park and what they would like to see in the redevelopment. There were small things that the city learned this way like the chains on the swings hurting some hands and the request of brighter colors for structures.
"There is a lot of potential for this park," Crosby said. "I am very thankful to have been consulted." She hoped people left the event with joy and a feeling of unity. "Dancing and playing are universal languages."
The final Meet Me at the Park will be at North Lynnwood Park on July 25 from 6:30 to 8:00 P.M.