Second South County Fire Graduation 2019
By Mario Lotmore
On Friday, August 16, the Snohomish County Fire Training Academy hosted the second graduating recruit class of 2019 at the Lynnwood High School Theater. Recruit Class 19-2 graduated a total of 15 recruits from four local fire departments. From Everett, William Powers; from Lake Stevens, Logan Harding, Jacob McCann, Matt Millich, Brady Obrien, Adam Perron, and Carter Welch; from Marysville, Tyler Hoglund; and from South County, Irvin Mitchell, Conner Davis, Cory Watters, Jordan Reyes, Sean McGinnis, Thomas Fitchett, and Jed Golder.
South County Probationary Fire Fighter Thomas Fitchett said participating in "Wrestle for Life," a tournament for cancer research, while at Anacortes High School changed his life and moved him to be of service to others. Fitchett commended his instructors and said the training at the academy was realistic and appreciated training to combat fires in modern construction buildings. "Every day was a challenge," said Fitchett, but it taught him to exceed his limitations.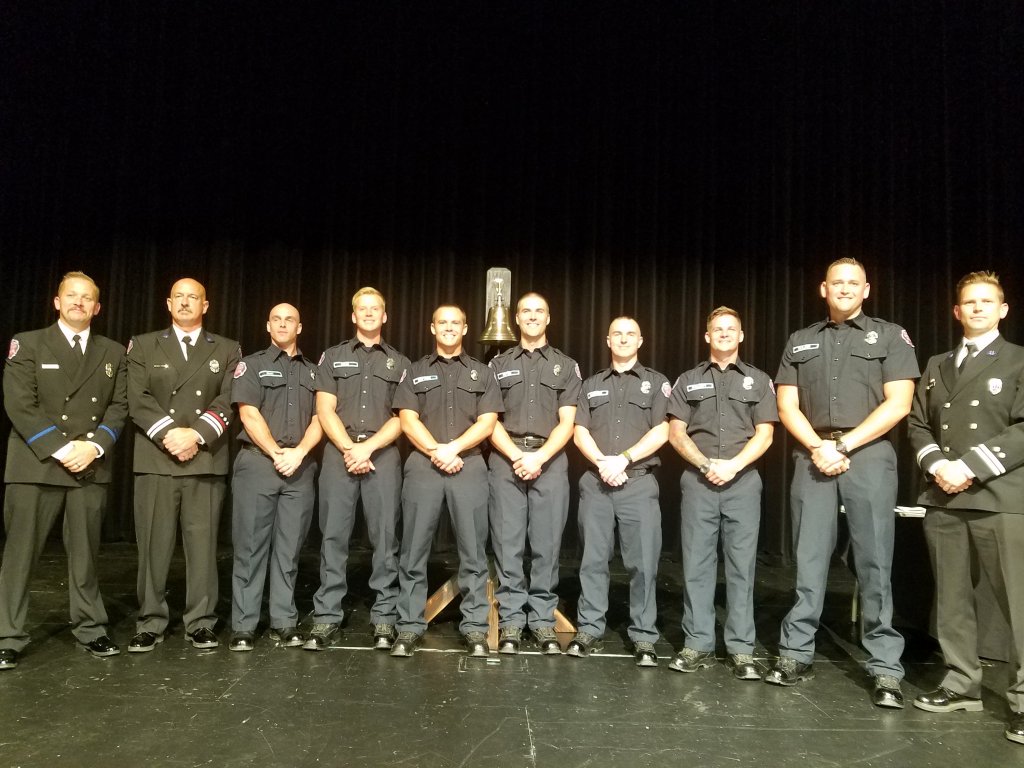 Snohomish County Fire Academy
The Snohomish County Fire Chiefs Association directed the development of the local academy as the county's growing hiring needs outpaced available enrollment at the Washington State Training Academy in North Bend. The first recruit class graduated from the academy in Spring 2018 then a second class graduated that fall. This year, has three classes:
Recruit Class 19-1 which graduated 25 recruits from five county departments in May, 11 from South County Fire.
Recruit Class 19-2 graduated 15 recruits from four county departments August 16, 7 from South County Fire.
Recruit Class 19-3 will commence September 9 with 37 recruits, 14 from South County Fire.
The academy is typically 14 weeks; however, Class 19-2 was shortened to nine weeks because all the recruits in the summer session are required to have the following certifications: Firefighter I, Firefighter II, Hazardous Materials Operation and Awareness, Emergency Medical Technician.
After graduation, South County Fire recruits will complete three weeks of post-academy training, one week of fire and two weeks of EMS training. They will then begin working in stations as probationary firefighters. During their probationary first year, they continue to receive training and are required to complete task books and take skills evaluations.
During the academy, most of the training takes place at the South County Fire Training Tower in South Everett. Live fire training is in Gold Bar. Recruits also train at structures scheduled for demolition. Class 19-2 class also trained at Creekside Church in Mountlake Terrace.
The academy curriculum included courses on hoses, fire attack, forcible entry, ventilation, search and rescue, automobile extrication and ladders. Lessons are based on the latest fire science studies conducted by the National Institute of Standards and Technology and UL.
Commencement Ceremony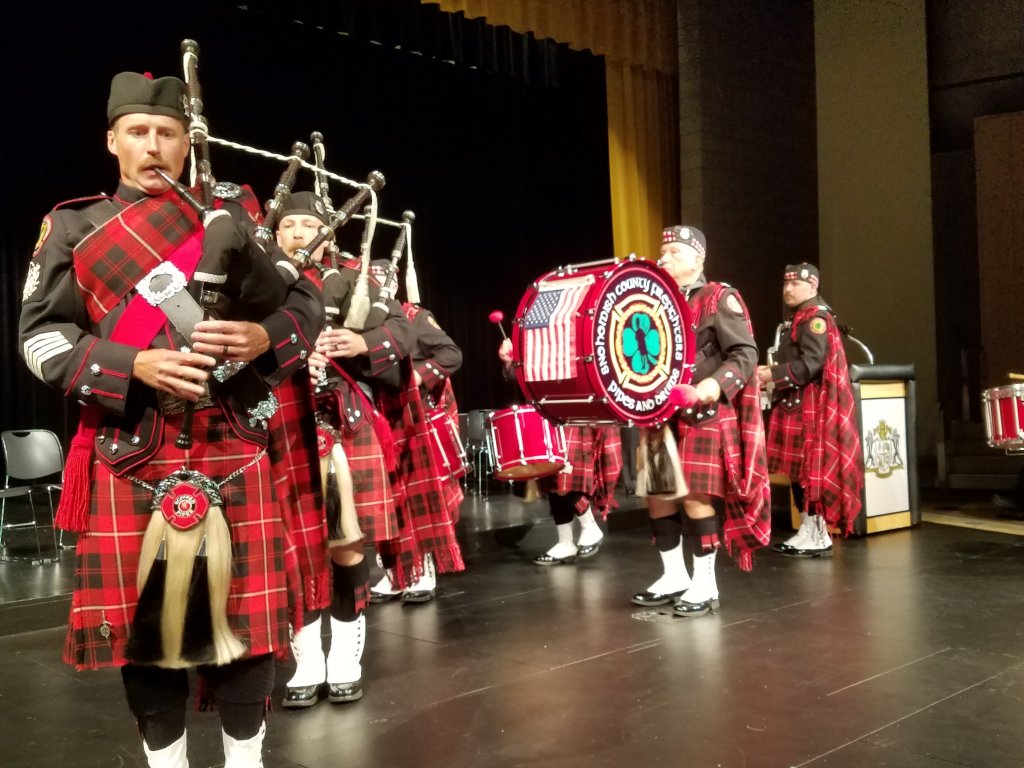 The commencement ceremony opened with a procession by the Snohomish County Pipes and Drums playing, "Scotland the Brave" followed by the singing of the National Anthem by South County Fire Captain Keith Sessions. Pastor Dan Hazen performed both the invocation and benediction.
Retired Snohomish County Deputy Fire Chief Tom Foster shared with graduates his message of the importance of duty and service starting on day one as a firefighter, "You will be shaping the lives of children on your first shift." He challenged graduates to be active learners and educate community members in public safety; and throughout their careers they are to be trustworthy, accountable not only oneself but to each other, responsible, and perform exemplary customer service.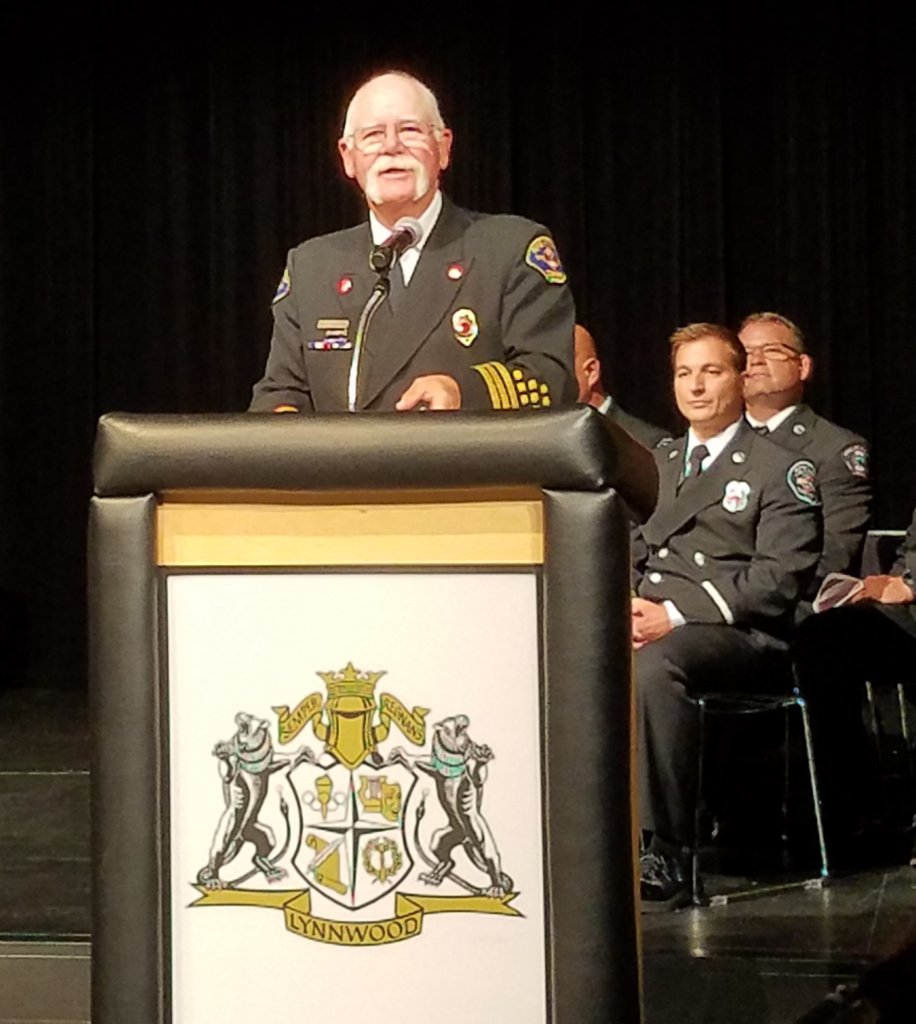 Mitchell Irvin of South County Fire was recognized for the Engine Company Award along with Logan Harding of Lake Stevens Fire for the Truck Company Award and Jed Golder of South County Fire for First/Top Whip Award.
After the presentation of diplomas by South County Fire Captain Don Welch, class speaker Logan Harding led a presentation video of memories and experiences from the academy. Harding expressed the comradery between recruits and the physical and mental endurance required to complete the academy.
Recruit Class of 19-2 built a bell which was rung to signifying their commencement to, as Retired Snohomish County Deputy Fire Chief Tom Foster said earlier in the program, "The ride of your life!"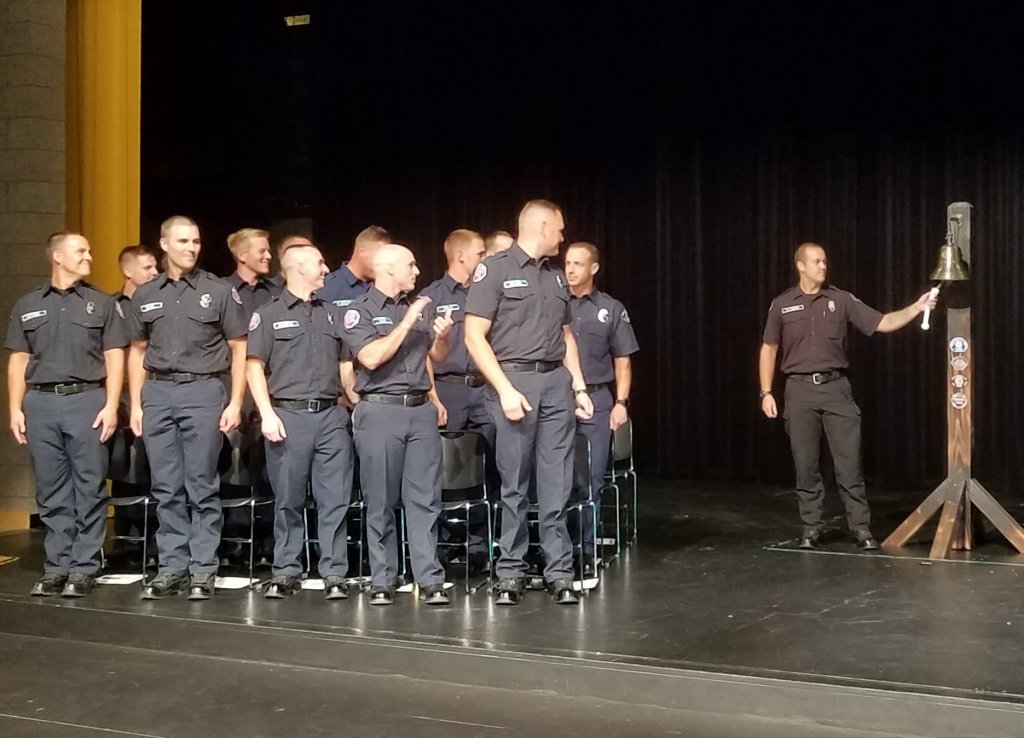 Related Articles:
Fifth annual South County Fire Kids Camp: https://lynnwoodtimes.com/2019/08/14/campers-learn-teamwork-at-fifth-annual-south-county-kids-fire-camp/