Candidates face off for Edmonds School Board
by Kirsten Johnson | Updated October 17
Edmonds School District board candidates say that "correcting funding inequities" and restructuring the district's regionalization factor would be priorities during the upcoming legislative session.
"It sounds like we're all on the same page with this," said incumbent District 3 candidate Gary Noble during an Oct. 8 forum hosted by the League of Women Voters of Snohomish County. "Special education funding is about $5 million less than our actual costs, forcing us to use local levy money to cover the difference (and) the teacher pay regionalization … costs us $7.5 million (more) compared to the districts surrounding us."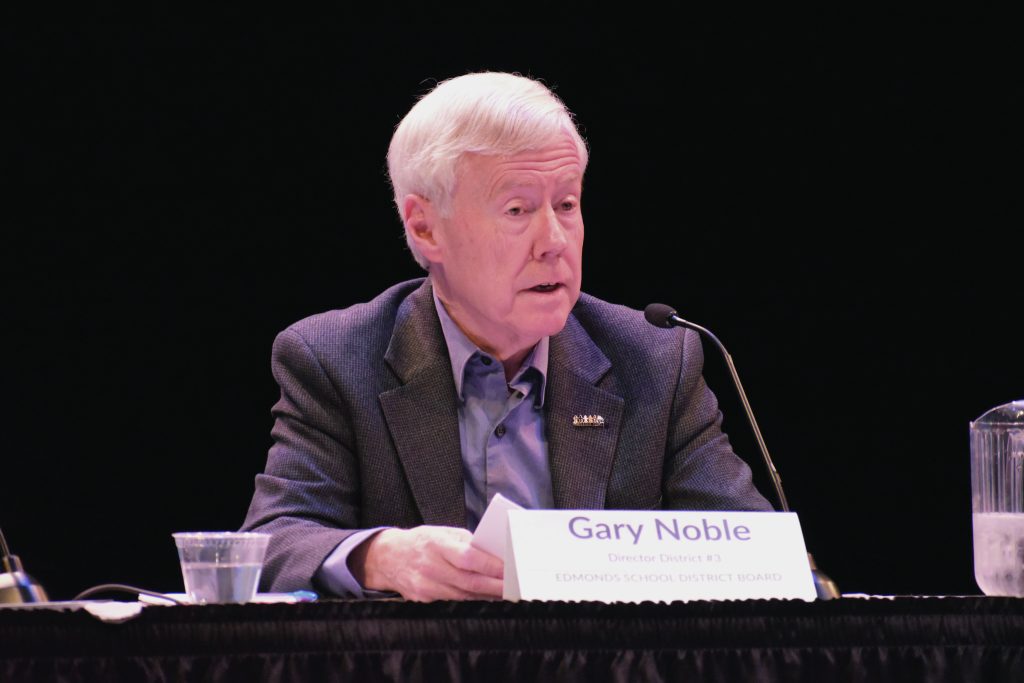 "The change in state insurance for our employees costs us $1.5 million which is not covered by the state and the proto-typical school model… funds way too few counselors and nurses," Noble added.
Along with Noble, other candidates who attended were: Noble's challenger newcomer Rory Graves, Nancy Katims and Lisa Hunnewell, each vying for the open District 5 position being vacated by board President Diana White, and Carin Chase, running against Alvin Rutledge Jr. for the District 1 position. Rutledge did not attend the forum.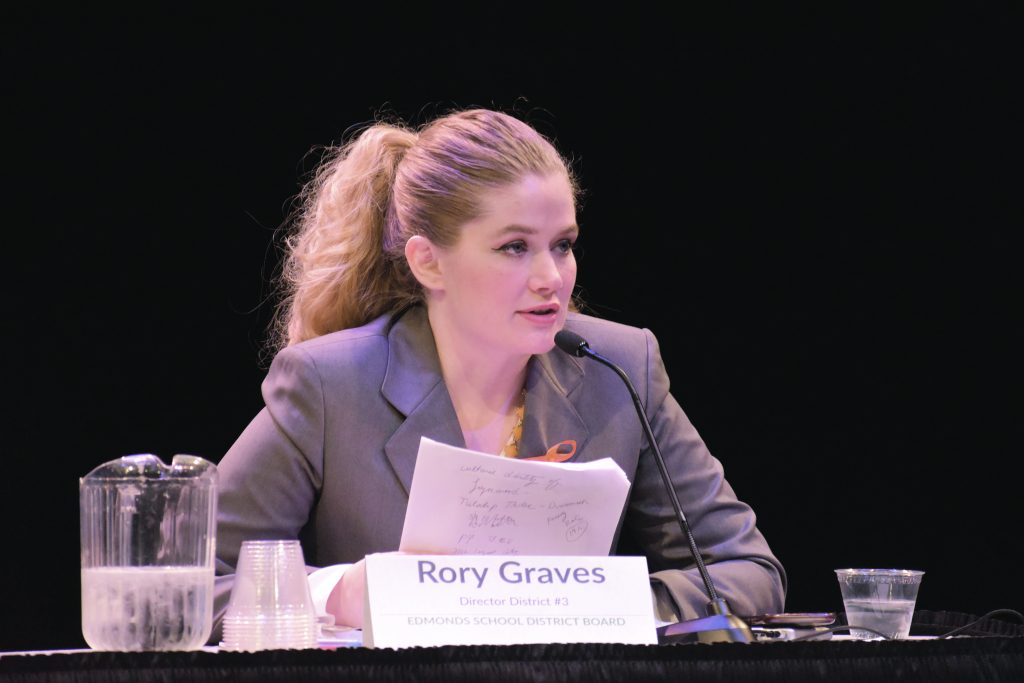 Other questions touched on candidates' opinions on the need for School Resource Officers, the board's recent approval of a $600 million construction bond/$96 million facilities levy, and candidates' perspective on the district's budgetary layoffs this school year of dozens of teachers and staff.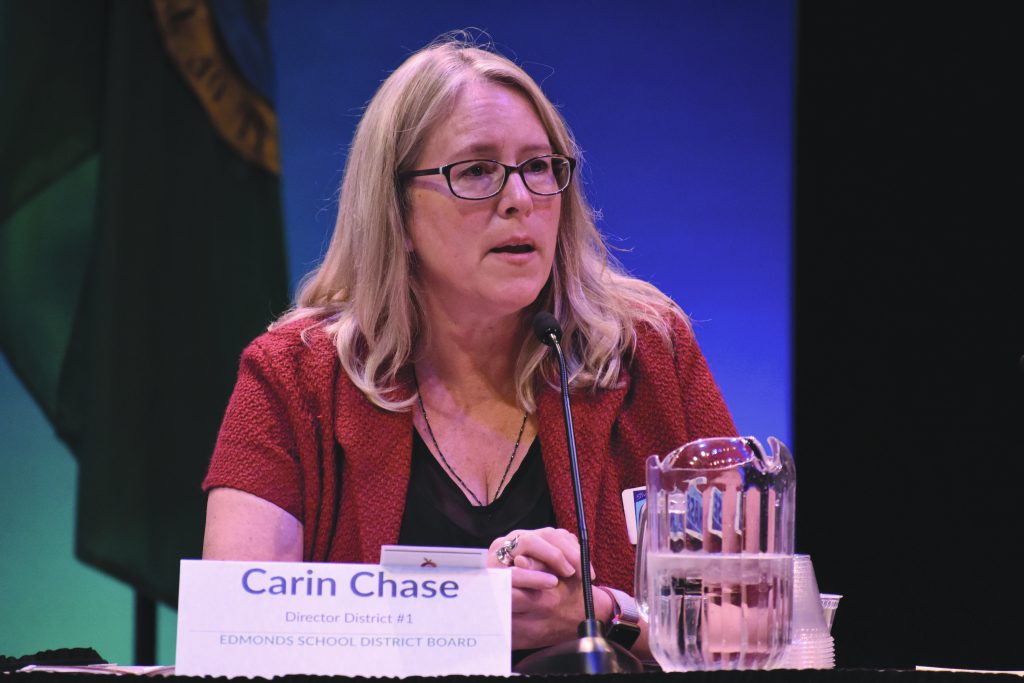 "There were some faulty assumptions in the projections made for our budget and they ended up (impacting) the teachers," Graves said. " … So I think, rather than disrupting educators lives with ending their contract for the coming year, that could have been handled better. Right now, there are over 850 classes that are at trigger which means we're at tremendous overcrowding. At Edmonds-Woodway High School they're having to kind of shuffle schedule some of the students and hire more educators because they under-predicted enrollment at that high school which is very disruptive to students."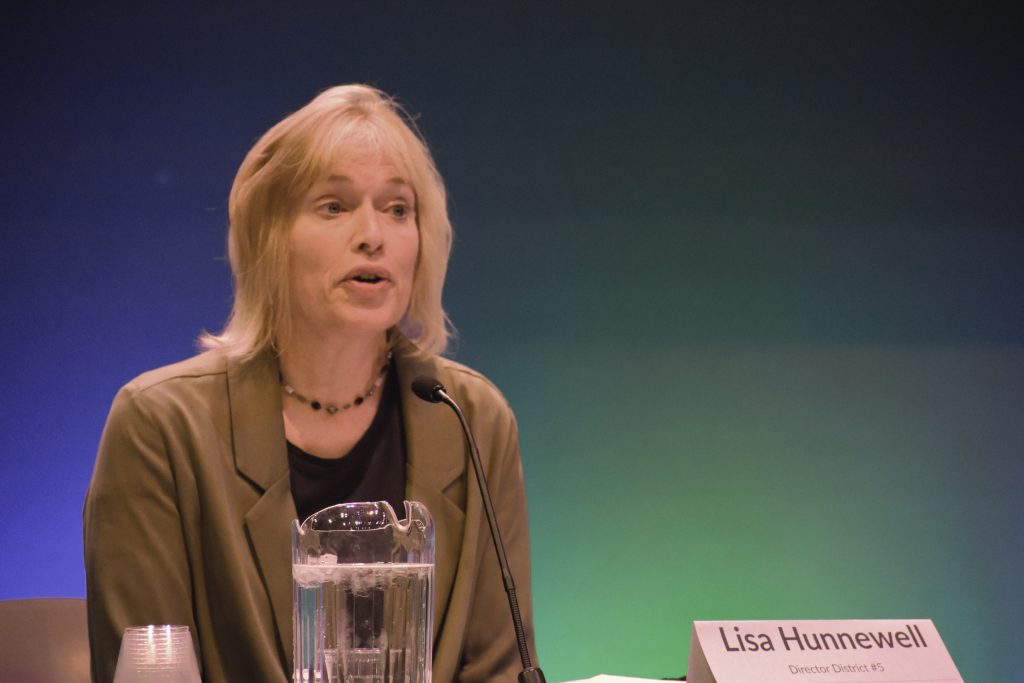 "A budget is a statement of values," Chase added. "It is … something that, where we spend money reflects our values. And… we need community engagement. And that is one of the things I think we can do a little bit better on. We did have many, many community forums about the budget, however I think the district can do a better job of reaching out and going to the community to engage all of the stakeholders in this collaborative values document that drives the school district."
Questions also briefly touched on Blueprint 2025, which is the district's long-term strategic plan slated for draft approval this fall.
Hunnewell told the Lynnwood Times after the forum that she feels "global readiness" is the most important component of the plan. She said she feels "it's really imperative" to help students succeed "both academically and social/emotionally so they can graduate and be productive members of the world."
"For me that's number one," Hunnewell said. "And right next to that, is equity of opportunity — removing barriers of success and ensuring equitable access to programs … it needs to be fair all the way across for all our students, every race and gender. We have to look at how that isn't happening in certain pockets. Those are two things that I would hit the ground running to focus on."
Katims told the Lynnwood Times she feels more "follow up" information needs to be added to Blueprint 2025.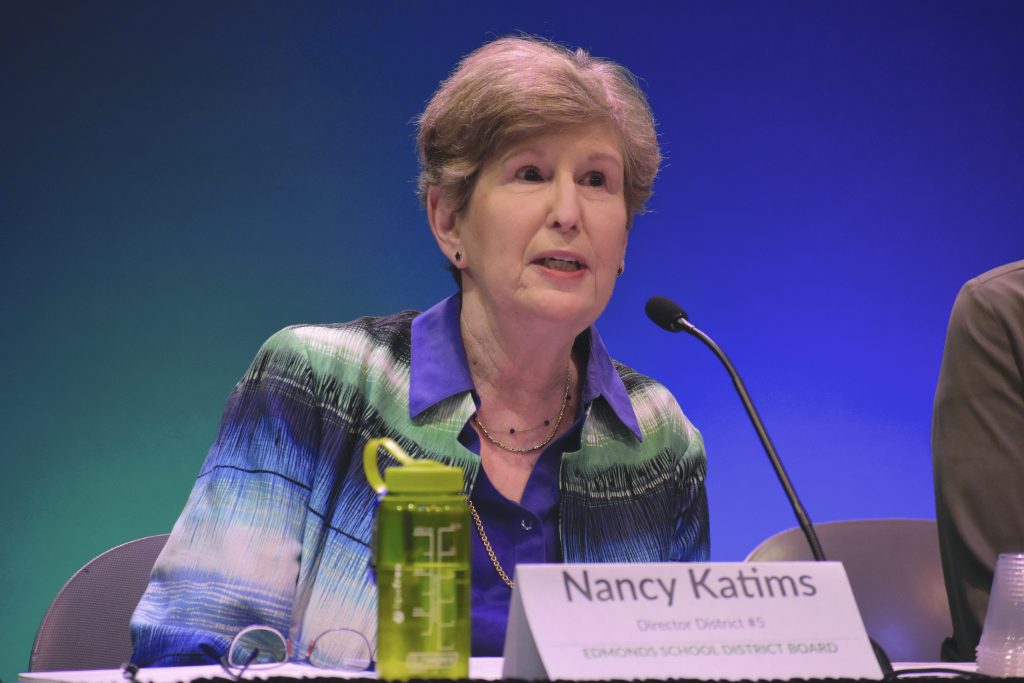 "There's nothing in there about that, they don't talk about how they're going to monitor the progress or what they're going to do," she said. "If the district is making progress, how are they going to allocate resources and budget to help prioritize what they're doing according to these goals? And how will they adjust to make sure the district continues working toward these goals?"
"They also didn't conduct a needs assessment prior to developing these outcomes to find out which are most important and you can't do all at the same time," Katims added. "So the first step is we need to prioritize first and then the next step is to figure out how we're going to follow up and monitor the things that are most important."
The general election is Nov. 5.