Edmonds Community College Faculty members picket for living wage
Edmonds Community College Faculty members picket for living wage
by Luke Putvin | Lynnwood Times
A brisk morning with temperatures in the mid-30s did not stop Edmonds Community College Faculty from their informational picketing on the corner of 196th and 68th. 
"We're fighting for a fair contract; currently the administration is refusing to give us much over COLA [cost of living adjustment]," said Gabrielle Mcintosh, Faculty at the Math Department of EDCC and part of the Contract Action Team. "Our faculty are hurting; we don't have enough money to buy houses or send our kids to college. So we're fighting for fair wages."
"And we're unhappy too because there's all these budget priorities that the college has, like they're building a new building and there's another building coming," added Linda Carlson, Full-Time faculty in Intensive ESL. "And then they just started talking about rebranding, so every sign will have to change too, and that's expensive. They seem to have money for everything else, but not to raise a pretty reasonable wage for faculty."
Mcintosh also cited the salary of the Edmonds School District as a reason that some staff are leaving; she said they can simply make more there.
According to the EDCC website, the salary for full-time faculty starts at $64,563 and caps after 14 steps at $78,330. When starting at Edmonds School District, if a Bachelor's degree is held, pay starts at $61,827 and caps at $72,291 after 14 steps. However, if a Master's is held, pay starts at $72,102 and caps at $103,111.
"Our union has been in negotiations with the EdCC administration since last April," said Mcintosh. "We have been working without a contract since July since Dr. Singh thought it would help move the negotiations along by refusing to extend it. This decision has done nothing but make the negotiations more contentious and faculty are upset that they didn't grant the extension in July."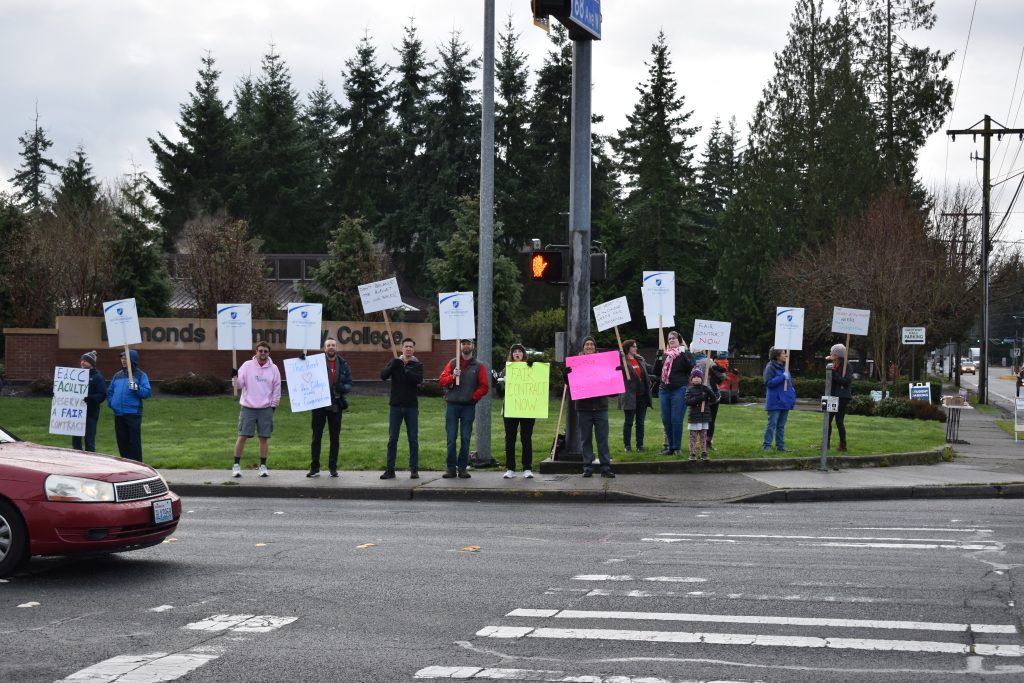 Though the faculty's most recent action is the informational picketing, which they are continuing to do every Tuesday, they have had a variety of actions this quarter to make their concerns heard. These actions include wearing red on certain days (like the "Red for Ed" campaign in K12), signing a series of petitions for delivery to Dr. Singh, making flyers for faculty and students with updates on the state of negotiations and more.
"The Edmonds School District teacher union has asked their teachers to wear red on Tuesdays to show their support for EdCC faculty. And community members are welcome to join us for the informational picketing," Mcintosh added.
In addition to living wages, the faculty is fighting to restructure the step program since it currently takes about 39 years to reach the top of the pay scale, according to Mcintosh. Additionally, they are fighting for job security for associate faculty.
Benjamin Thompson, Executive Officer for Community Relations with the EdCC student government said, "The Executive Board, which is our student government, has decided to remain neutral as this is an issue between faculty and the administration. We have no further comment."
Marisa Pierce, Director of Marketing and Public Information at the Office of the President of EdCC, provided a comment on the current negotiations. "Edmonds CC is currently in the midst of contract negotiations with the faculty union. We're hopeful there will be a successful outcome for both the faculty and the college soon. We cannot comment further as we are fully respecting and honoring the process and are committed to a fair negotiation."