Former Whispering Pines resident shares struggle to find housing
Former Whispering Pines resident shares struggle to find housing.
LUKE PUTVIN | Last Updated: February 6, 2020.
Lori Tambellini, a lifelong Snohomish County resident, had lived at Whispering Pines for 20 years.
She originally moved to Whispering Pines because she became physically disabled and got a housing voucher as a result. At the time, Tambellini explained, there was very little choice in places to move. Whispering Pines was the best option.
"I was happy at Whispering Pines. I wouldn't have moved where I am now had I not been forced out," she said.
The Whispering Pines rezone was the subject of much debate at city council meetings. The Housing Authority of Snohomish County (HASCO) proposed a rezone for the property which would add up to 400 dwellings while still including affordable housing. Whispering Pines was going to be demolished either way due to aging infrastructure. With the city council voting down the rezone 4-3 at its April 22, 2019 business meeting, the property will be demolished, and there are no plans to build new apartments there as of now.
Current Whispering Pines residents must leave by August of 2021, but for many, finding a new place to live isn't so easy, especially for those on a fixed income.
"On a fixed income, I knew I wasn't going to be able to move, period," Tambellini said. However, she didn't want to wait until the last minute, so when The Reserve at Lynnwood apartments opened, she thought it would be a good fit. When she went to inquire about her housing voucher to move, she had learned her voucher amount had decreased.
Her voucher amount wasn't going to allow her to find anywhere in Snohomish County to live, but due to both self-advocacy and advocacy from others, she was able to move to The Reserve.
Darlarae Osborn, another resident at Whispering Pines, connected Tambellini to Pam Hurst. Hurst helped and got a moving truck and movers to volunteer their time to help Tambellini move.
"Lynnwood has a problem with affordable housing, and they aren't going to make new affordable housing where the Whispering Pines apartments currently are, because Lynnwood City Council voted down the rezone they were going to do to rebuild the property," she said. "Everyone has to move out, and they have to move somewhere. But where do they go? I was one of the lucky ones. Everything just aligned at the right time, and I was able to get out. Otherwise, I would have been stuck because there is no way I could save money for deposits and moving."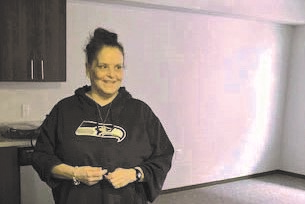 Tambellini fears that many of those still at Whispering Pines are going to become homeless. "As long as you live there, it doesn't matter whether you're on a fixed income or you're disabled. We all have our own story but I'm not a lowlife because I'm on section 8 and living at Whispering Pines. People have preconceived notions of what that property is, and they think it's just a bunch of losers. But you shop at Fred Meyer, eat at the restaurants and pay taxes. You contribute to the city. If you don't have affordable housing, those people have to go somewhere."
She stressed that she is not the only story and said that with over 200 units at Whispering Pines, everyone has their own story.
"I want to help others have success stories like mine, but you have to help yourself and show that you're worthy of assistance," she said. "You aren't a drug dealer or a criminal, but people do place that stereotype on you, especially if you're on a housing voucher. There was the stigma that you would wreck the property; it was difficult to find a property. Until now, I was embarrassed to say I was on a voucher, and I shouldn't have to be."
"We're not all bad people that live there; we're tax-paying citizens."
Whispering Pines residents have until August of 2021 to move elsewhere.