Nic's Barbershop, Home of the $8 Haircut.
By Erin Freeman | February 24, 2020
The first time you come in here, they'll treat you like a customer. The second time, you're family.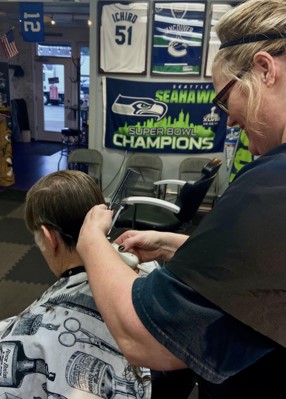 In Mukilteo, Cheri Nicolopoulos, known as "Nic" to friends and community members, operates a barbershop from her garage, creating a space where everyone can feel at home within her own.
The neighborhood barbershop reflects Nic's passion for building connections, which she accomplishes through serving cuts and conversations to the local community. No shaving, no coloring, no washing, and no styling- just haircuts. Her simple service model has become a staple within Mukilteo households. The barbershop offers $8 haircuts alongside a self-serve espresso, wine, beer, and snack station adjacent to the hairdressing space. Squeezed in-between Seattle sports team memorabilia, signatures cover the wall, displaying the identities and messages of customers. "People bring and leave a piece of themselves in here. It's their barbershop," Nic says.
Nic, a western Washington native, is all for being at home. Returning to the coast after relocating to Florida, she knew that she wanted to open a barbershop. Settling into the business district of Mukilteo, a commercial space within her residential complex became available, and her mind started turning like clockwork.
On September 1, 2012, Nicolopoulos opened Nic's barbershop, specializing in serving everyone. "I'm not a salon and I'm not a barbershop," she explains. "This is a family community, and I wanted something here that helps everybody." Beginning with just one chair, Nic has seen great success, growing three times to keep up with demand. Quickly cutting away at her two-car garage, the shop now houses five stations and three contracted stylists.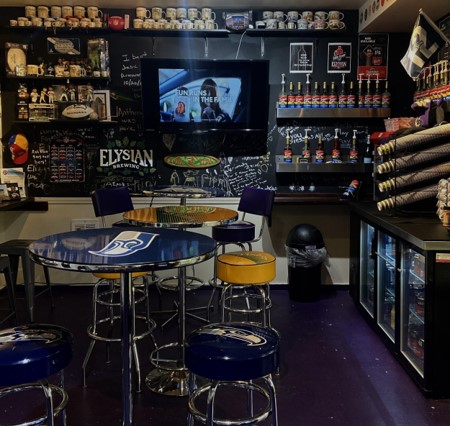 To Nic, the barbershop represents a place of beginning, but for many, it stands as a place to return. Customers who move away from home come back knowing that she'll still be here. Nic tells the story of one of her customers, who began coming to the shop when she first opened. "He grew up, got married, and moved to Pennsylvania," She recalls. "He had a baby, and when that kid grew hair, they flew back home for his first haircut."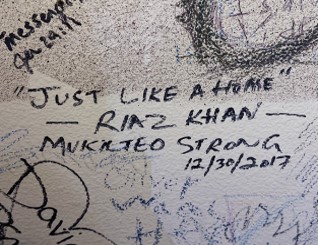 Nic invites the people of Mukilteo together, while also allowing a space for people to bring the world a little closer. Collectible Starbucks coffee mugs, given as gifts from customers who have traveled the globe, crowd wall-mounted shelves, showcasing the outstretch of this small community.
One of the many patrons of Nic's Barbershop. Photo by Erin Freeman.

Kid friendly haircuts at Nic's Barbershop. Photo by Erin Freeman.
Over the next year, Nic aims to expand her reach, hoping to open a not-for-profit. In November of 2019, she co-hosted "Cuts with Cops" with the Mukilteo Police Department, raising money for Men's Health Awareness month. Experiencing the community coming together, continues to inspire her to create paths that connect people through contribution. "I know that I'm just this small barbershop in a small town, and I know my check will never be in the millions, but I want to continue to help out my community. I want to help everywhere."
Nic's Barbershop is located at 4704 Pointes Drive Suite #105, Mukilteo, Washington 98275.