The third annual "Cuts with Cops" event at Nic's Barbershop
MUKILTEO, Wash., November 24, 2021 – On Saturday, Nic's Barbershop hosted its third annual Cuts with Cops event to raise awareness for prostate cancer. From 11 a.m. to 2 p.m., community members with scheduled appointments came in to get their hair cut by officers of the Mukilteo Police Department. Nic's team and the participating officers also handed out snacks, coffee, and pamphlets.
Fully booked, and with plenty of ready-abled Mukilteo police officers, the Cuts with Cops event was a smash hit. All of its proceeds will later be donated to someone in need locally or a men's health awareness charity. (Nic's Barbershop will be accepting donations until the end of the month). 
"Bringing our community together is the biggest thing I love about [Cuts with Cops]," says the shop's owner Cheri Nicolopoulos, who also goes by Nic. "I just love everybody in here and socializing, but it all comes down to men's health; we just want to bring awareness to it."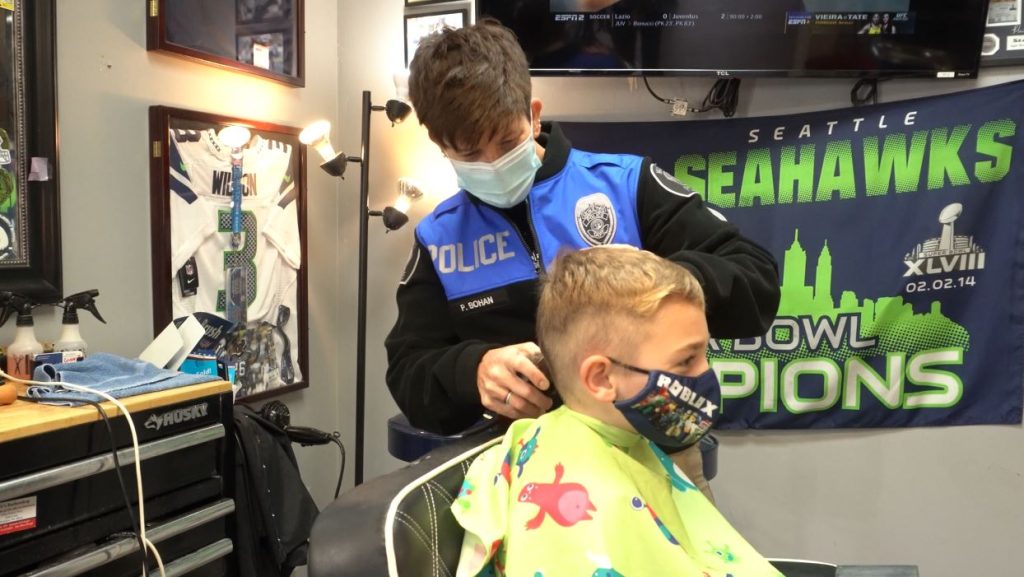 During the event, Nic's staff supervised officers as they made the first few trims for customers before passing the clippers to a professional who'd finish the job.
While handling scissors was challenging for some, the officers enjoyed serving Mukilteo residents in this unique way.
"It's a great chance to get out and interact with the community," said Officer Peg Bohan. "We have a lot of support here. Nic's Barbershop is a great place to come for all kinds of haircuts for folks. But this event in particular is great 'cause it allows people to come in and interact with us and hopefully they're going to get a good cut," she jested.
"Actually they're going to get a great cut no matter what. Luckily we got some skilled professionals to help us out."
Officer Andy Illyn, who had an arm in a sling and had to serve cuts one handed, also spoke about engaging with the community during Cuts with Cops. "The best part about this job is getting to meet new people and getting to meet small business owners," said Officer Illyn.
"And also potentially seeing if I have a second career in my future," he joked.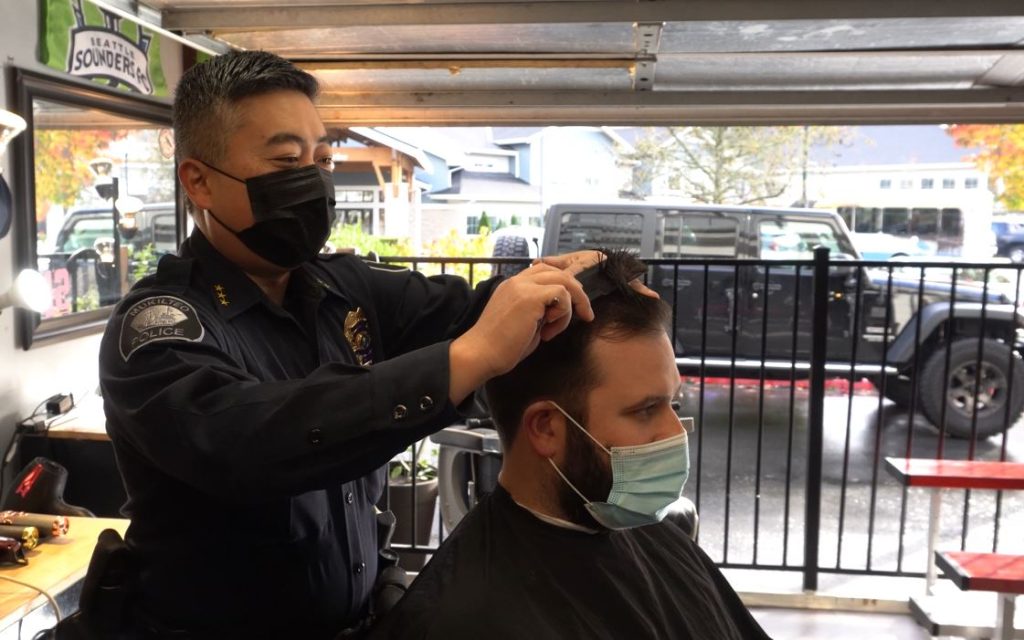 Leading the way on the shop's floor was Mukilteo Police Chief Cheol Kang. (Rumor has it that Chief Kang is the best on the force with clippers). The chief and Mayor-elect Joe Marine worked together to give Gabby, 7, and her brother excellent haircuts.
Nic also spoke about how the event strengthens the relationship between the MPD and the people they serve. "It just shows that they're human — that it doesn't matter what your title is, it doesn't matter what you do for a living, at the end of the day we're all a community."
As an enthusiastic proponent of the Mukilteo Strong motto, Nic is devoted to helping her fellow citizens, especially during Men's Health Awareness Month. "Whether it's someone you know who's been affected by [prostate cancer] or someone else who has been affected by it, we're just here to bring awareness and come together and just show support and love and that's all I care about."
Nics Barbershop has been serving $8 haircuts since 2012. It's located at 4704 Pointes Dr Ste. 105, Mukilteo, WA 98275. Follow them on Instagram @nics_barbershop.