by Luke Putvin
Sitting by the waterfront is Edmonds' very own distillery. Scratch Distillery opened in 2015, but owner/distiller Kim Karrick didn't originally guess that this would end up being her path in life.
Originally from Michigan, she met her husband, Bryan, at Michigan State University in undergrad. He was a science major, and she was a business major.
They moved to the area in 1994. The allure of the outdoors drew them here with all the activities it held, like mountain biking and snowboarding. Bryan became an optometrist but opening his own practice was daunting. Kim mentioned that optometry school didn't teach him things like managing one's own practice, so she helped him manage the business side of things and learned they worked well together.
Eventually, they moved to Edmonds, and Bryan received a job at a new office. At this point, however, Kim couldn't become a partner in the business because she wasn't an optometrist. This led her to search for work elsewhere, and she went into sales.
Sales required Kim to travel a lot while Bryan worked in Edmonds. She was gone often, and eventually she gave up that lifestyle and moved to volunteering and soul searching for awhile.
"This whole time, gin had always been our favorite spirit since we first met… I think it takes a lot of passion to do a really good job at it," Kim said. Their love for gin, Kim said, actually goes back to their first date. Kim exchanged her "crappy beer" she was drinking for a gin and tonic that Bryan had made her.
Kim and Bryan visited England multiple times since they had friends that lived there, and they had very gin-centric trips; they explored many different kinds of gins and how it was made. "I became convinced everybody can like gin; it's finding that right combination."
When they got back, Kim started reading about the industry and continued reading about it for about nine months. She was intent on finding something that was a passion for both her and her husband.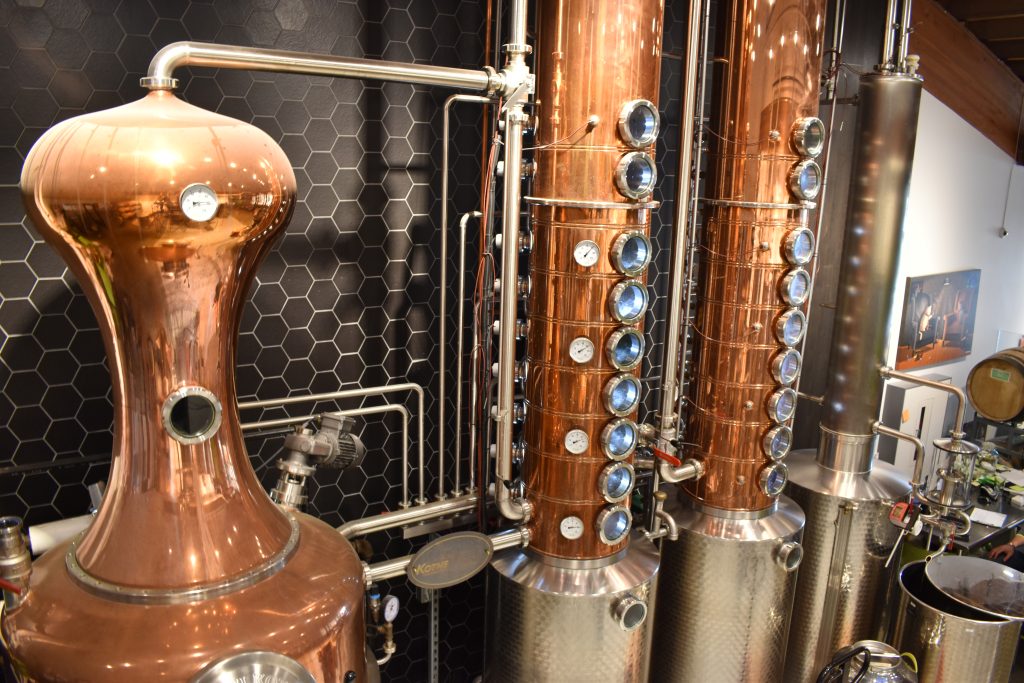 Kim never made alcohol illegally, but she did try infusing alcohols at home. She recalled sitting in her laundry room on Christmas Day 2013 infusing her first juniper strain into some vodka. She mentioned that a lot of people don't know that gin starts as vodka, a neutral spirit, which you then infuse with florals.
When she decided that distilling was the correct path, Kim wanted to make sure that they made the alcohol from scratch. "Many don't realize that a lot of people don't actually make their base spirit," she said. Some gin makers, for example, may just buy a neutral spirit and infuse it. However, she wanted to make the base spirit with all-organic ingredients.
"It's been a hard road in some ways because it's about seven times more expensive to make it the way we do," she said. "We're not the cheapest kid on the block by any means; we'll never be, and we can't be."
Some challenges they faced started with the buildout of their space, being more expensive than anticipated. The original floor wasn't going to support their large tanks, they had to run pipes all around the building and that was just the beginning. "But once you're down the path, there's no heading back," Kim said.
Even the process of the first production didn't go as planned. The equipment coming from Germany, the still and the mash to actually make the alcohol, were delayed. Then, even though they were supposed to be shipped together, only the still came to them first. This meant that they couldn't make any alcohol to distill.
Their solution was to use wine from Sparkman Cellars, where Kim worked at a point, and make a grape-based vodka. They also found a brewery across the street that had a flat fermenter full of beer they weren't going to bottle, so Kim took it all and distilled it into a beer schnapps, which wasn't even a category in the United States but is now becoming a bit more common.
By the time they made the alcohol they had planned to make, they had some experience. When they finally got the mash and fermentation tanks, they cranked out some wheat vodka and potato vodka and decided to open the doors one night without fanfare. "It was uneventful," Kim said, "but we still had quite a few people."
As Scratch Distillery grows and expands their distribution, Kim's favorite part is the creativity of it all; she said that it provides a bit more challenge and excitement.
"I hope people who come here realize the difference of us making it from scratch, the quality of spirits and that they ask for it when going to their local watering hole that may or may not carry it," Kim said.
To learn more about Scratch Distillery, including how to join their spirits club, visit www.scratchdistillery.com.