By Erin Freeman | Lynnwood Times
The novel coronavirus, known as COVID-19, originated in Wuhan, China and is a newly discovered respiratory tract infection spreading from person to person throughout the global community, according to the Centers for Disease Control and Prevention (CDC).
The Center for Systems Science and Engineering at John Hopkins University, has a map tracking the global number of COVID-19 cases. The map was first shared publicly on Jan. 22. It was developed to provide researchers, public health authorities, and the general public with a user-friendly tool to track the outbreak as it unfolds.
The map is maintained in near real time throughout the day through a combination of manual and automated updating. The time of the latest update is noted on the bottom of the dashboard. Link to interactive site map: https://coronavirus.jhu.edu/map.html.
Symptoms appear between two days to two weeks after exposure to the virus, including fever, dry cough and shortness of breath, according to the Washington State Department of Health. People who are elderly or have underlying health conditions are the most vulnerable to high-risk COVID-19 cases, according to the CDC.
There is currently no vaccine to prevent COVID-19. The most effective preventative measures are to clean your hands often and avoid close contact with people who are sick, says the CDC.
To protect individuals at an increased risk for serve illness, the CDC announced that based on the rate of COVID-19 transmission in Snohomish, King, and Pierce Counties, these communities should implement mitigation social distance strategies to support slowing the virus' spread and diffuse the rate of transmission.
"These approaches are used to minimize morbidity and mortality caused by COVID-19 and minimize social and economic impacts of COVID-19," said the CDC in their recommendations for community intervention in the Seattle area. "Individuals, communities, businesses, and healthcare organizations are all part of a community mitigation strategy."
From outbreak to pandemic
The World Health Organization (WHO) declared the COVID-19 outbreak a pandemic on March 11. This decision doesn't indicate an increase in the severity of the COVID-19 disease, only the degree to which it's spreading globally.
Dr. Michael Ryan, WHO Emergency Program Director, forewarned the usage of the word pandemic to describe the COVID-19 outbreak. "It is not a trigger for anything other than more aggressive, more intensive action."
Despite the COVID-19 outbreak being declared a pandemic, WHO Director-General Ted Adhanom Ghebreyesus says that government efforts should continue to focus on detecting and treating the virus to prevent clusters of cases spreading through community transmission.
President Trump issues a national state of emergency
In response to the COVID-19 pandemic, President Donald J. Trump declared a national emergency on Friday, March 13 under the Stafford Disaster Relief and Emergency Assistance Act, allowing the federal government to provide emergency funding to state and local governments through a $50 billion fund reserved for emergency relief.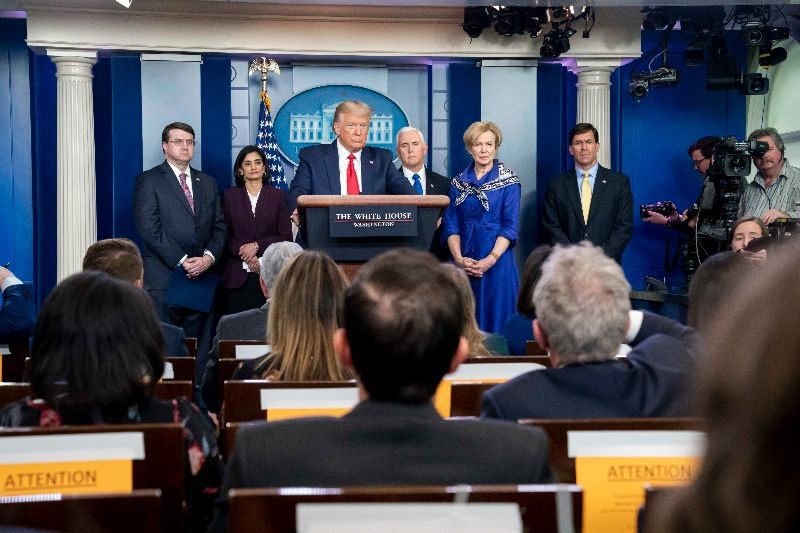 "I am officially declaring a state of emergency, two very big words," said Trump. "No resources will be spared, nothing whatsoever."
The Trump administration announced they will increase the number of drive-through sites at retailers to improve and expand testing around the country. They also announced they will be partnering with the Google search engine to develop a website to help people who've been exposed to COVID-19 determine whether a test is needed, and then help them find testing at a nearby location.
One week before the national emergency proclamation, Trump signed an $8.3 billion bill on Friday, March 6 to respond to the nationwide spread of coronavirus.
Vice President, Mike Pence, who is in charge of the federal response to COVID-19, announced the bill explaining the approved funding includes money for federal agencies as well as resources for state and local efforts to fight the outbreak. The bill will also fund research to develop therapeutic drugs for those infected, as well as an eventual vaccine.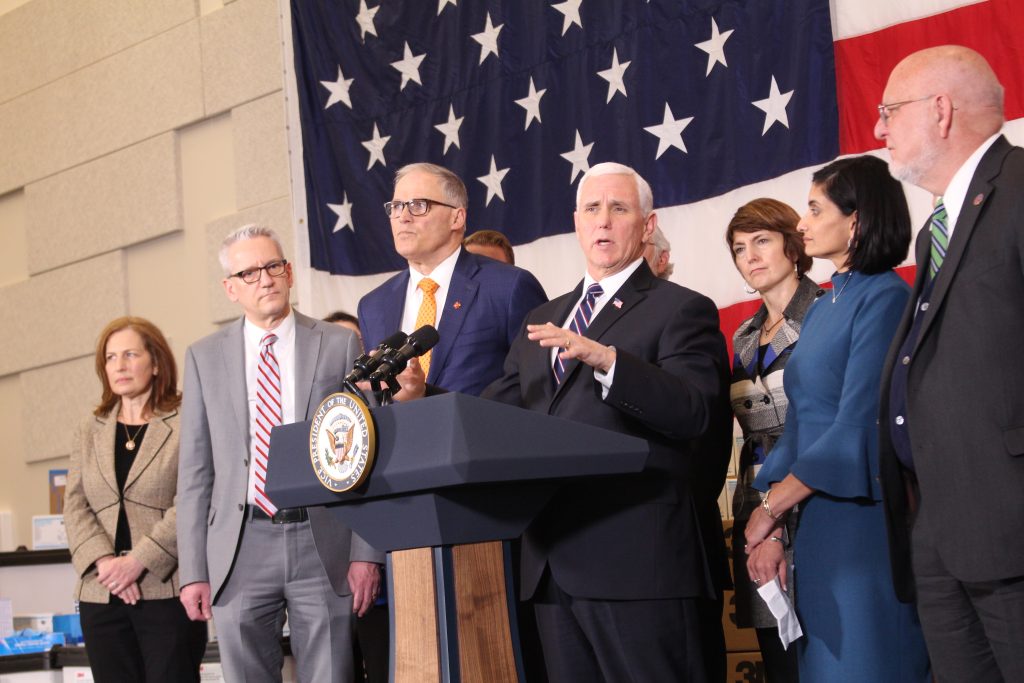 Before the bill passed, Washington Gov. Jay Inslee met with Pence on March 5. Inslee said his discussion with the vice president included increasing testing capacity, increasing health care capacity as well as worker compensation for those infected.
On March 18, the President announced more groundbreaking steps to slow the spread of the virus and help every American community brave the storm:
The Defense Department will massively expand medical resources, making 5 million respirator masks and 2,000 ventilators available for use
FEMA is now activated in every region of the country and at the highest level
The Department of Housing & Urban Development will be suspending foreclosures and evictions until the end of April
Health & Human Services will also suspend foreclosures and evictions
Navy hospital ships are being deployed to impacted areas
America and Canada will halt all non-essential travel across both countries' border
Governor Jay Inslee issues a state of emergency
On January 21, 2020, the Centers for Disease Control and Prevention (CDC) and the Washington State Department of Health not only confirmed the first case of the COVID-19 in the United States but also in Snohomish County. Health officials in Washington state announced on February 29 the first death in the U.S. from COVID-19.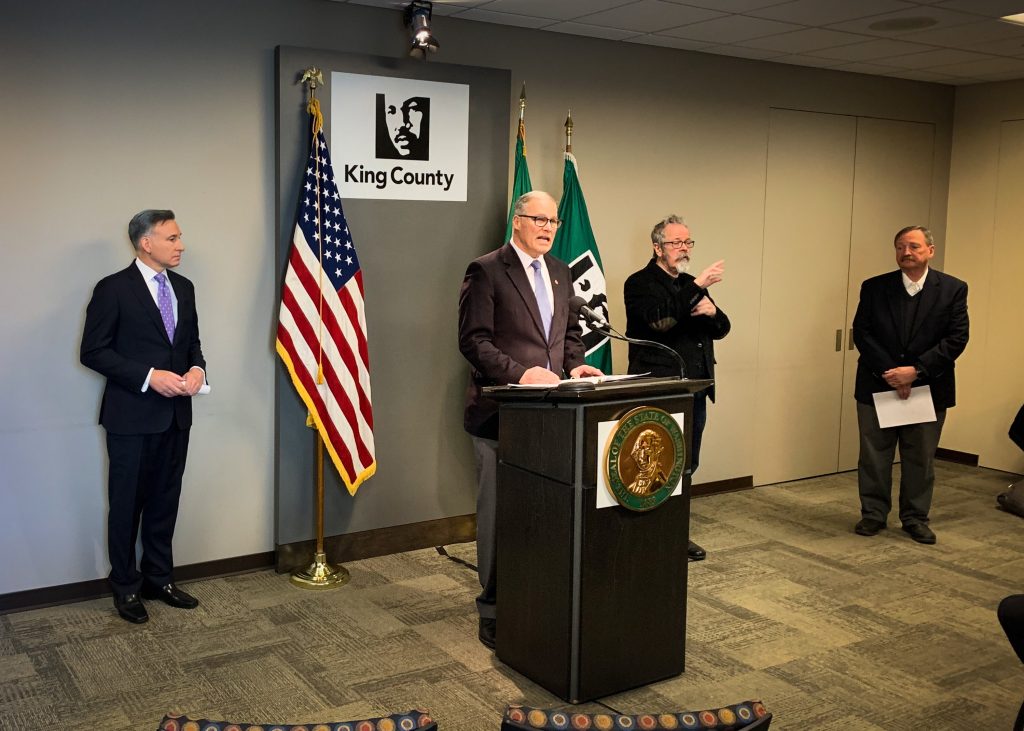 Gov. Inslee then issued a State of Emergency, on February 29, directing state agencies and departments to use all resources necessary to prepare for and respond to the COVID-19 outbreak.
Following the emergency proclamation to mitigate the spread of COVID-19, Inslee announced on March 12 that events with more than 250 people are prohibited. This applied to gatherings for social, spiritual and recreational activities.
"This is an unprecedented public health situation and we can't wait until we're in the middle of it to slow it down," said Inslee. "We've got to get ahead of the curve. One main defense is to reduce the interaction of people in our lives."
Inslee made additional social distancing recommendations to protect high-risk populations, by asking that they avoid other social and recreational contacts with others and that workplaces maximize telecommuting options. Inslee also made considerations for public transit such as additional cleaning and sanitizing.
In a March 16 press conference, Governor Inslee expanded mandatory restrictions on public gatherings by banning events with 50 or more attendees. Inslee additionally prohibited gatherings with under 50 people unless public health and social distancing criteria from the CDC were sufficiently met.
A statewide closure of restaurants, bars, entertainment and recreational facilities was also announced during the press conference. Restaurants can continue to offer take-out and delivery to customers but are prohibited from operating in-person dining services. Retail outlets are permitted to stay open but are mandated to limit occupancy. The emergency proclamation does not impact grocery stores or pharmacies.
"This is our only weapon available to us right now," said Inslee. "We are not powerless against this virus, but we have one effective means of defeating it and that is distancing our self from virtually everyone else in the state of Washington."
Closure of all public and private K-12 schools
Gov. Inslee announced the closure of all public and private K-12 schools in King, Snohomish, and Pierce counties for six weeks on March 12. The 43 schools throughout the counties were required on Tuesday, March 15 to remain closed until Monday, April 24.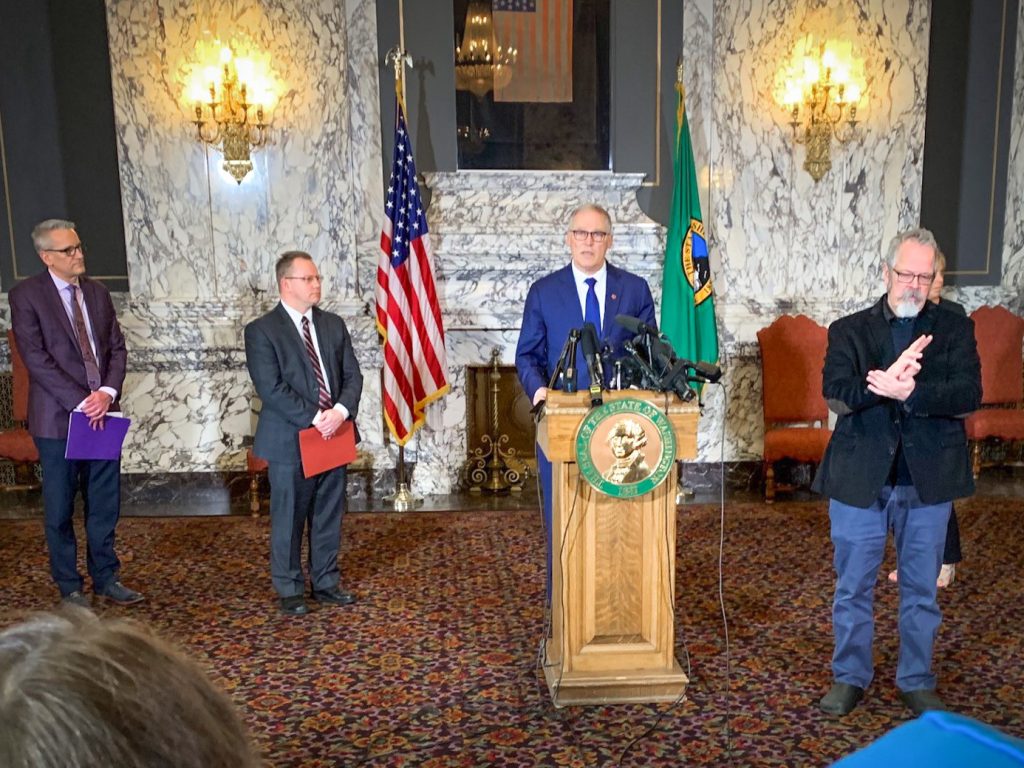 The Edmonds School District had previously reported district-wide closure starting Monday, March 16 through Monday, April 10 on March 11. Inslee's decision extends the district's closure for an additional two weeks.
"We do not take these decisions lightly and I am fully aware of the various impacts this has on families and communities," said Inslee.
Inslee says COVID-19's frequency of transmission in Washington has reached a point where mass school closure is within the best interest of public health.
"I anticipate this will cause ripple effects throughout our state. But we can't afford not to do it. We must ensure that we slow the spread of this virus."
Snohomish County Executive Dave Somers supports Inslee's decision to close all K-12 schools.
"At this unique time, we want to keep our families safe and ensure social distancing is being practiced. After speaking with our superintendents and many impacted families, Snohomish County fully supports the governor's action. Closing schools has been shown to disrupt transmission and flatten the curve. We need consistency across the region, and these closures will give schools time to plan, ensuring our kids all have access to nutrition and instruction," said Somers.
Declaration of countywide emergency
A declaration of emergency in Snohomish County was signed by Somers regarding COVID-19 on March 4. Health officials including Interim Health Officer Dr. Chris Spitters and several local mayors gathered with Somers on March 5 to address the state of emergency.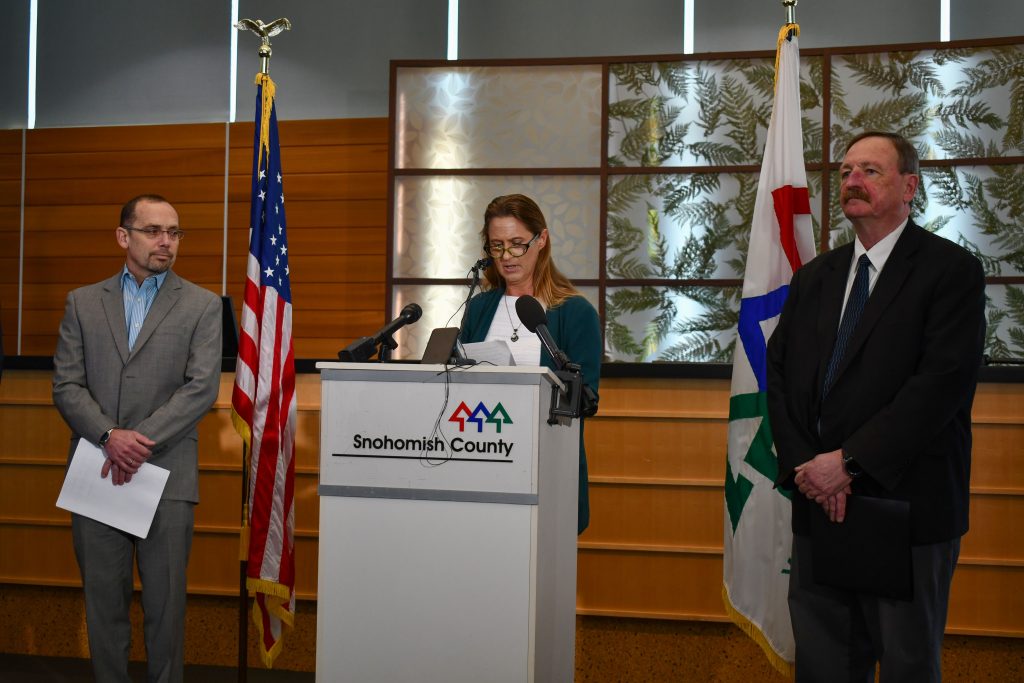 "Proclamations like this make it easier for us to work with our partners and use the best available strategies to keep our communities safe and healthy," said Spitters. We need this flexibility to respond to COVID-19. The situation continues to evolve rapidly."
Spitters says the decision to declare a state of emergency allows the county to take fast action and accelerate the response necessary to slow the spread of COVID-19 in the community.
"For the county, it allows us to streamline procurement policies. For supplies that might be needed by first responders, we can get around them more quickly," said Spitters. "It does give me some authority to make decisions based on recommendations by the health officer… It just really allows us to move quicker when needed."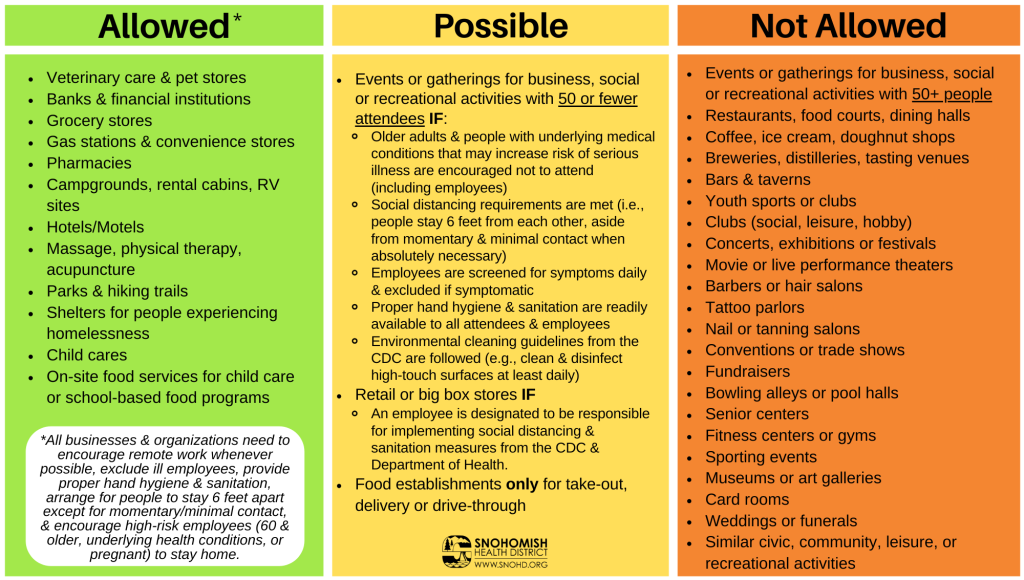 Snohomish County announces restrictions to public facilities
On March 16, Somers, announced restriction of public access to county facilities, primarily those in the Administration Buildings in Everett, effective March 17. The county departments and services that remain accessible to the public with limitations are:
Assessor's Office, Auditor's Office, Carnegie Resource Center, Finance, Hearing Examiner, Human Resources, Performance Auditor, Planning and Development Services, Prosecuting Attorney, Public Advocate, Public Works and Treasurer's Office.
Health and Human Services will offer limited services by phone, e-mail, FAX and mail and for certain off-site inspections.
The Medical Examiner's Office remains open.
The Diversion Center is not accepting new clients.
The Snohomish County Jail reception area will be closed. Attorneys will have access through Inmate Accounts with proper identification.
The Sheriff's Office will continue to respond to 911 calls and ensuring the jail provide a safe, secure and humane detention facility. Homeless Registered Sex Offender (RSO) check-ins have moved to the 1st Floor of the Courthouse (Tuesdays) and all other RSOs can check-in Monday-Friday between 10 a.m. and 2 p.m.
The Sheriff's Office will process concealed pistol licenses (CPLs) at the Courthouse Monday-Friday between 10 a.m. to 2 p.m. All non-mandated fingerprinting services from the Sheriff's Office are suspended until further notice.
District Court: Until April 24, all civil and traffic matters, with the exception of protection orders and compliance hearings, have been suspended. Criminal matters are limited to essential motions as outlined in the Emergency Order. The jail calendars will continue as before. Civil and criminal matters may be heard upon approval of a judicial officer.
District Court Protection Order and Compliance Hearings will still be heard in all divisions.
Superior Court criminal cases have been postponed until April 24 and civil cases until June 1.
The passenger terminal at Paine Field, Public Works Permit office, and all County parks remain open.
Public Records requests and services will be by appointment only.
Lynnwood's preventative response
Lynnwood Mayor Nicola Smith proclaimed a state of emergency for the City of Lynnwood on March 4. Mayor Smith announced on March 9 that the City of Lynnwood canceled all city advisory board and commission meetings through the end of March, as well as all city-sponsored events, to increase social distancing as recommended by the Snohomish Health District.
"We're also collaborating with Edmonds School District, Edmonds Community College, the PFD, Homage, the library, and the Lynnwood Rec Center, all these places where people are gathering," explained Smith. "They are in collaboration to come up with solutions to help prevent the spread of COVID-19."
Following the advice of health authorities, the Lynnwood Police Department released a statement on March 12 that they will also be partaking in the city's efforts to maximize social distancing. They stress that the decision to do so will be made on a case by case basis and never in the event of an altercation or an emergency.
Mayor Smith thanked the Lynnwood community on March 13 for engaging in the city's efforts to slow the spread of COVID-19.
"Continue to take care of your health by following the recommendations from the Snohomish Health District," said Smith. "Consider the health and wellbeing of our community's most vulnerable individuals and understand that we all play a part in our community's resiliency."
For more information about what is being done in Washington State to combat COVID-19, the Washington State Department of Health's webpage at https://www.doh.wa.gov/ or call 1-800-525-0127. Also visit the Snohomish Health District at http://www.snohd.org/.
One stop COVID-19 portal for Washington state: https://coronavirus.wa.gov/
Related Articles