Current and upcoming economic development in Lynnwood
By Luke Putvin
THE RESERVE SENIOR APARTMENTS AT SCRIBER LAKE
Independent seniors struggling with soaring rents in Puget Sound now have a modern and affordable option in Lynnwood.
The Reserve at Lynnwood recently opened, offering 295 new apartments with studios, 1-bedroom and 2-bedroom units at 19815 Scriber Lake Road, just three blocks southwest of Scriber Lake Park. The 55+ community includes an indoor swimming pool and spa, a 24-hour fitness center, spacious patios and balconies and a washer/dryer set in each unit. The apartments range in size from 428-757 square feet.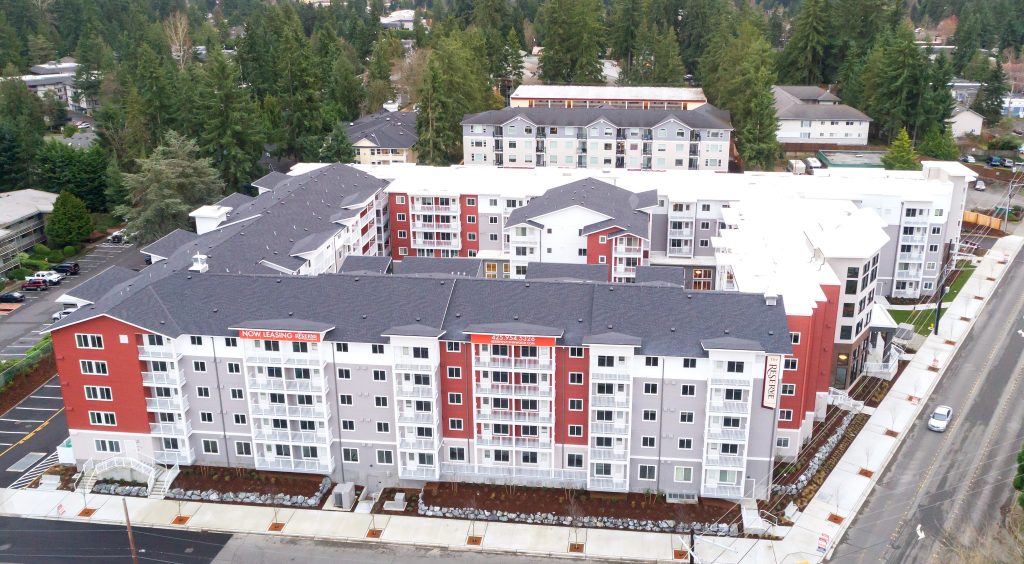 The Reserve at Lynnwood was developed by AVS Communities, and participates in an affordable housing program that offers rents at below the average median rent to qualifying households.  Rental rates for households meeting income limits are: studios, $1,094 per month; one-bedroom apartments, $1,169 per month; and two-bedroom apartments, $1,409 per month. Pricing and availability are subject to change.
"Our residents love the friendly and welcoming environment that the Reserve at Lynnwood staff create at the community," said Chris McEver, president of Indigo Real Estate Services, management firm for the property. "Residents enjoy being able to pursue active, independent lifestyles with our wide array of apartment and community amenities."
To qualify, a sliding income scale is used that rises based on the number of people in a household. The annual household income limits are: one person, $38,750; two people, $44,300; three people, $49,850; four people $55,350; and five people, $59,800.
AVS Communities also recently opened the Villas at Arlington, an affordable apartment community. For more information, call (425) 361-7038 or visit www.ReserveAtLynnwood.com.
From Lehua Shiroma Director of Marketing Indigo Real Estate Services
NORTHLINE VILLAGE
Northline Village is an upcoming, mixed-use project which will be constructed in the area that currently holds the Best Buy Outlet and Grocery Outlet, among others. The project will be built in phases and will include office space, retail space and residential units. The first of these phases, which will be the office space, is planned to be completed around the same time that light rail will arrive in our city in 2024.
Merlone Geier Partners' development agreement for Northline Village was approved in December of 2019 by the Lynnwood City Council.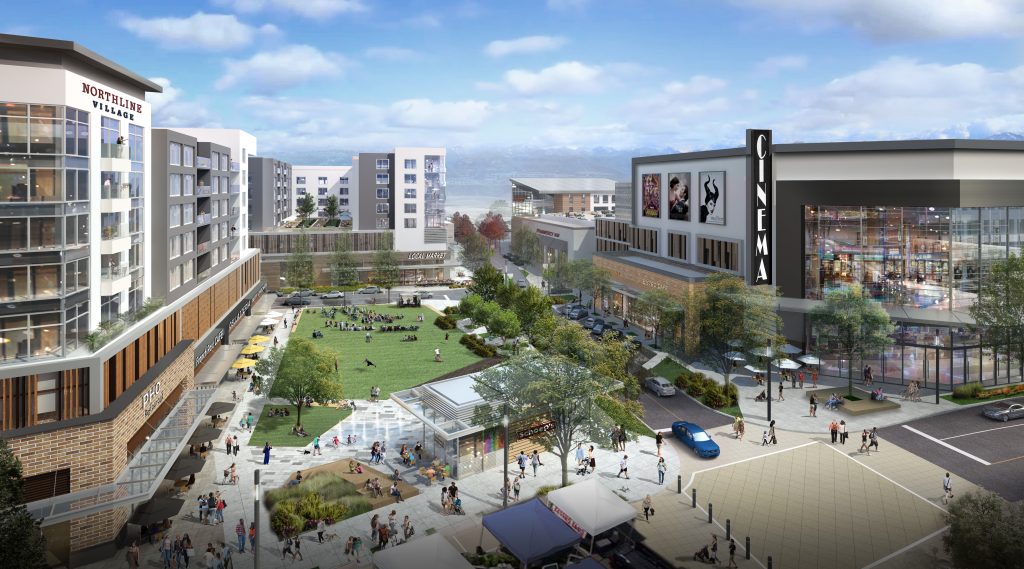 "The first phase of Northline Village will likely open around the same time as the North Link light rail line offering a 28-minute stress-free commute to and from downtown Seattle," said James Gwilliam of Merlone Geier Partners. "That is a game changer in terms of quality of life for those who will work and live at Northline Village, and a remarkable opportunity for companies to provide a true campus lifestyle with easy, walkable access to retail amenities, residential options and mass transit."
KINECT@LYNNWOOD
Being developed by American Property Development (APD), Kinect@Lynnwood will be utilizing the Multiple-Unit Housing Tax Exemption (MFTE). The Lynnwood City Council originally adopted the MFTE program in 2007, designating City Center as a Residential Targeted Area. The program was originally supposed to go to three projects with each project getting no more than 600,000 dollars, a total of 1.8 million dollars. Though three projects were already completed under this program, the 1.8 million dollars was not yet reached, so the city council decided to let a fourth development occur. APD was originally operating on the thought that they would be the third, but both they and Northline Village had similar timelines, and Northline Village was the one that made it through first.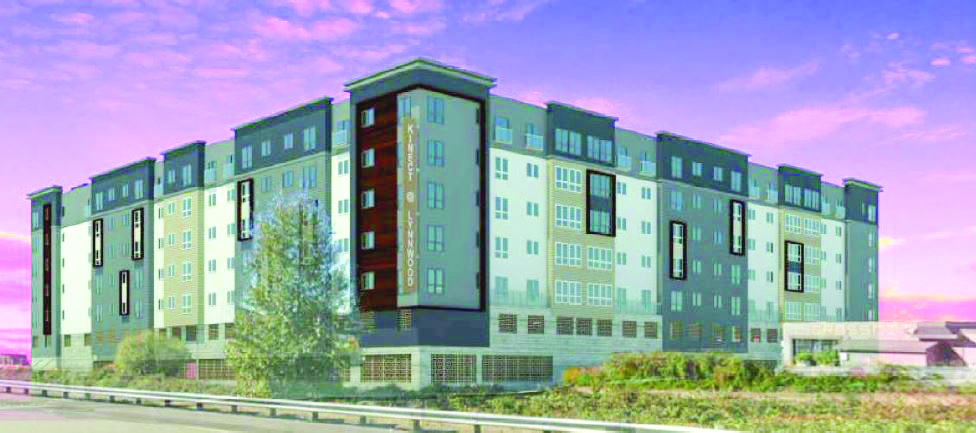 The development agreement was only approved in February of 2020. Construction is expected to start May 1 and to last about 20 months. Kinect@Lynnwood will include 48 units of affordable housing, and it will be located on a 1.6 acre site on Alderwood Mall Boulevard.
COSMOS DEVELOPMENT
May 29, 2018
The Cosmos Development apartments has a site area of 81,643 square feet and will be located along Alderwood Mall Parkway across the street from Alderwood Mall. With a total proposed project area (including garage) of 532,640 square feet, the project will have 349 residential units and a total of 365 parking spots. The building has a proposed height 17 floors above grade (inclusive of lobby and podium/garage structure).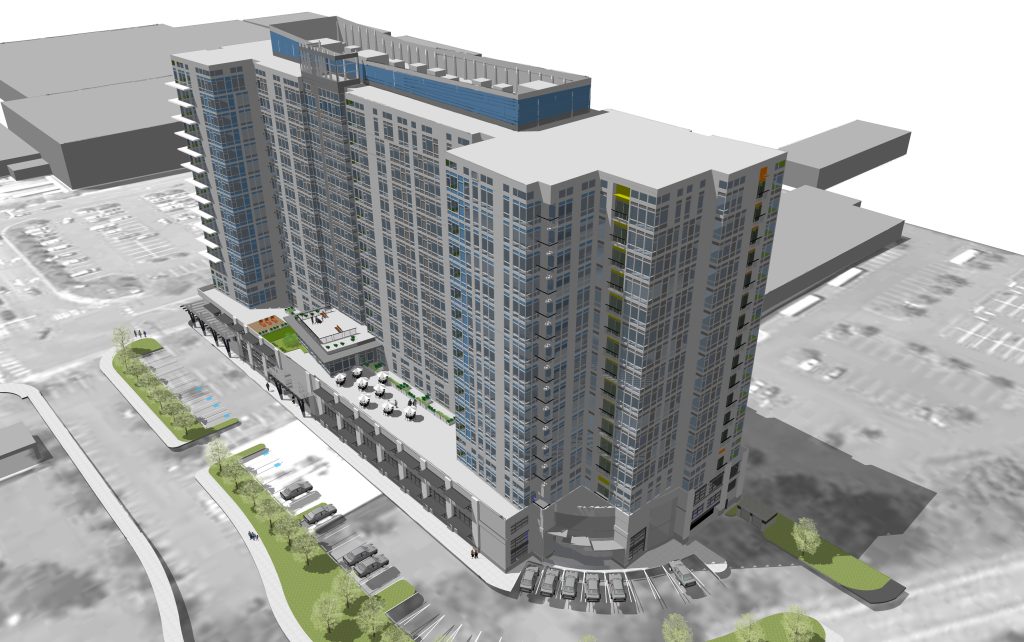 "The City of Lynwood has issued a Project Design Review (PDR) approval for this new building," said Oscar Del Moro, Executive Vice President with Cosmos Development Company. "We also have an executed Development Agreement with the City that will govern and guide the proposed development to completion.
"Currently we are working with the City as they begin implementing the design and realignment for Beech Road to improve the redevelopment potential of the entire Alderwood Mall Property Area. The City has obtained all the necessary funding for this work. Preliminary roadway designs and utility relocations and upgrading are progressing. Once this design work has been finalized, implementation steps formalized, and initiated, Cosmos Development Company will begin the next phase of the project which will be the production of permitting and construction documents. That work effort is anticipated to take between 12 to 18 months followed by a construction schedule of approximately 24 to 30 months.
"Cosmos Development Company is appreciative of the opportunity to be part of a new generation of pioneering projects in Lynnwood that will foster the City's transformation into a dynamic urban center at the northern crossroads of I-5 and 405."
PHASE 2 PROJECT WITH HOME DEPOT AND APARTMENTS
This project will bring a 137,374 square foot Home Depot with rooftop parking for 441 vehicles and four, five-story multi-family residential buildings over ground floor retail and surface parking. There will be a total of 500 residential units, over 10,000 square feet of office, over 12,000 square feet of retail and a total of 876 parking spaces.
The development was approved on May 13, 2019. In addition to the jobs that Home Depot will provide, there is space being left across from Home Depot's parking lot for later developments, such as restaurants.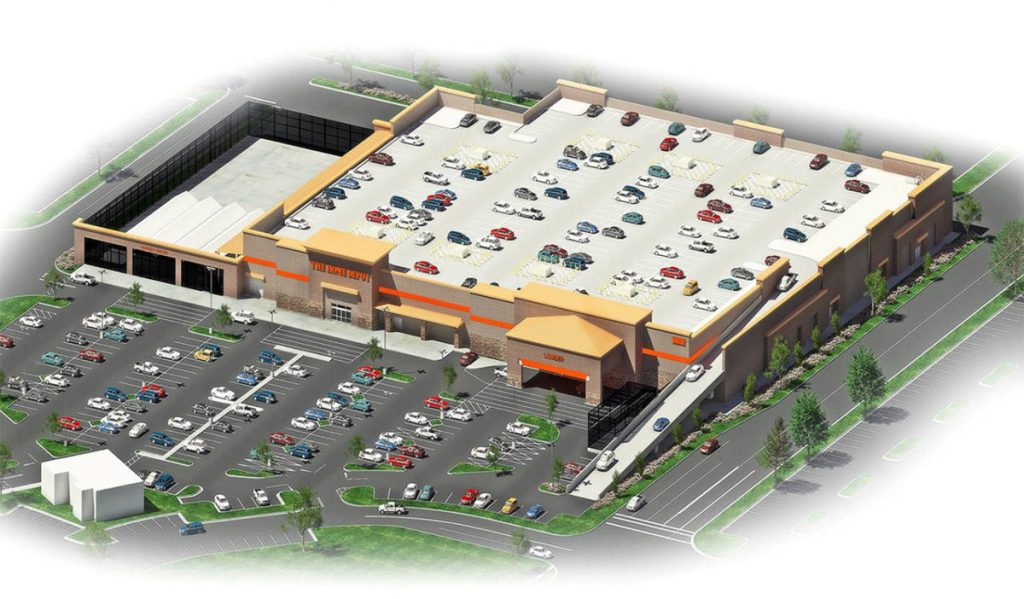 The area will be developed by Wakefield Properties, who also developed Mill Creek Town Center. The original plan for the area was something more akin to Mill Creek Town Center, but small shops that wanted to be there were hard to find.
Steven Malsam, Owner and Lead Developer at Wakefield Properties, stated that a Home Depot at this location, for a long-term financial standpoint, was the smart option for them. "I couldn't say enough about working with Home Depot and their willingness to do whatever it took to be in the Lynnwood community," he said.
Malsam also mentioned wanting to build a restaurant with an outdoor amphitheater and eating space. "I don't have a lack of good opportunities," he added.
Construction of the project is currently in progress.
TRITON COURT
Currently under construction, Triton Court is a new residence hall opening in Fall of 2020 on the corner of 68th Ave. W and 200th St. Triton Court will include one, two and three-bedroom units for students as well as laundry rooms and study areas on each floor.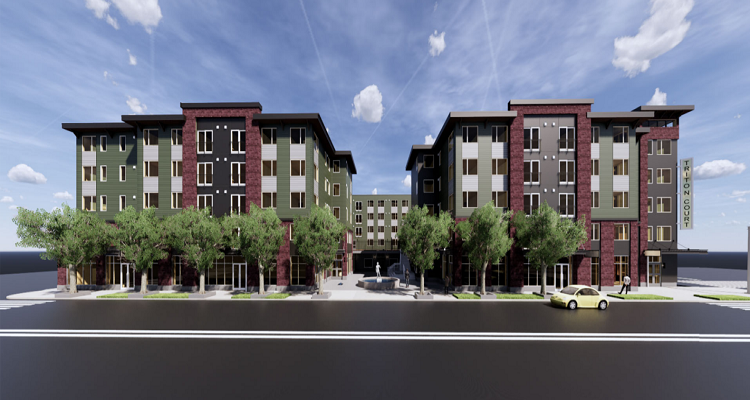 Additionally, there is a residential lounge on the second floor with a pool. The units are fully furnished and have private bedrooms, and there is free parking for residents. Pricing for the different types of units and further information can be found at www.edcc.edu/housing.
Edmonds Community College currently has three other residence halls: Rainier Place, Spencer Court and Sophie Court. All residence halls have the same policies such as quiet hours from 10 p.m.-10 a.m. Sunday – Thursday and 12 a.m.-10 a.m. Friday-Saturday. Additionally, no alcohol or drugs are allowed, and there is no smoking in the apartments.