Alderwood Mall closed – Day 2
The City of Lynnwood is again closing roads around Alderwood Mall and the entire mall property remains closed. Specifics are in the image below.
We've had a lot of questions about what kinds of threats we've received and what "proof" of planned looting we had that led to us taking these actions.
We are very fortunate that while groups of about ten to twelve people at a time attempted to enter mall property and closed businesses, the proactive approach of our officers has thusfar been effective and people are in general heeding the warning and staying away.
However, the second picture below is an example of some of what we encountered. Yesterday evening a group of three people were refusing to leave a business near the mall after the business owner asked them to do so. There was a physical altercation and the three ran off. Our officers intercepted two of them, juveniles, one of whom told us he was "just here for the looting," and the other whom had a sledgehammer, spray paint, heavy gloves, goggles and a mask in his backpack.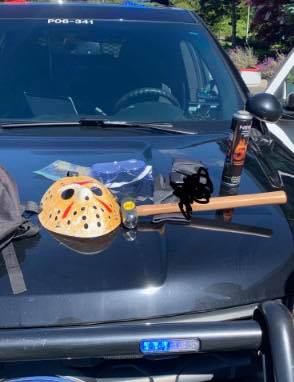 This is exactly the kind of activity we are trying to thwart. We are trying to prevent people intent on doing harm to your places of business and employment from succeeding.
We hope you see it as a positive that there haven't been any viral videos of looters at Alderwood Mall— again that's looters, NOT protestors whose peaceful message is always welcome in our city.