Snohomish County at risk of reverting to Phase 1
By Erin Freeman | Lynnwood Times Staff
Recent spikes in COVID-19 positive cases are leaving Snohomish County officials uncertain about the ability to move the county into Phase 3 of the Washington state Safe Start reopening plan, with a potential risk to revert to Phase 1.
Last week, Snohomish County officials delayed the county's application for a variance to advance into Phase 3 of Governor Jay Inslee's Safe Start plan. The county was originally looking at June 26 as the earliest date to apply for the next phase, but county officials decided to postpone the application due to a recent spike in COVID-19 cases.
"Unfortunately, we are not going to be able to do that today," explained County Executive Dave Somers during a June 26 press conference. "I know if we applied today, we would be denied."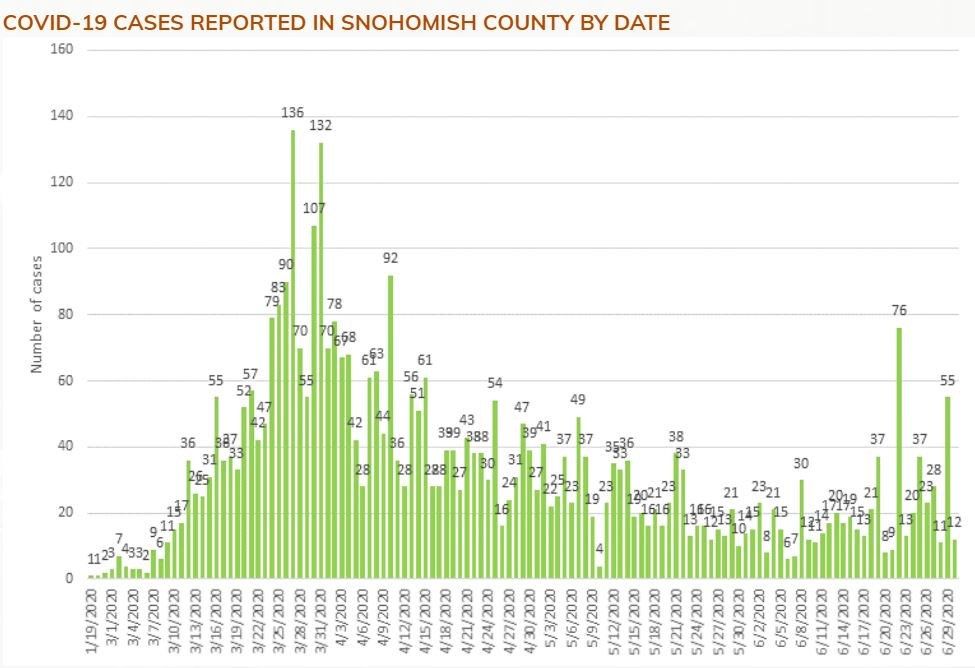 On May 29, Governor Jay Inslee announced his "Safe Start plan' – a four-phase county-by-county approach, characterized by specific criteria required to move from counties through each phase. As counties demonstrate that they meet requirements, they can then apply to move into the next phase. Each county applies to State Secretary of Health John Wiesman, who reviews COVID-19 activity and the county's individual ability to respond to the virus.
The criteria developed is updated daily in a risk assessment dashboard that includes COVID-19 activity, testing, healthcare system readiness, case investigations and contact tracing, and the protection of populations at higher risk.
COVID-19 Data Metrics
The risk assessment metrics are not intended to be hardline measures but are regarded as target numbers. If one target is not fully achieved, Wiesman can determine if actions taken with a different target may offset the overall risk of transmission. Wiesman also has the authority to return a county to an earlier phase if identified as necessary.
New cases: The target for new COVID-19 cases is 25 or fewer per 100,000 residents over 14 days. According to Snohomish Health District (SHD) data on the county's COVID-19 activity and capacity between June 2 and June 20, the county was below the 25 case maximum, sitting at 23.6 cases per 100,000 residents.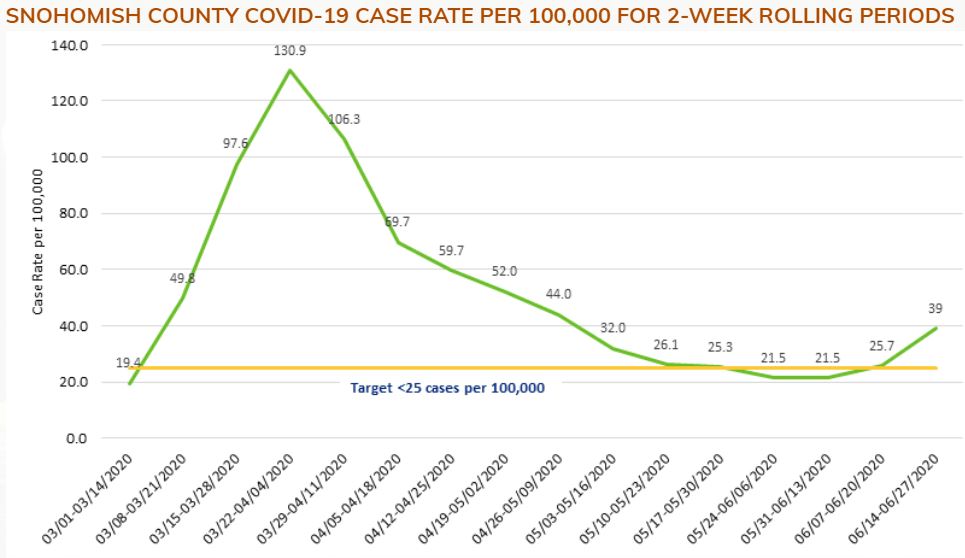 Yet as recently reported, county officials observed a spike in cases and as of June 30, the county is no longer meeting the goal with an average of 36.2 cases per 100,000 over the last two weeks.
Testing ability: Washington state counties must also show adequate testing ability, with a goal of administering 50 times the number of confirmed new cases per day. Positive test results should stay under two percent each week.
As of June 30, Snohomish County is reported to be nearly three times below the testing ability, with a value of 18.5 tests administered for every positive case. Newly confirmed positive test results are 2.7 times above than the threshold with a value of 5.4 percent.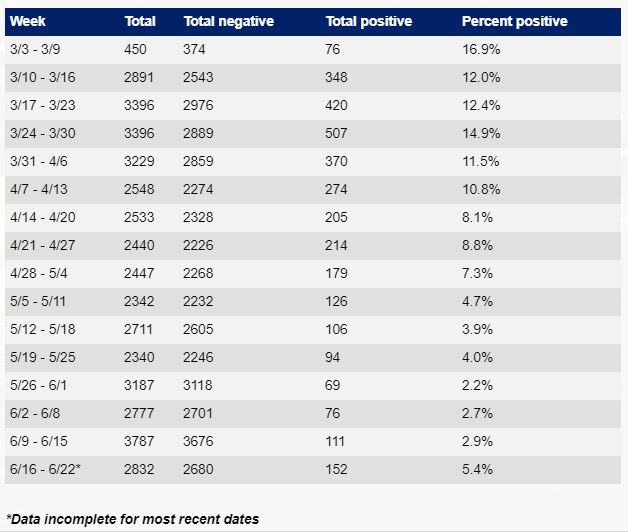 Contact tracing: The state then asks counties to hold a goal to contact 90 percent of cases within 24 hours of a positive lab test result, as well as reach all that person's contacts within 48 hours of the result.
"The goal is to contact 90% of positive cases within 24 hours of receiving COVID-19 test results," wrote SHD spokesperson Kari Bray in a June 30 blog post. "We are at 43% in the June 2-16 report."
While the county isn't currently meeting the requirements for cases, testing, and contact tracing Snohomish County is on track in terms of healthcare system readiness.
Hospitalization: As of June 30, 3.7 percent of hospital beds are occupied by COVID-19 cases – meeting the goal of staying under 10 percent occupancy. In total, 76.7 percent of beds are occupied by patients – below the 80 percent goal maximum. According to SHD reports, the county's deaths and hospitalization numbers have stayed flat.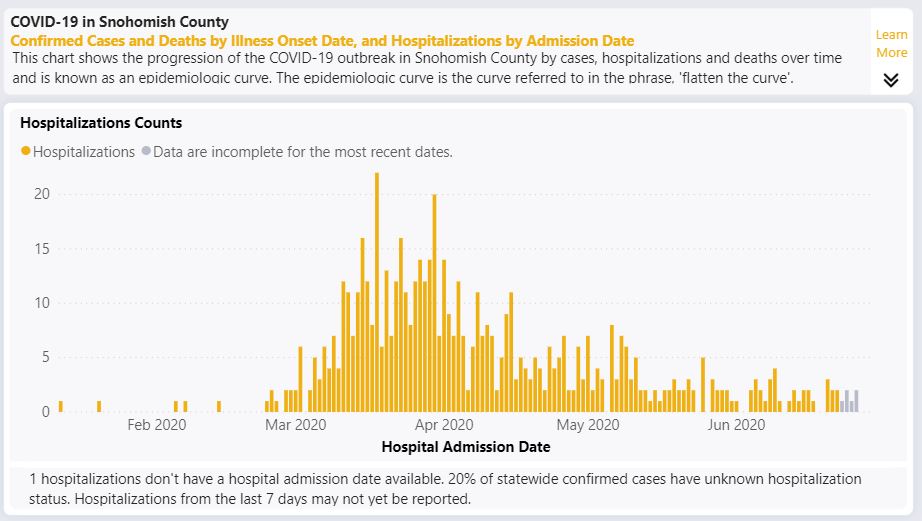 High-risk population transmission: Snohomish county also must demonstrate that high-risk populations are being protected, with two or less non-household cases where transmission occurred in a living facility or institutional setting at zero. According to case count data recorded between June 2 and June 20- that number is zero.
Monitoring and assessing the situation
Snohomish County officials are concerned with the recent spike in COVID-19 activity, attributing it to increased social activities and a decrease in social distancing. If hospitalization and death numbers begin to spike adjacent to continued increases in COVID-19 cases, the county risks moving from Phase 2 back into Phase 1, stated Somers during a press conference on June 30.
"A week or so ago, I would have thought it was a remote possibility. I don't feel that way anymore," said Somers. "I think going back to phase one is clearly one of the options that could be in front of us, watching what happens around the country with places that have opened up too soon, and they're seeing huge spikes. If we see that sort of thing here, and we're really stressing our hospital capacity, I can see the possibility of a call to go back to phase one."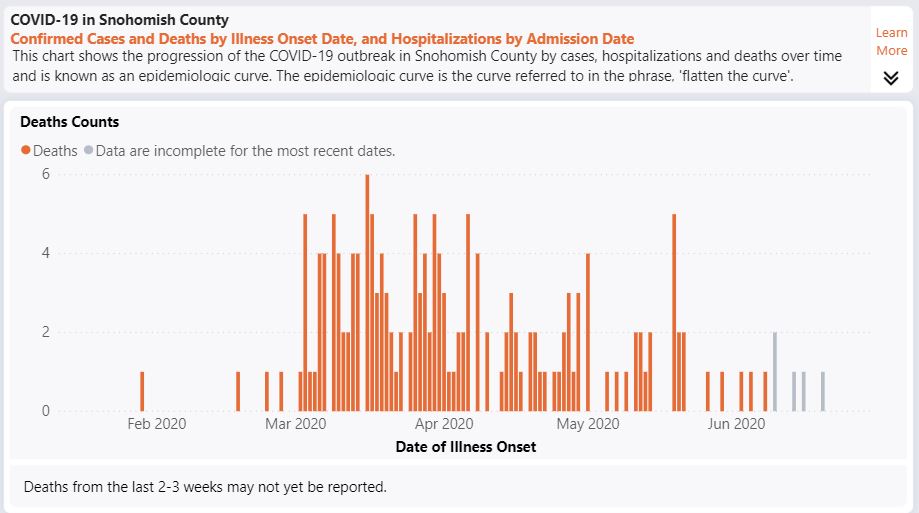 For now, county officials will be monitoring and assessing the county's current situation to determine the next steps. Snohomish County residents and businesses should expect to remain in Phase 2 through the Fourth of July weekend.
To support the county's ability to move forward into Phase 3, officials and the SHD are asking people to follow social distancing guidelines and adhere to Gov. Inslee's face-mask mandate, created in response to the recent statewide increase in COVID-19 cases.
"We want to share some reminders that are essential if we want to continue moving forward in the phased reopening plan," wrote Bray in the June 30 blog post. "Our success relies on keeping some level of social distancing, enhanced hand-washing, cleaning and sanitation, cloth face covers, and other health measures in place through all of the phases."