FREE COVID-19 Testing in Lynnwood!
By WAGRO Foundation Press Release
We are happy to announce that Harborview Medical Center/ UW Medicine in collaboration with WAGRO Foundation and The Lynnwood Food Bank will be offering FREE COVID-19 testing every Friday starting July 10th, 9:30am – 12pm and 1:00pm to 3:00pm in the The Lynnwood Food Bank parking lot.
Please contact the number below in order to make an appointment: Daniela Altamirano Crosby 206-902-8477.
Anyone can be served, but we are specially focus on homeless, residents of shelters and transitional housing and the undocumented community. Walk or drive up, register and get tested. No insurance required, results within 2 days. This is a nasal swab testing for COVID-19!
If you are experiencing symptoms: cough, shortness of breath, difficulty breaking, fever, gastrointestinal symptoms, muscle aches, headache, chills, sore throat, runny nose, new loss of taste or smell… call your doctor to find out if you need to be tested for COVID-19, if you do not have a doctor, come speak with UW Medicine staff.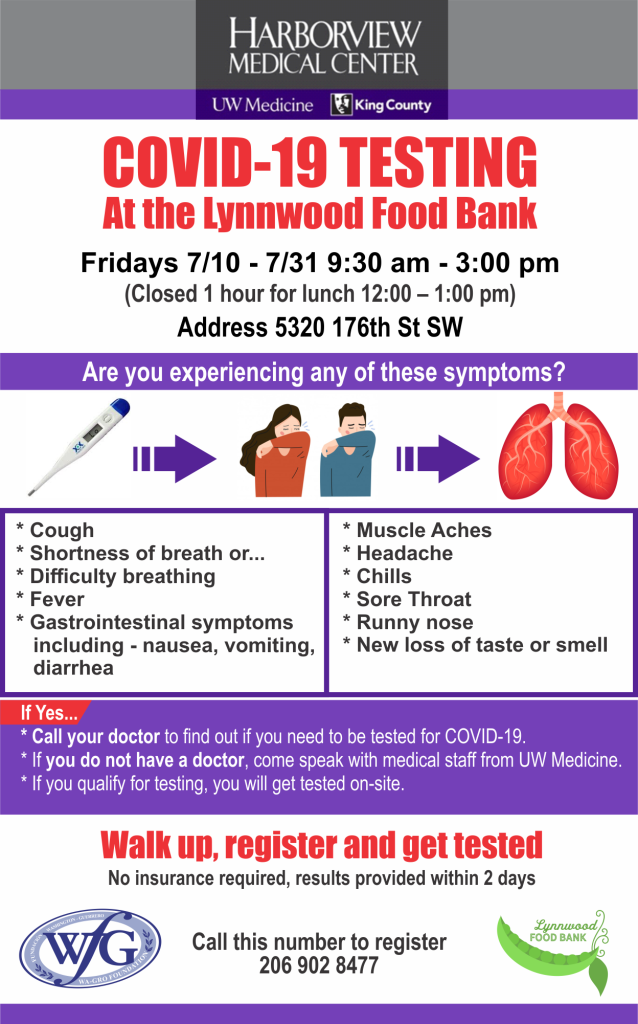 City of Lynnwood, WA – Government, Jean Kim Foundation For Homeless, Education Concern for Neighbors Food Bank, Edmonds Food Bank, Mill Creek Community Food Bank, South Snohomish County Emergency, Cold Weather Shelter Cocoon House – Non Profit, Washington Kids in Transition, Jason Dunbar, Abused Deaf Women's Advocacy Services (ADWAS), Snohomish County Food Bank Coalition, Lynnwood Times, Lynnwood Today.