Black Out Tuesday march held at Lynnwood City Hall
By: Erin Freeman | Lynnwood Times
A peaceful protest at Lynnwood City Hall drew over 100 people pushing for legislative reform to influence racial justice, expressing themselves through poetry, speeches, and song.
The 'Black Out Tuesday' protest began outside the double door entryway of City Hall on the evening of July 7. Edmonds College student Josh Binda, 20, and fellow organizers practiced chants with the crowd in the parking lot, before leading them on a march throughout the Lynnwood Civic Campus and down 46th Street.
Reaching the end of a residential neighborhood coated in Black Lives Matter-themed chalk art, Binda asked everyone to get down on the ground for a moment of silence lasting 8 minutes and 46 seconds, the amount of time a Minneapolis police officer had his knee pressed to the neck of George Floyd, leading to his death.
"It gives a more personal experience to it," explained Binda. "It gives you an understanding that that's a long time to be on the floor, hands behind your back, with someone kneeling on your neck."
Everybody lied down flat on their stomachs, with their cheeks pressed against the street and their hands behind them as if handcuffed.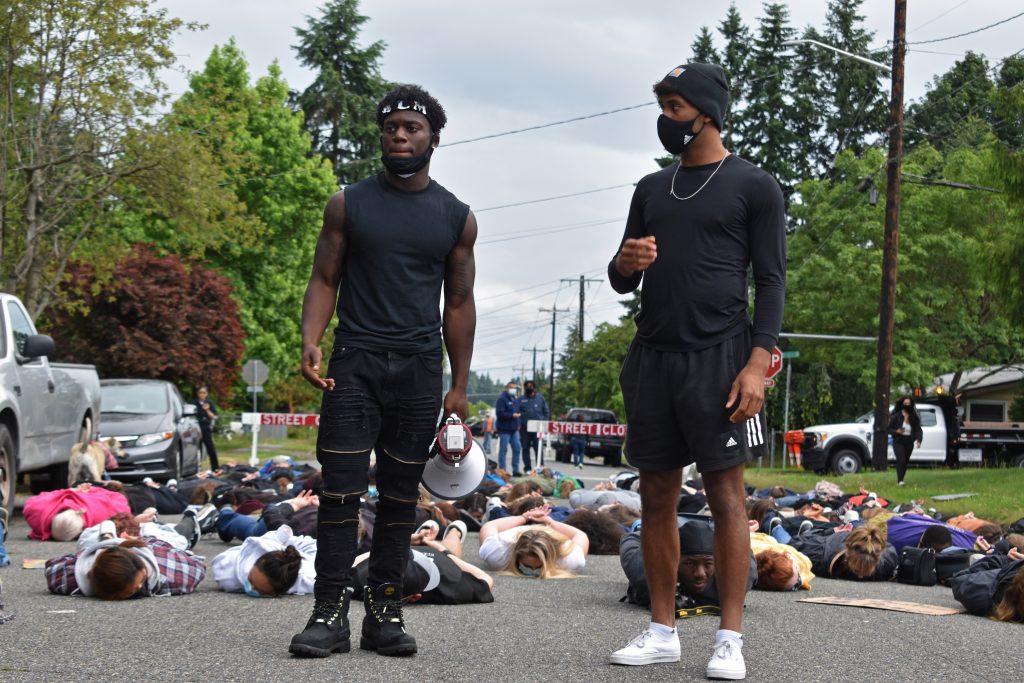 "Does this make you uncomfortable?" asked Jaden Sheffey, a fellow leader of the demonstration, to the protesters through a megaphone. "We know it's not a comfortable state to be in and hope… you have a stronger perspective of what it was like for George Floyd and many others."
Protests calling for an end to racial injustice and police brutality erupted nationwide in late May, following the murder of George Floyd, a Black Minneapolis man at the hands of a White police officer.
Since the beginning of June, Binda has been going city to city in Lynnwood's surrounding community, coordinating with city officials and their law enforcement officers to organize protests. Tuesday evening marked his fifth demonstration.
"The city has been very open and very helpful in making this happen," commented Binda on Lynnwood's response.
Looping back to the civic campus, protesters were met by firefighters on the sideline of the route, who watched them march past the Lynnwood Fire Station.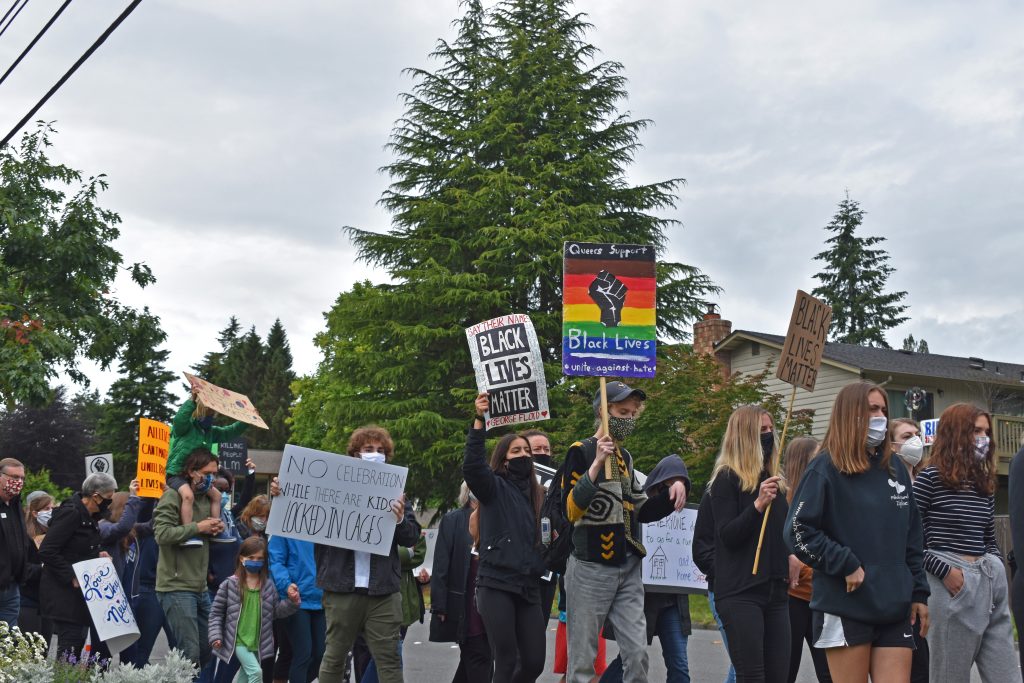 When the crowd returned to City Hall, Lynnwood City Mayor Nicola Smith gave a speech encouraging the young adult attendees to strive to obtain roles in leadership positions to influence change moving forward.
"What's important for you to do now is to get into the circle of influencers," said Smith. "You need to get jobs on places with boards…you need to start working from the inside out. You're all brilliant and we need you."
To enact change in the city of Lynnwood, Binda hopes to join the Diversity, Equity, and Inclusion Commission and has plans to run for City Council. Mayor Smith encouraged others to do the same.
"Coming together as a community to take a stand has led to conversation and will bring about change," stated Binda. "At some point, protesting is going to stop, and the real change is going to follow."
In between protests, Binda has been working behind the scenes, working with elected officials on legislative reform. The college student studying aerospace engineering and political science recently wrote a bill to end qualified immunity protection for law enforcement officers if/when tried for murder. He will propose his bill to Roger Goodman, House Representative for the 45th district.
"It's important to be involved. It's empowering for the community, it brings people together, and helps bring awareness and education on how deeply embedded some racial issues are within our communities," he said.
Speeches following the Mayor's advocated for education reform and racial equity. Other activists performed songs and recited poetry for the crowd.
"Our many thanks to Josh, Jaden…for their efforts to bring this peaceful and powerful protest and march to our city!" said city spokesperson Julie Moore in an email. "We appreciate all of our community members that joined on Tuesday evening, and those supporting from home, as we work towards justice and peace for all. Our City is committed to being a safe, welcoming and equitable community for all people."