Virtue and community: LPD Chief Davis retires on July 31
By Katrina Kukhar | Lynnwood Times Staff
In a July 2 letter to the Lynnwood City Council, Lynnwood Police Chief Tom Davis announced his retirement to commence the next chapter in his life effective July 31, 2020. Davis' decision comes after 33 years in law enforcement including his time as Lynnwood Police Chief.
Chief Davis is ready to pursue his passions such as traveling with his wife of 33 years, Kris, and enjoying quality time with family and friends during his retirement. Davis has two adult sons, Craig and Conner.
Tom Davis grew up in Eastern Washington and as a young man in high school, dreamed of a career in law enforcement. Davis' father was the Director of the Spokane County Juvenile court and his mother was a special education schoolteacher, which influenced young Davis to pursue a career in public service.
In 1985, 18 year old Davis worked full-time as a police cadet with the Spokane County Sheriff's office and majored in criminal justice studies. Every Friday, Davis would ride-along with patrol officers to make the most of his training. At age 21, he was hired at the Snohomish County Sheriff's Office where over 29 years he served as deputy, a Sheriff's captain, Chief of Police for the city of Stanwood, and undersheriff.
In 2017, Davis was sworn in as Chief of Police for the City of Lynnwood, a police department with over a 100 employees.
When asked by the Lynnwood Times how has his view of the role of law enforcement transformed over the years, Davis replied, "The focus on community connection and recognizing the importance of positive police/community relations."
Throughout his law enforcement career, Davis earned an A.A.S Degree in Administration of Justice, a Bachelor's Degree in Professional Management and a Master's Degree in Security Studies at the Naval Postgraduate School.
His area of thesis research at the Naval Postgraduate School focused on the criticality of countering violent extremism and self-radicalization in the United States along with a strong focus on local community partnership development.
During the Obama Administration, the Department of Homeland Security Subcommittee cited Davis' research on countering violent extremism.
Davis graduated from the FBI National Academy, the FBI Law Enforcement Executive Development program and Northwestern University's School of Police Staff and Command. He holds Peace Officer, Supervisory, and Executive Level Management Certifications from the Washington State Criminal Justice Training Commission.
As Lynnwood Police Chief, Davis is most proud of the men and women of the Lynnwood Police Department, who are "professional, compassionate, and community focused."
Davis also shared that he is proud of the police department's successful integration into the community through sponsoring programs such as: Cops & Kids, Youth Camp, Cops and Clergy, and the Police Chiefs Community Advisory Committee.
"[These are] all excellent examples of the importance we place on collaborating with our community to ensure they feel served and represented by our police department."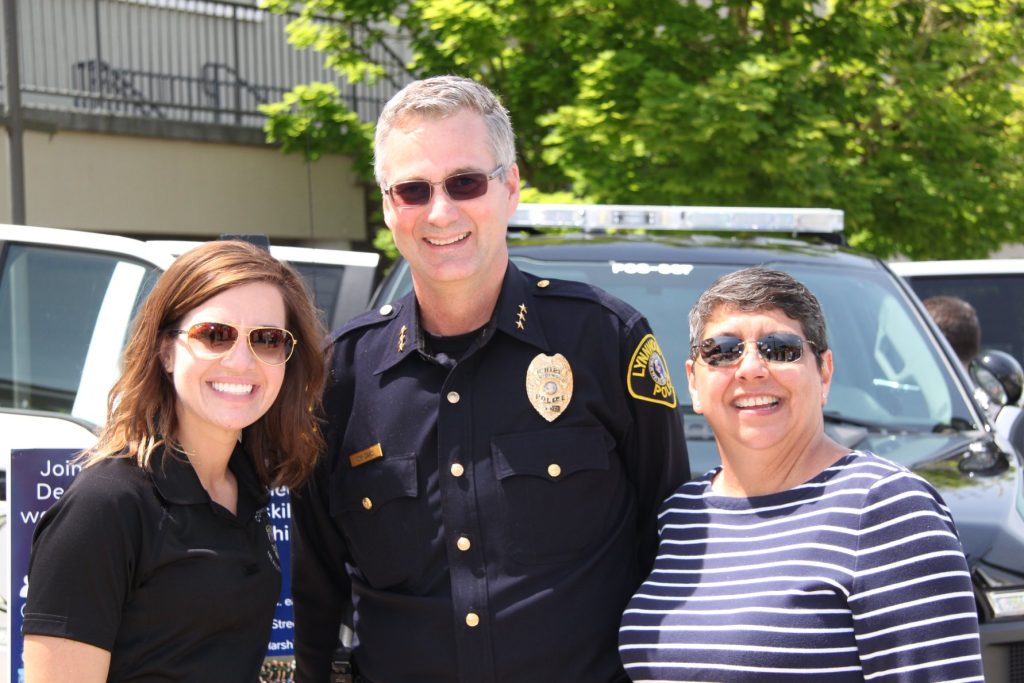 When asked for advice to future leaders on balancing work and personal life, Davis told the Lynnwood Times, "We should all recognize that policing in a democratic society is one of the toughest jobs in America." Davis continued, "Remember, your family didn't sign up for this job but they will be with you every step of the way and hopefully, in your life well beyond this job. Take your job seriously but don't take yourself too seriously."
Chief Davis' parting advice to the next police chief, is to value virtue over ego.
"The end of your career will come sooner than you think, and in the end it will not be your rank or your title that matters most; it is the relationships that you reflect most on. Were you honest? How did you treat your family, your peers and your community? How others treat you is often a reflection of how you treat them."
In a statement to the Lynnwood Times, Mayor Nicola Smith commends Chief Davis for his service. "Chief Tom Davis was absolutely the right Chief at the right time for the City and the Lynnwood Police Department. His collaborative leadership approach empowered our police department staff to serve with professionalism, vigilance, and with community in mind. Chief Davis focused on thoughtful and meaningful community engagement, implementing many new programs and initiatives aimed at building a trusting relationship between our police department and the diverse community we serve. He also was a staunch advocate of transparency, accountability, and increased training for our officers and police staff. After serving in law enforcement for 33 years, we wish Chief Davis all the best with his well-deserved retirement and thank him for his dedicated service to Lynnwood."
Related Articles