Up to $10,000 in suspicious campaign expenses reported by candidate Josh Binda
LYNNWOOD, Wash., November 1, 2021 – Lynnwood City Council candidate and BLM activist Joshua Binda, 21, recorded almost $4,848.19 in expenditures towards rent, towing fees, concert tickets, jewelry, laptops, airfare, groceries, dental work, haircuts, and office furniture.
Binda is endorsed by the Everett Herald, Snohomish County Councilwoman Megan Dunn, Mukilteo City Councilman Louis Harris, Bothell City Councilman James McNeal, and King County Law and Justice Policy Analyst Gail Stone, to name a few.
In addition to the thousands in suspicious expenses, another $4,952.12 is recorded as "Expenses of $50 or less." This would equate to at least 100 expenses of $50 or less to which, investigative citizen journalist Glen Morgan told the Lynnwood Times, "Is an odd amount."
Morgan who has been successful in exposing numerous Public Disclosure Campaign Finance and Ethics violations since 2016 has won over 74 lawsuits. This includes lawsuits filed by the Washington State Attorney General resulting in 21 judgements based on Morgan's reporting.
"This appears to be the most egregious case of questionable expenses I have ever seen in my career," said Morgan who will be filing campaign finance violations against the Binda campaign.
Lynnwood Times confronts Binda and campaign staff
When questioned about campaign expenses being recorded to pay for rent and a $163 haircut, Binda told the Lynnwood Times, "I am not the only one that runs my account, so I would have to ask my campaign manager and would have to talk with him about all of my expenses."
When asked if someone is advising him on recording PDC expenses, Binda abruptly ended the conversation.
"I will have to call you back," said Binda. "I have to enter a meeting right now. Can I give you a call back?"
The campaign manager listed on the C1 form of the Elect Josh Binda PDC account is Occidental College student Kyler Parris. According to an Oxy Story article by Laura Paisley, Parris played both football and soccer at Bothell High School and was the Class of 2018 commencement speaker. He also interned for California Congressman Adam Schiff (CA-28).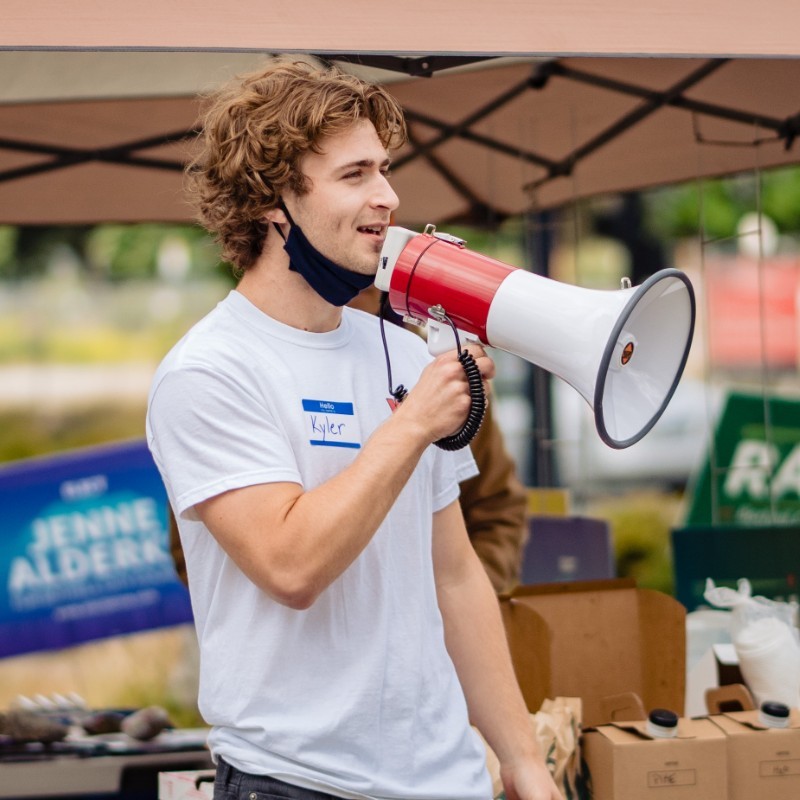 Parris, who is currently attending college in California, told the Lynnwood Times that he is no longer affiliated with the campaign and that he left the campaign back in August of 2021.
"I am not sure if Josh has hired a new manager so I may still be listed some places," Parris wrote to the Lynnwood Times.
Andy Lo, listed as treasurer for the Binda campaign, confirmed with the Lynnwood Times that he separated with Binda just after the Primary election in September of this year. Lo is an experienced and prominent campaign Treasurer within the state of Washington.
According to the PDC's follow the money online database, Lo has worked on 110 campaigns since 2013 and received $224,706.20 in compensation over that period. He has provided Treasurer services to senators Steve Hobbs (LD-44) and Manka Dhingra (LD-45), Snohomish County Superior Court judges, and King County Prosecuting Attorney Daniel Satterberg.
Lo told the Lynnwood Times that he is aware of the questionable campaign expenses and did not want to share why he ended Treasurer services with the Binda campaign; however, according to PDC filings, besides a car tow expense in the amount of $411.57 from Mary's Towing in June 2021, questionable charges became frequent starting August. Expenses identified as "suspicious" comprised 37% of Binda's campaign expenses during Lo's tenure as Treasurer, suddenly doubled to 89% of campaign expenses after his departure.
According to the October 13 filing for period of September 1 to October 11, Josh Binda's name is listed as the Treasurer in the signature line. Below is a list of recorded expenses identified as suspicious and eye-opening.
| Category | Date | Recipient Name | Amount |
| --- | --- | --- | --- |
| Airfare | 15-Aug | DELTA | $260.60 |
| Concert Tickets | 20-Aug | VIVID SEATS | $184.16 |
| Concert Tickets | 4-Oct | AXS | $91.25 |
| Dental Work | 29-Sep | All Smiles Family Dental | $326.90 |
| Desk | 23-Sep | KIOKO CHRISTY | $500.00 |
| Groceries | 1-Sep | KIOKO CHRISTY | $250.00 |
| Groceries | 3-Oct | JT Sheffey | $240.00 |
| Haircuts | 15-Aug | RUFFIN HOSHEA | $65.00 |
| Haircuts | 21-Sep | Tory Fletcher | $162.00 |
| Laptop payment | 16-Aug | KIOKO CHRISTY | $70.00 |
| Laptop payment | 26-Aug | KIOKO CHRISTY | $300.00 |
| Laptop payment | 31-Aug | KIOKO CHRISTY | $250.00 |
| Necklace | 29-Sep | Infinity Body Jewery | $88.00 |
| Office Chair | 26-Sep | KIOKO CHRISTY | $90.00 |
| Rent | 8-Oct | John Warlick | $968.05 |
| Towing | 13-Jun | MARYS TOWING | $411.57 |
| Towing | 23-Sep | International Auto | $99.09 |
| Towing | 26-Sep | Mary's Towing | $411.57 |
| T-shirts | 7-Apr | BLACK COFFEE | $80.00 |
| EXPENSES OF $50 OR LESS | 1-Mar | EXPENSES OF $50 OR LESS | $110.03 |
| EXPENSES OF $50 OR LESS | 1-Apr | EXPENSES OF $50 OR LESS | $429.78 |
| EXPENSES OF $50 OR LESS | 1-May | EXPENSES OF $50 OR LESS | $499.90 |
| EXPENSES OF $50 OR LESS | 1-Jun | EXPENSES OF $50 OR LESS | $993.55 |
| EXPENSES OF $50 OR LESS | 13-Jul | EXPENSES OF $50 OR LESS | $388.98 |
| EXPENSES OF $50 OR LESS | 27-Jul | EXPENSES OF $50 OR LESS | $1,002.73 |
| EXPENSES OF $50 OR LESS | 1-Sep | EXPENSES OF $50 OR LESS | $1,527.15 |
| Totals | | | $9,800.31 |
Alleged recipients of campaign funds
The Lynnwood Times spent most of the day Saturday, October 30 going to the addresses listed on the PDC report associated with thousands of dollars in suspicious expenses.
The address associated with a $240 grocery expense to a JT (Jaden) Sheffey, 21, is a house located in University District. No one answered the door and looking through the windows, the place had little to no furniture inside. A person resembling Sheffey sat in a vehicle outside of the location with his head down possibly texting to someone.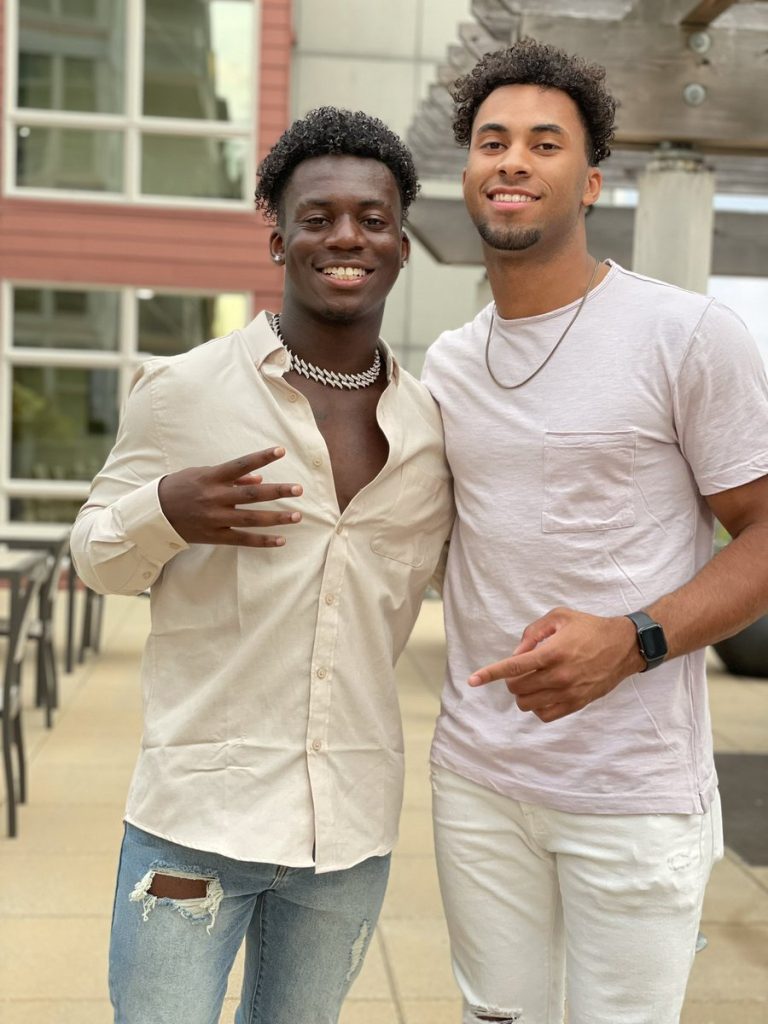 Sheffey accompanied Binda on many Black Lives Matter rallies and joined Binda in a recent October 20th King5 story promoting Binda's campaign. He played football for the Woodinville Falcons at Woodinville High School before playing for George Fox in Oregon. He is currently listed as a quarterback for the Huskies at the University of Washington as a junior.
Christy Kioko, the alleged girlfriend of Binda, told the Lynnwood Times she knows nothing about the expenses nor has anything to say. When asked to confirm if she sold Binda $1,210 in items, she abruptly ended the intercom call with the Lynnwood Times reporter at her apartment. The PDC expense report also shows Kioko receiving $250 in groceries within days of receiving $620 in payments from Binda for a laptop. Earlier this year in April, a laptop in the amount of $773.49 was expensed to the Binda campaign.
The most intriguing conversation was with a Josh Warlick, the manager for Heather Ridge Apartments in Lynnwood who confirmed that Binda does live at the apartment complex. In response to an expense in the amount of $968.05 on October 8th to a John Warlick, Josh Warlick replied, "No one by John Warlick lives here. I am Josh Warlick. Why would Josh [Binda] use my name? I never received a check from Josh."
No one answered the door of a Harbour Pointe apartment in Mukilteo where a $65 haircut was expensed to a Hosea Ruffin. The Lynnwood Times was not able to question a Tory Fletcher who was listed as a person who provided a $162 haircut on September 21.
The Lynnwood Times is awaiting more information from Mary's Towing in Everett to verify whose cars were towed and from where. Within four months, three towing expenses were recorded totaling $922.23 of which two tows and $823.14 were by Mary's Towing.
Binda expensed air travel of $260.60, yet no corresponding hotel nor car rental expenses were recorded on any PDC document. A total of $275.41 was expensed to two separate online ticketing platforms for sport, concert and theater events.
Elect Binda Public Disclosure snapshot
As of October 29, C3 reports tallied $23,184.19 in contributions from 115 donors – this includes small contributions. Only 19 (16.8%) of Binda's 115 donors are listed with a Lynnwood address and contributed $2,835 towards his campaign.
Also, Binda's campaign was averaging 21.1 donors per month prior to October 2021. However, after campaign treasurer Lo's departure and during the critical month of October, fundraising grind to a halt with only three donors contributing $1,450. This is unusual as the Lynnwood Mayoral candidate Christine Frizzell more than doubled her contributor base within the final four weeks of the campaign along with several other Lynnwood City Council candidates.
Below is a breakdown of contributions for all Lynnwood candidates.
Element
Joshua
Binda
Christine
Frizzell
Jim
Smith
Nick
Coelho
Shirley
Sutton
Lisa
Utter
Total Contribution
$23,184.19
$21,109.00
$10,346.00
$11,907.00
$7,240.20
$5,692.51
Total Donors
115
88
30
37
15
16
Small Contribution Amt
$1,610.54
$232.50
$0
$210.00
$50.00
30
% Small Contribution
6.9%
<1%
0%
1.8%
<1%
<1%
Avg Cont. per Donor
$201.60
$273.96
$344.87
$321.81
$482.68
$355.78
Cont. Amt from Lynnwood
$2,835.00
$16,110.00
$2,900.00
$3,532.00
$4,588.20
4201.01
% Cont. from Lynnwood
13.10%
66.80%
28.0%
29.7%
63.4%
73.8%
Donor from Lynnwood
19
42
12
8
8
8
% Donor from Lynnwood
16.80%
47.70%
40%
21.6%
53.3%
50%
Cont. Amt in October
$1,450.00
$5,981.00
$3,600.00
$1,000.00
$2,802.00
$1,934.99
Cont. in October
3
28
n/a
1
7
9
Avg Cont. Prior October
21.1
10.9
7.25
8
3.66
5
When analyzing Binda's expenditures, only 10 cents of every dollar spent went towards campaign material or literature compared to 25.3 to 63.6 cents for all other Lynnwood candidates.
Items categorized as "Expenses of $50 or less" comprise 21.3% (or $4,952.12) of Binda's total expenditures, whereas items in this category made up zero to 5.1% for all other candidates. Administrative expenses ranged from 18.1% to 37.5% for all other candidates but only 9.9% for Binda's 23-thousand-dollar campaign.
Element
Joshua
Binda
Christine
Frizzell
Jim
Smith
Nick
Coelho
Shirley
Sutton
Lisa
Utter
Total Expenditures
$23,204.24
$18,864.61
$5,357.57
$10,602.54
$5,171.30
$3,525.80
Administrative
9.9%
18.1%
24.7%
23.0%
36.4%
37.5%
Advertising
9.5%
31.7%
5.7%
25.3%
Apparel
1.3%
Computer/IT
3.3%
Consulting
7.5%
45.8%
Event
18.9%
EXPENSES OF $50 OR LESS
21.3%
1.4%
0.0%
5.1%
1.9%
Materials
10.0%
25.3%
41.9%
63.0%
63.6%
35.3%
Meals
0.5%
2.6%
Office Supplies
2.2%
1.7%
Phone
3.3%
Questionable
20.9%
Vehicle
0.9%
0.6%
Binda amends documents prior to campaign book inspection
In an apparent twist of events, multiple amendments to various contribution and expense reports were suddenly submitted to the PDC throughout the afternoon of Sunday, October 31 by Josh Binda. Some were amendments to newly amended reports. These changes were performed after the Lynnwood Times contacted Binda at 2:47 p.m. on Saturday, October 30 via email requesting an inspection of the campaign books of Elect Josh Binda. According to the PDC, Binda is required to fulfill this request within 48-hours for which he has agreed.
The Lynnwood Times will follow up with its findings after meeting with Binda and inspecting his campaign books on Monday. More on this story as it develops…
Related Article