U.S. Army parachute team salutes local healthcare workers
By: Erin Freeman | Lynnwood Times Staff
EVERETT- 12,500 feet above Providence Regional Medical Center, eight members of the U.S. Army's Golden Knights Parachute Demonstration Team jumped out of a military aircraft- skydiving in salute to healthcare workers on the frontline during the coronavirus pandemic.
Freefalling, rapidly reaching speeds of 120 miles per hour, the demonstrators navigated the sky using their arms, legs, and shoulders as flight controls to perform formations for the healthcare workers and other members of the crowd below. The jumpers then used their parachute's steering system to land individually in the designated drop zone, the last landing with the Washington State flag in tow.
"This is an amazing show of support for all of our caregivers at Providence," said Kim Williams, CEO of Providence Northwest Washington. "Having treated the first COVID-19 patient in the U.S., we've been at the forefront of the pandemic, and we truly appreciate the Golden Knights recognizing and honoring the great work that our caregivers have been doing."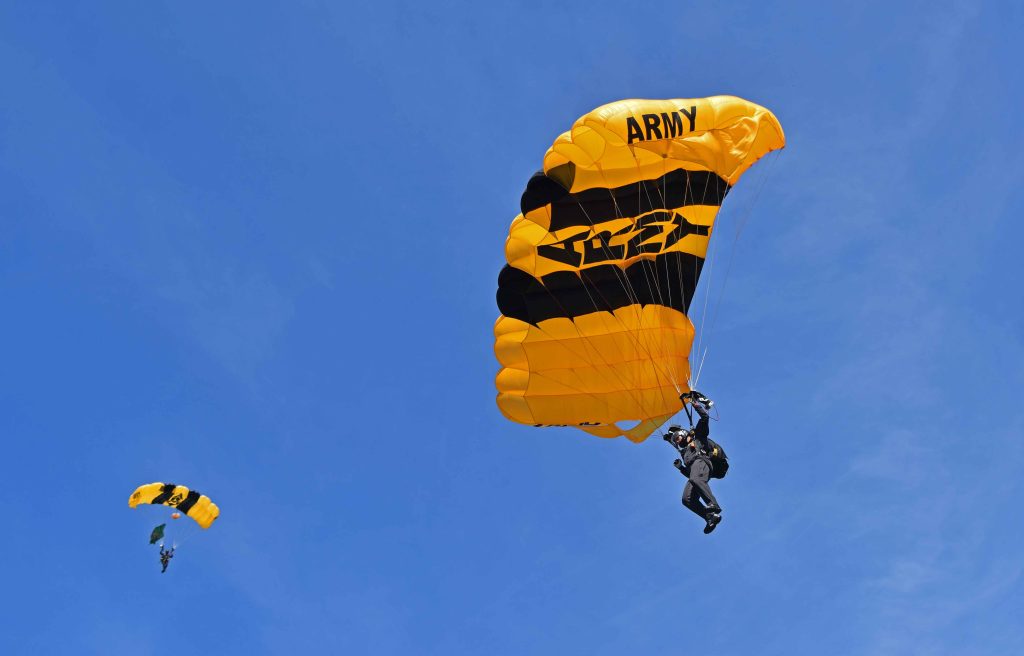 Today marked the second demonstration performance for Staff Sergeant Logan Maples, an Airborne Motor Transportation Operator who made the 2020 demonstration team last year. Maples is honored to be a part of a visual display on behalf of the U.S. Army aimed at thanking healthcare workers for their bravery and care during the pandemic.
"We came out here to show some support for the healthcare workers, they're on the frontlines. COVID-19 is a major issue in the world right now and we're just trying to show some care ourselves," explained Maples. "Having this be one of my first demonstration jumps… it's an amazing opportunity that the army's put me in to be able to do this."
Upon landing, the team presented Williams with the baton flown alongside them in freefall and the Golden Knight's Excellence Award for the care provided by the hospital's staff.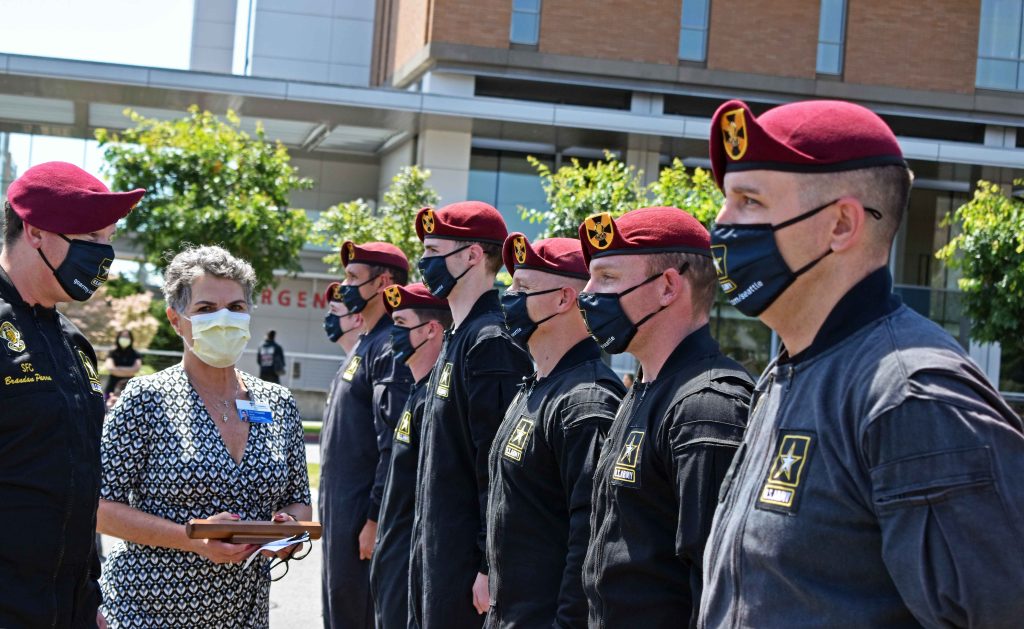 "Our caregivers are incredible. We've cared for many COVID-19 patients, and they are being cared for with kindness and compassion," said Williams. "On behalf of everyone in Providence Northwest Washington, we express our sincere thanks to the Golden Knights."
Among the members of the crowd gathered to watch the display was Valerie Grannice, an Appointment Coordinator for Radiation Oncology at the Providence Cancer Care Center. She welcomed the team's effort to show support for healthcare workers and saw her attendance as an opportunity to thank the army's soldiers for their service.
"It's a huge thank you for all of us caregivers," said Grannice. "We're going to work every day during COVID, and it's their way to say thank you, and we also we're able to support them since they're out there fighting for our country every day."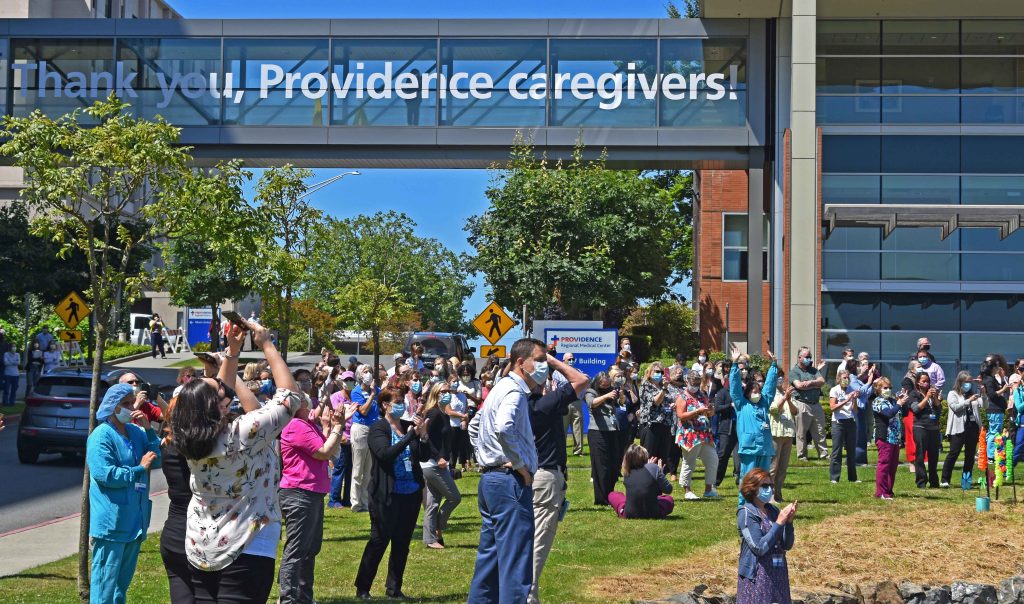 Traveling from North Carolina's Fort Bragg, known as the Home of the Airborne, the Golden Knights perform for audiences worldwide at various events year-round. Unable to attend the Seattle Seafair later this summer due to its coronavirus-induced cancellation, the U.S. Army saw the opening as an opportunity to recognize the service of others outside of their sector.
"We adapt and we figured out how to make this an opportunity that we can capitalize on. No Seafair, but we're doing stuff," explained Lieutenant Colonel Lee Spencer Wallace. "[Healthcare] is a noble profession, it comes with a heart of service and what they do for our citizens is critical and vital. It is literally a life or death matter and I couldn't thank them more."
"The Golden Knights are an amazing group, and it's so encouraging to have a demonstration like this that serves to remind us we are all in this together and supporting one another," remarked Williams.
The Golden Knights are scheduled to jump in honor of healthcare workers two more times this week in the Pacific Northwest; at the Tacoma General Hospital in Tacoma on July 15 and at Harborview Medical Center in Seattle on July 16. Both events are scheduled to begin at noon and can be live-streamed here: https://www.facebook.com/goarmyseattle/.