Lynnwood's Aquatics Team recognized as region's finest
By Erin Freeman | Lynnwood Times Staff
The City of Lynnwood's Aquatics Team has been recognized for its outstanding outreach in providing lifesaving skills education, named as the number one training provider in water safety and emergency preparedness by the American Red Cross (ARC) Northwest Region.
"It's nice to be recognized for working hard," said Andrea Robertson, Safety Officer for the Lynnwood's Aquatics Team. "Just having that confirmation that you're making a positive difference."
In 2019 the City of Lynnwood's aquatics team certified 767 people in cardiopulmonary resuscitation (CPR) and first aid, lifeguarding, water safety, or basic life support. Recognizing the variety of the courses offered and the number of people served, ARC named the team as the number one training provider in the Northwest for a consecutive third year.
Water safety has been a part of ARC's mission for over 100 years due to the importance of communities being knowledgeable and trained in emergency preparedness in water emergencies, says Don Lauritzen with ARC Training Services. Thousands of licensed partners provide Red Cross Aquatics training throughout the country, with 500 providers in the northwest's six-state region covering Alaska, Washington, Oregon, Idaho, Montana, and Wyoming.
Early first aid CPR can produce lifesaving results for somebody in cardiac arrest, says Robertson, with the survival rate in Lynnwood's surrounding area known to be one of the highest in the nation. She says that the high rate is accredited to a swift response time by local first responders but is also largely influenced by the number of people prepared to administer CPR before they arrive.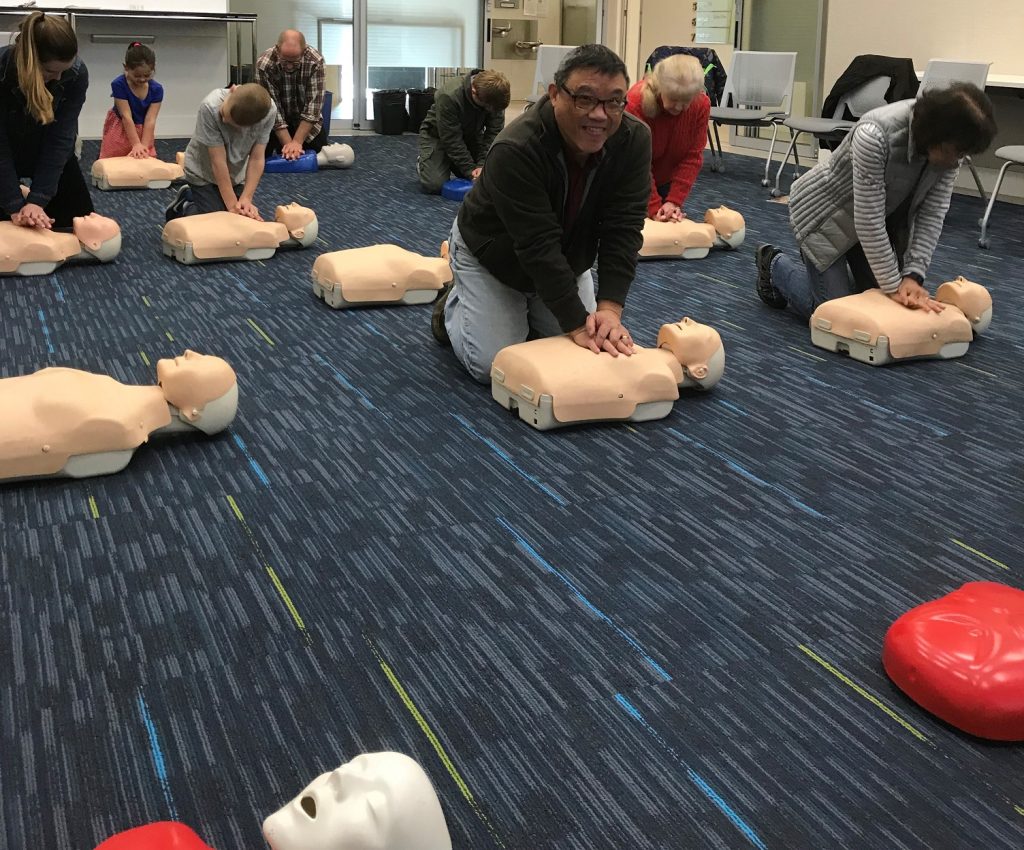 The survival rate for cardiac arrest in the area averages up to 60 percent, while in other places throughout the nation is recorded as closer to 20 percent, according to the Snohomish South County Fire and Rescue website.
"Our cardiac arrest survival rate is one of the best in the nation," said South County Fire Emergency Medical Services Division.
Bill Haugen, Recreation Manager for aquatics, says Lynwood's Parks and Recreation Department created the safety officer position eight years ago following budget cuts leading to the conclusion of the community first aid CPR classes once administered by the Lynnwood Fire Department, now a division of South Snohomish County Fire & Rescue.
"I believed it was important for us to continue to serve the community for first aid CPR," said Haugen. "In essence it saves lives, it truly does."
Since Robertson's joined the team, she's maintained a focus on empowering the Lynnwood community with enjoyable classes teaching emergency preparedness skills.
"We try to run a high standard of classes, and we also like to run our classes in a more relaxed environment than some others, we want to make it enjoyable," explained Robertson. "I've found that people learn when they're having fun. Keep it serious, keep it light, and make it enjoyable for people to remember how to do it."
"When you break down the fear of it and realize that anything can help, that's what Andrea does. It's amazing how she reaches people," added Haugen.
Haugen extends his gratitude to the City of Lynnwood and the City Council for their recognition of the importance of teaching the community the basics of first responder service. He says that without their support, the safety officer position wouldn't exist, and there wouldn't be a constant focus on prioritizing the scope of the aquatic team's training outreach.
"By equipping our neighbors, schools, and workplaces with the training needed to be prepared for emergencies and to save lives, it makes the community safer for everyone," said the city in a statement.
To sign up for a water emergency preparedness class with the Lynnwood Parks and Recreation Aquatics Team, visit the Red Cross website.