COVID-19 cases may be high but Snohomish County on track for healthcare readiness
By Erin Freeman | Lynnwood Times Staff
As coronavirus positive case rate metrics remain high in Snohomish County, the Snohomish Health District is continuing to see hospitalizations and other coronavirus trends improve.
A recent report issued by the Snohomish Health District (SHD) shows that the county's hospitals have seen a decrease in beds occupied by COVID patients, a decrease in the average percent of tests coming back positive, and a higher percentage of cases being contacted by public health staff in 24-48 hours. However, the county's case rate remains higher than desired by health officials, and the percentage of close contacts reached by public health staff within 48 hours has decreased.
On May 29, Governor Jay Inslee announced his "Safe Start plan' – a four-phase county-by-county approach, characterized by specific criteria required to move from counties through each phase. As counties demonstrate that they meet requirements, they can then apply to move into the next phase. Each county applies to State Secretary of Health John Wiesman, who reviews COVID-19 activity and the county's individual ability to respond to the virus. However, on July 28, Gov. Inslee extended the pause indefinitely on counties moving ahead in the Safe Start Washington plan.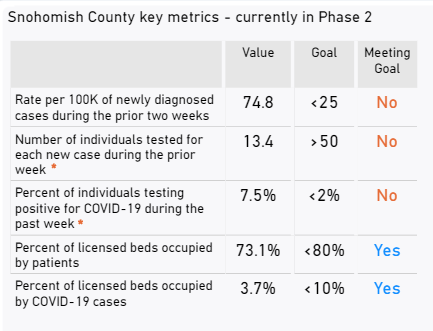 The criteria developed is updated daily in a risk assessment dashboard that includes COVID-19 activity, testing, healthcare system readiness, case investigations and contact tracing, and the protection of populations at higher risk.
COVID-19 Data Metrics
The risk assessment metrics are not intended to be hardline measures but are regarded as target numbers. If one target is not fully achieved, Wiesman can determine if actions taken with a different target may offset the overall risk of transmission. Wiesman also has the authority to return a county to an earlier phase if identified as necessary.
New cases: The target for new COVID-19 cases is 25 or fewer per 100,000 residents over 14 days. According to Snohomish Health District (SHD) data on the county's COVID-19 activity and capacity between July 26 and August 8, the county is above the 25 case maximum, sitting at 84.4 cases per 100,000 residents. There has been no change in case activity since the last report released a week prior.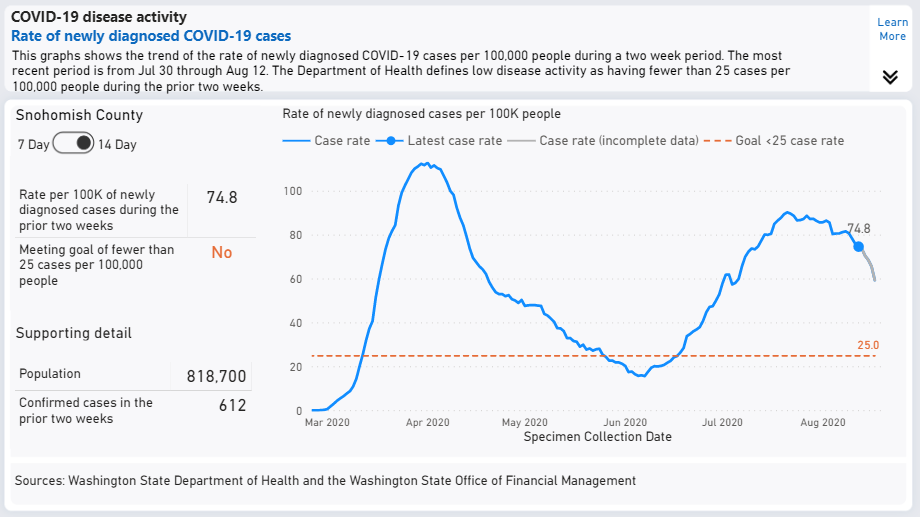 Testing ability: Washington state counties must also show adequate testing ability, with a goal of administering 50 times the number of confirmed new cases per day. Positive test results should stay under two percent each week.
As of August 8, Snohomish County is reported to be nearly four times below the testing ability, with a value of 14 tests administered for every positive case. Newly confirmed positive test results are 3.65 times above the threshold with a value of 7.3%. Since the last report testing capacity increased, sitting at 11.1 between July 16 and August 8.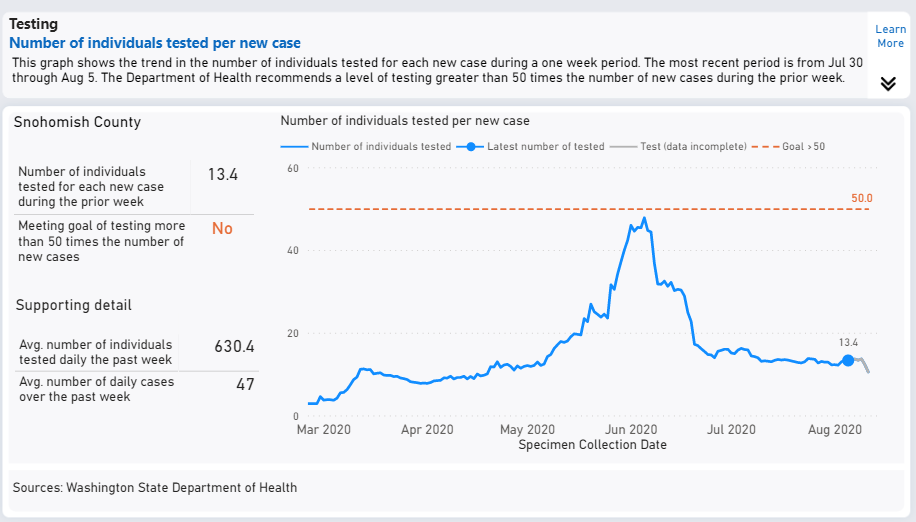 Contact tracing: The state then asks counties to hold a goal to contact 90 percent of cases within 24 hours of a positive lab test result, as well as reach all that person's contacts within 48 hours of the result.
"The goal is to contact 90% of positive cases within 24 hours of receiving COVID-19 test results," wrote SHD spokesperson Kari Bray in a June 30 blog post.
Snohomish County is at 73% in the July 16-August 8 report, increasing by 9% from 64% observed in the July 16-30 report. People reached within 48 hours is now at 80%, up from 76% observed in the last report. Yet, the percent of a positive case's contacts reached within 48 hours is at 75%, below the 80% target and down from 81%.
While the county isn't currently meeting the requirements for cases, testing, and contact tracing Snohomish County is on track in terms of healthcare system readiness.
Hospitalization: As of August 8, 3% of hospital beds are occupied by COVID-19 cases – meeting the goal of staying under 10% occupancy. In total, 73.1% of beds are occupied by patients – below the 80 percent goal maximum. According to SHD reports, the county's hospitalization numbers have decreased. However, the hospitalization for lab-confirmed COVID cases has increased.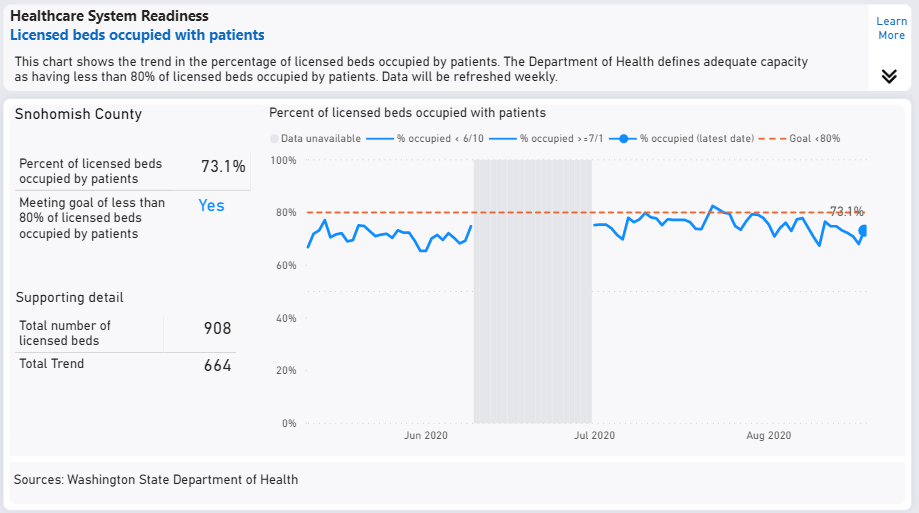 High-risk population transmission: Snohomish County also must demonstrate that high-risk populations are being protected, with two or fewer non-household cases where transmission occurred in a living facility or institutional setting at zero. According to case count data recorded between July 16 and August 8- that number is three, decreasing from 18 recorded during the 14 days previously observed.
For now, state and county officials will be monitoring and assessing the county's current situation to determine the next steps.
To support the county's coronavirus mitigation efforts, officials and the SHD are asking people to follow social distancing guidelines and adhere to Gov. Inslee's face-mask mandate.