By Alec Dietz | Lynnwood Times Staff
Just days before she had to pack her bags and fly across the country for college, Edmonds-Woodway High School graduate Eva Villavicencio needed to wrap things up in Lynnwood.
The Friday before she left, Villavicencio began the final stages of her Girl Scout Gold Award work project. Working eight hours in the interurban tunnel near the intersection of Alderwood Mall Pkwy. & Alderwood Mall Blvd., she finished a mural that takes up the full length of the tunnel and depicts colorful masked figures dancing six feet apart from one another.
"I hope the memories in the community of what six feet looks like and reminders to wear a mask and social distance and also have fun, I hope those stay in the community for longer than the mural is," Villavicencio said.
Having already received her bronze and silver awards previously in Girl Scouts, Villavicencio just needed to put the finishing touches on her most recent chapter in Lynnwood before departing to Wellesley College in Boston. But her appreciation for community service started well before this project.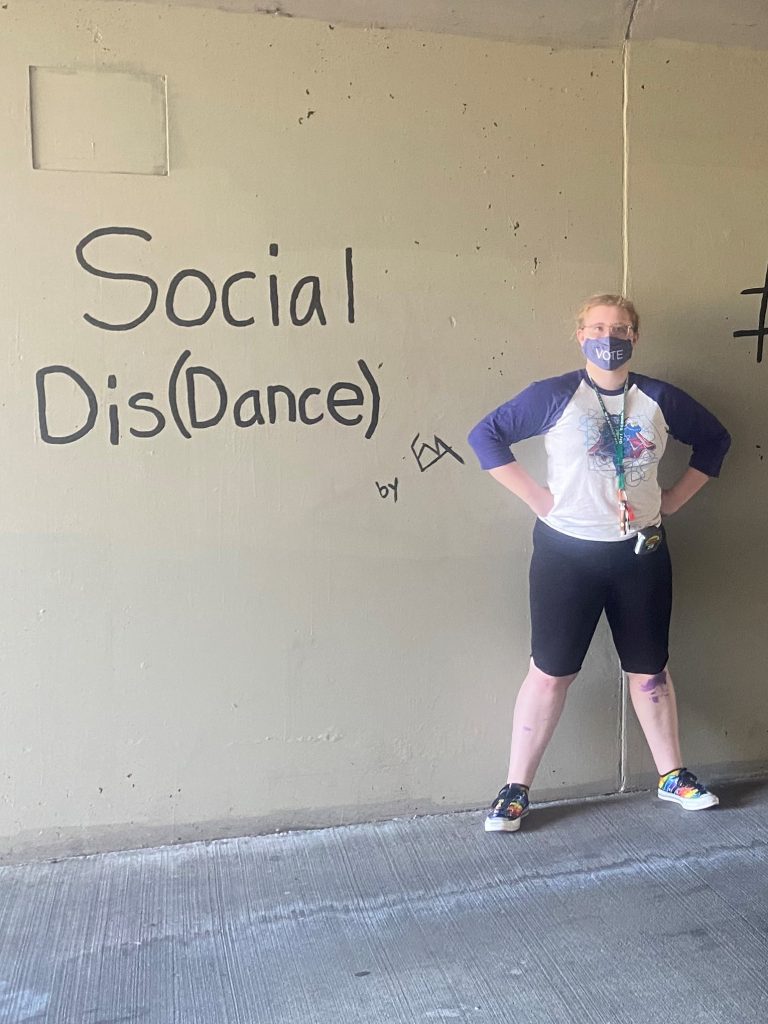 When she was 10 years old, Villavicencio participated in the St. Baldrick's Foundation program and shaved her head to raise money for childhood cancer research.
"My experience with being bald led me to have a new appreciation for how cold it is when you don't have hair, and what the kids in Children's Hospital were going through in the pediatric cancer ward," she said. "But that's just one example of community service that has directly impacted people's lives for the better, and it's a passion of mine to continue doing that throughout my life."
Since then, Villavicencio has spent bulks of her free time from school helping her community, including running a yarn and hat drive to donate warm hats to children cancer wards, repurposing a defunct newspaper dispenser into a free library, and her most recent mural project, reminding others to be safe and have fun at the same time.
"Really just to bring an aspect of levity and joy to this time in which we're all, you know, far apart and not seeing each other in person as much as we would like," Villavicencio said. "And, that's the main purpose of having music, and the dancing figures, and remembering that even though we're apart we can still have fun and enjoy ourselves."
On top of that, she wanted to emphasize the six feet of social distancing that has been recommended by the CDC and health professionals, with the symbols and figures all six feet apart from one another.
"It's a really good visual reminder of what six feet actually looks like, which is difficult to visualize because we don't carry around rulers with us," she said.
After about a week of working with the City of Lynnwood on the proposed mural and designs, and eight hours of work with a small group of friends and her mother, Villavicencio moved from Lynnwood to a hotel in Boston, where she will be quarantining until she can officially move in to her single at Wellesley.
Despite moving on to a new chapter of her life on the East Coast, in the midst of a pandemic no less, Villavicencio has sworn to continue her work serving her community in Lynnwood, and beyond.
Lynnwood residents and those interested in seeing the mural can visit it at the intersection of Alderwood Mall Pkwy. & Alderwood Mall Blvd., across the street from The Shane Company. Additionally, Villavicencio is promoting the work on her Instagram page @interurbantunnel.