Top 20 handcrafted gift picks from artists across the United States includes Lynnwood artist
By Artists Sunday | Press Release
Austin, TX – Artists Sunday, the new art-focused shopping holiday taking place the Sunday after Thanksgiving, today announced its top 20 gift picks from artists and artisans across the United States. Included in the top 20 includes the work of local artist, Barbara Goodfellow Childs.
"With more than 2,000 artists from all 50 states participating in Artists Sunday, picking a top 20 that represented diverse mediums and locations around the country was a difficult task, to say the least," said Christopher Sherman, Artists Sunday's founder. "But the team weathered the storm to choose the best of the best gift picks for this holiday season."
Born and raised in the Pacific Northwest, Barb decorates her wares to reflect the colors and textures found by the shores of Puget Sound. Most of her time is spent at the wheel, embellishing with stamps she creates herself.
The Artists Sunday movement could not come at a better time, with artists around the country reeling from the cancellation of the vast majority of in-person sales opportunities since last March. A survey from American for the Arts found the arts-and-culture sector has suffered a $13.1 billion economic hit due to the Covid-19 crisis. Childs Pottery is just one local example, with over a 70 percent drop in sales for the year so far.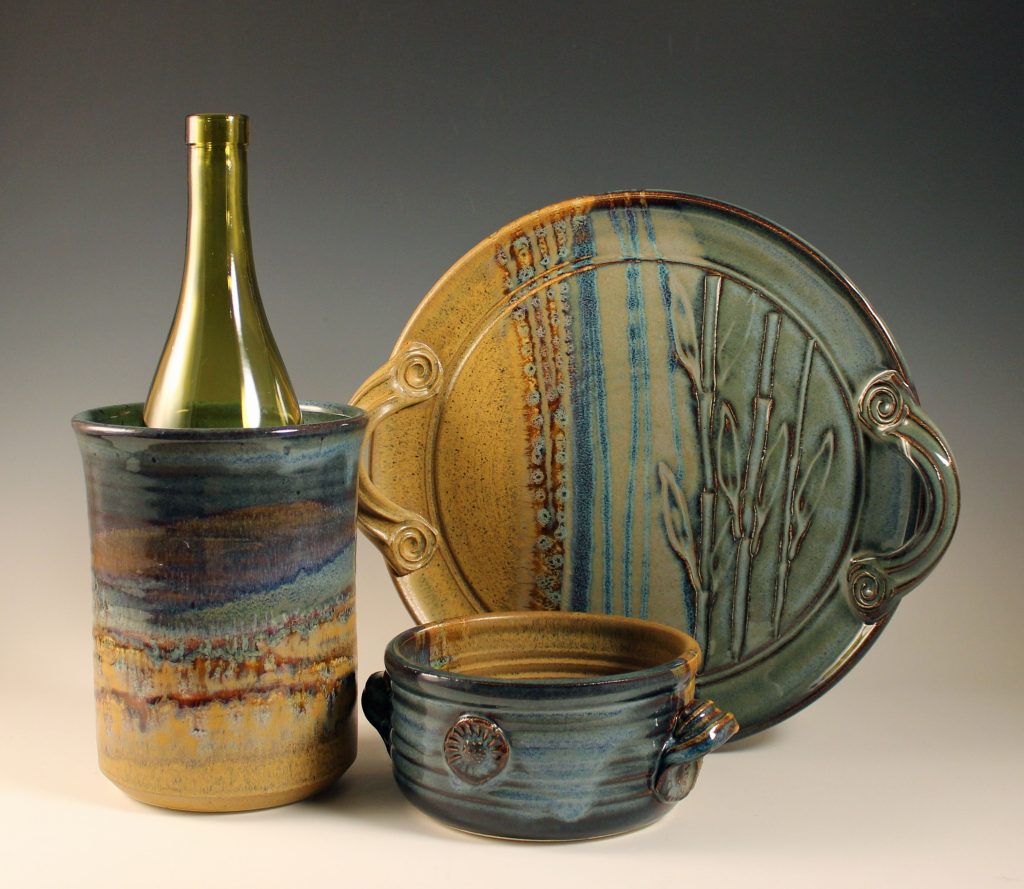 When she heard the news her work was selected, Barb said, "With the usual selling venues temporarily or permanently closed this year, I've had to find new ways to reach my customer base. Adding an online store to my website was a first major step. It's an honor to have my work recognized by Artists Sunday TM as one of their national top 20 gift picks. Hopefully, it will help pottery and art lovers find my work. Their marketing campaign efforts are truly appreciated."
"In a year of social distancing, consumers can maintain heartfelt connections with friends and loved ones this holiday season by shopping with local artists and craftspeople while supporting individual artists and boosting the local economy," Sherman said. "From one-of-a-kind, handcrafted items to monumental performances that take our breath away, the arts are boundless in their ability to inspire and deliver unique experiences that bring people together."
Click below to learn more about this year's gift picks and the artists behind them. But don't stop there. These are just the tip of the preverbal art-iceberg, with thousands of other creative craft items available to consumers from artisans across the country.
Connect with Barbara Goodfellow Childs here:
Stoneware Serving Pieces – Bamboo Decoration
By Barbara Goodfellow Childs
– Lynnwood, Washington
View images of all the items with artists details here: https://artistssunday.com/top20/
For more information visit: https://ArtistsSunday.com/.
About Artists Sunday
Artists Sunday is a nationwide alliance of professional artists, non-profit agencies, community organizations, and sponsors encouraging consumers to shop with artists, artisans and craftspeople. This artist-focused day takes place annually on the Sunday after Thanksgiving – the busiest shopping weekend of the year. Shoppers support local professional artists, find unique, personal gifts for their loved ones, and purchase something handmade. To learn more about Artists Sunday artists, partners, sponsors, or get involved visit ArtistsSunday.com