By Erin Freeman | Lynnwood Times Staff
The Lynnwood Police Department held a meet and greet with the K9 unit on Sunday, December 12, raising funds for the special needs of its German shepherd squad.
Curbside to Claim Jumpers and Anthony's Seafood Grill at Alderwood Mall, the Lynnwood Police Department's (LPD) K9 unit canines relaxed in parked patrol cars, routinely appearing to greet the community members that had gathered to meet them.
The drive-thru event hosted by the police department attracted many walkup mall-goers interested in watching the dogs participate in discipline training and take a socially distant selfie with the K9s.
K9 Earl accompanied by Officer Warren Creek, K9 Chase with newly anointed Sergeant Jake Shorthill, and K9 Rico with handler Officer Sam Zacharia were in attendance.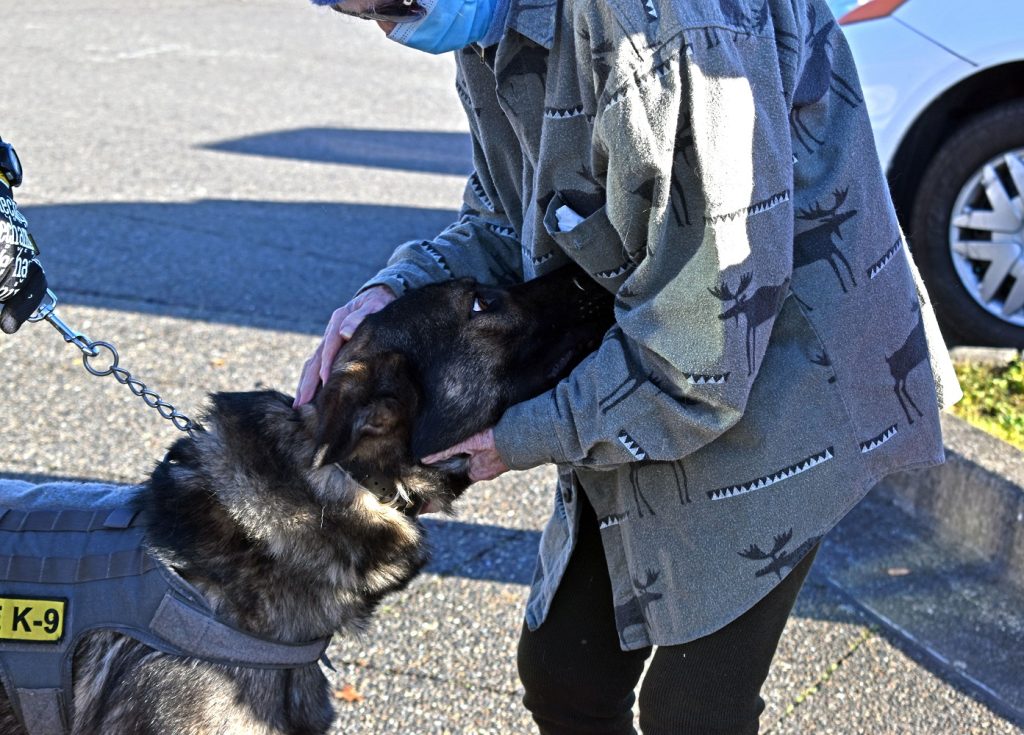 For a suggested donation of $15 to greet one dog and $25 for two, attendees received stocking stuffieshepherds to take home with them. The $4,000 raised in donations went towards purchasing training and protective equipment for the K9 unit, such as ballistic vests.
LPD spokesperson Joanna Small says that the event was well-received, with more interest than anticipated. She says the community was also overly generous, with most people donating far more than what they were asking.
"We're pretty surprised at how many people came through," she said. It's overwhelming how generous people have been.
Under normal circumstances, the LPD usually fundraises for its K9 unit at community events held throughout the year, one being the Fair on 44th; however, this year it was canceled due to the coronavirus. Still wanting to provide the community with an opportunity to meet its K9 officers, LPD decided that a drive-thru and stocking stuffie event would be an alternative opportunity.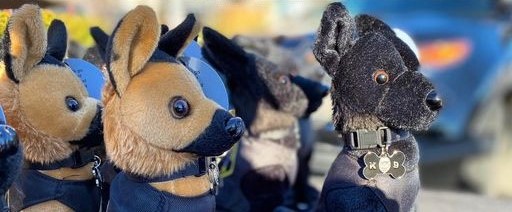 Stuffed animal plushies have been available at past fundraising events for years, but this was the first time they were handed out during the holidays.
"We had to abide by a lot of restrictions to make sure the event is COVID safe, and so it was a little more difficult to do… people love to see the dogs and seemed excited about it," Small said.
Mother-daughter duo June and Ursula Stuart, animal lovers living in Mukilteo, were in attendance to support the police department.
"We came out to support them," said Stuart. It's very important, especially in these times, to make sure the police department and the canines are supported. We're animal lovers, and that's why."
Kelly Landon, Founder of Back the Blue Snohomish County, came with her two young sons grasping the stocking stuffies. She says they attended to support their local law enforcement.
"I follow everything police wise. I think that they're amazing and that they deserve a lot more credit than they're getting right now," she said. "The canines also get forgotten about so it's a great time to get out, spend time with family, and support the cause."
If you would like a stuffie of your favorite K9 officer, please contact Sgt. Shorthill to coordinate a COVID-safe pickup my emailing jshorthill@lynnwoodwa.gov. 
To make a financial contribution, send checks to the Lynnwood Police Department, 19321 44th Ave 98036, attention: Sgt. Shorthill, payable to Lynnwood Police Canine Unit.