Hundreds came out to meet Santa and support law enforcement
By Mario Lotmore | Lynnwood Times Staff
Hundreds of Lynnwood residents lined the streets in the rain and cold to see Santa as he joined the Lynnwood Police Department (LPD) for its Operation: North Pole Patrol on Friday, December 18.
"They [LPD] are great," said Vicki Frasher, a 10-year resident of Lynnwood when asked for her thoughts of the event. "Everybody needs extra cheer this time of year and especially this year. I am thankful for everything we have. I hear about all the families struggling; we have our own struggles but nothing we can't overcome."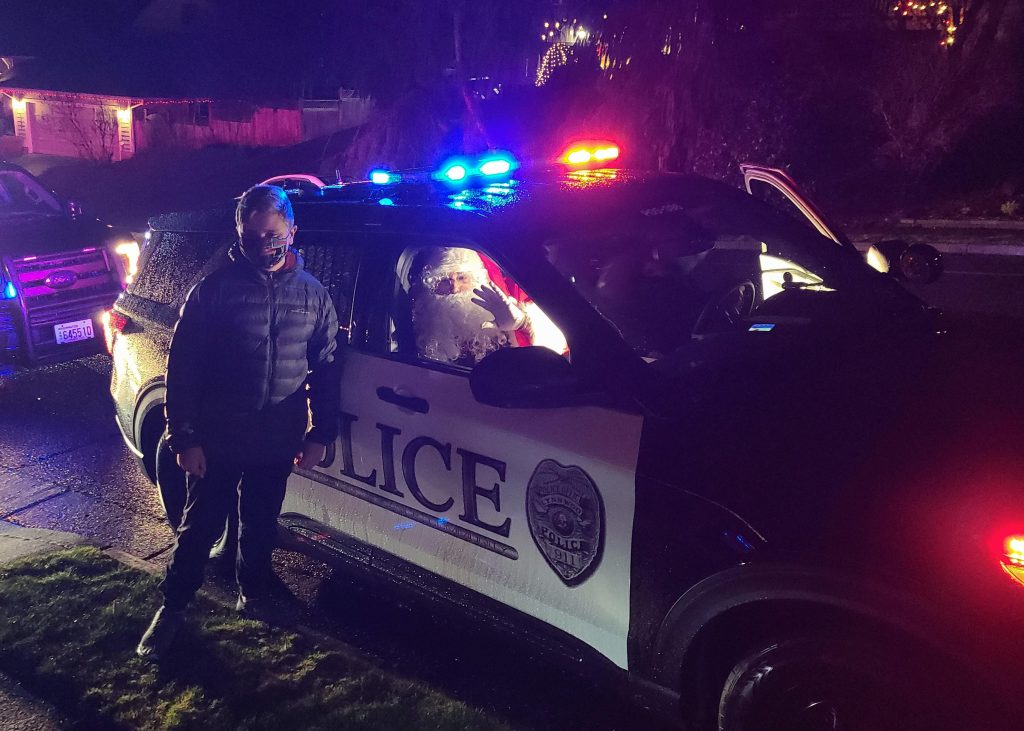 Operation: North Pole Patrol was inspired from a similar concept from the Everett Fire Department. Joanna Smalls, Public Affairs and Communications Manager for the Lynnwood Police Department, got buy-in from Police Chief Jim Davis, made arrangements with Santa – a.k.a. Commander Wes Deppa – and asked officers to volunteer to be part of the procession around the city.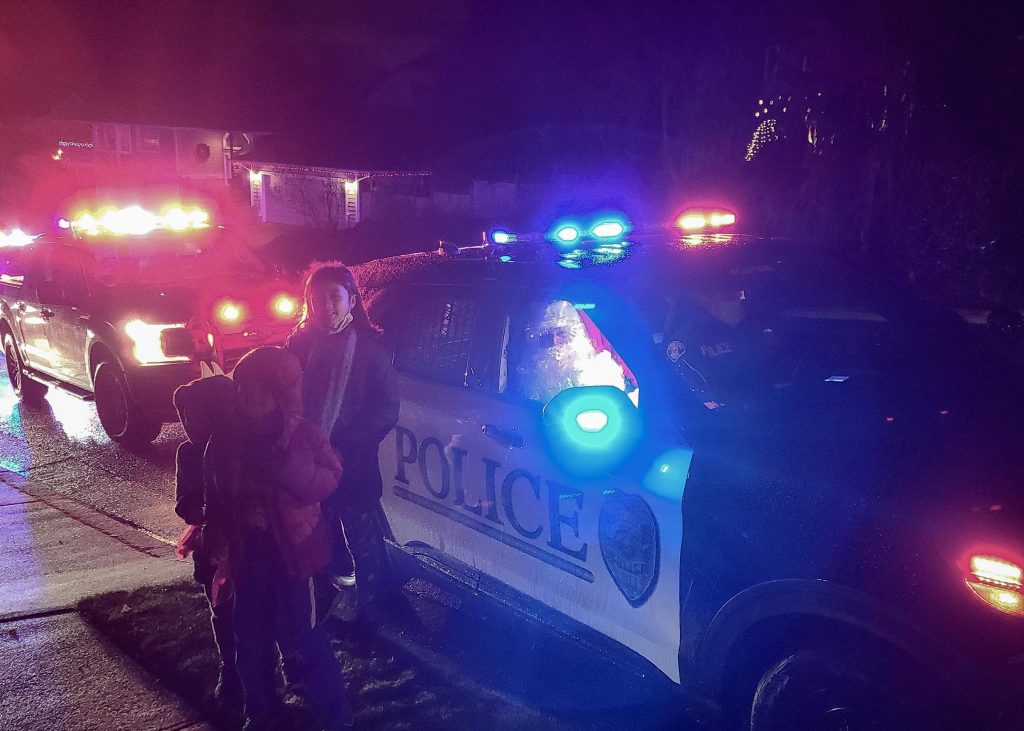 "I proposed we do something similar…especially since the majority of all community events have been cancelled this year due to COVID, including the popular Shop with a Cop," Smalls wrote in a statement to the Lynnwood Times.
"The idea was to keep the event safe by wearing masks and having Santa stay in the car. We asked for people to spread out at the parks and to simply come outside their homes and flag us down if our route passed by their house."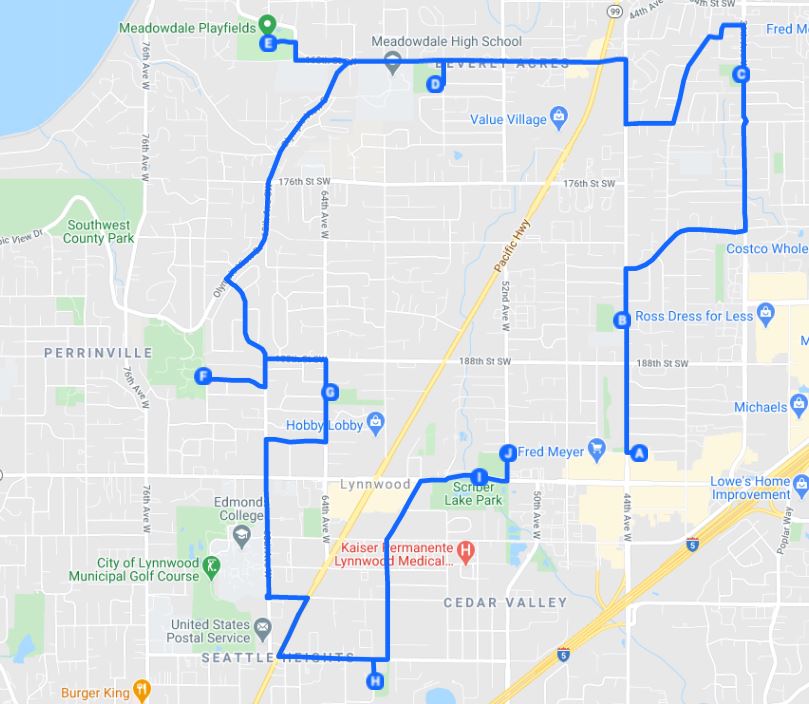 The route consisted of 10 designated parks where Santa provided bags filled with goodies for kids.
19321 44th Ave W, Lynnwood, WA 98037, USA
North Lynnwood Park, 44th Avenue West, Lynnwood, WA, USA
Spruce Park, 36th Avenue West, Lynnwood, WA, USA
Meadowdale Neighborhood Park, Lynnwood, WA, USA
Meadowdale Playfields, 66th Avenue West, Lynnwood, WA, USA
Lynndale Park Picnic Shelter, 72nd Avenue West, Lynnwood, WA, USA
Daleway Park, 64th Avenue West, Lynnwood, WA, USA
South Lynnwood Park, 61st Avenue West, Lynnwood, WA, USA
Scriber Lake Park, 198th Street Southwest, Lynnwood, WA, USA
19330 52nd Ave W, Lynnwood, WA 98036, USA
Becky, a Lynnwood resident who recently moved from Seattle shared, "[This is a] great way to spread Christmas cheer on such as unusual year. I think it is a really nice way on giving some positive vibes for everyone that is having a harder time this year."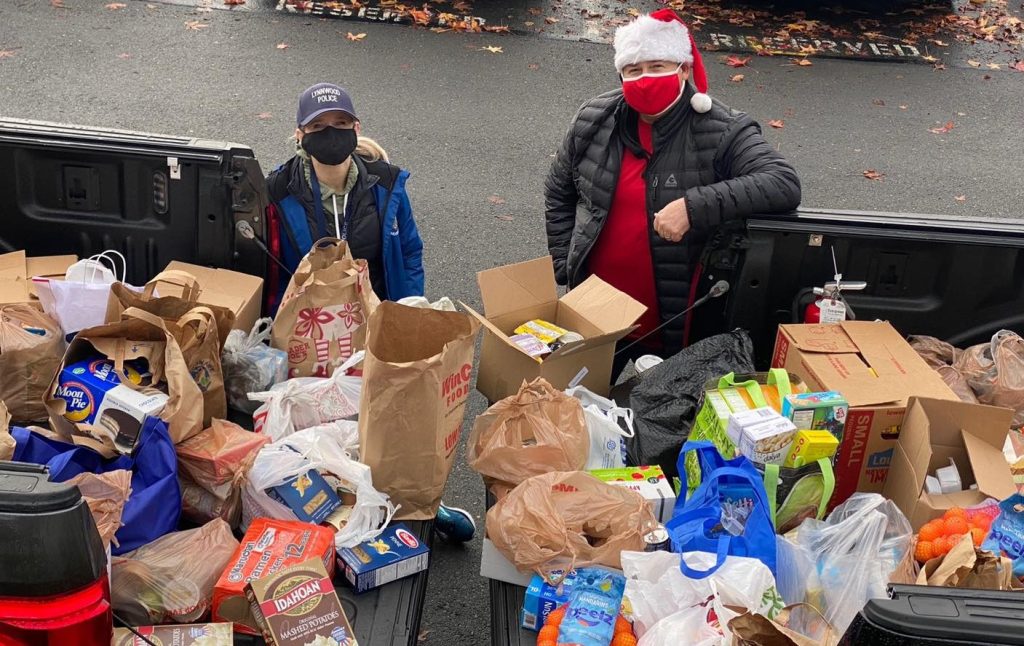 In addition to Christmas cheer, Operation: North Pole Patrol yielded two truckloads or nearly 800 pounds of food for the Lynnwood Food Bank which was dropped off Saturday morning.
"We were so excited that so many people braved the weather to participate and opened their pantries so generously," said Smalls. "We definitely hope to make this an annual thing!"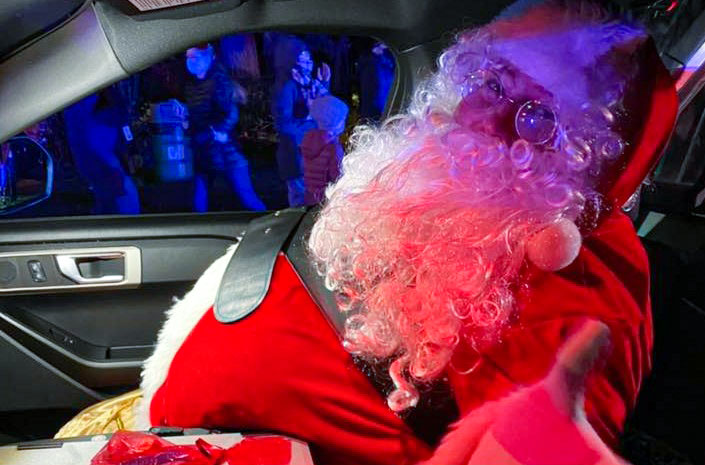 Smalls would like to thank the Lynnwood community for its "overwhelming" support.
"We honestly weren't sure what to expect because we had never done anything like this before and the weather wasn't ideal for an outdoor event. But it was incredible!
"The officers had a fantastic time interacting – from a distance – with the kids and reminding the community that their police department truly values them and is here FOR them, not against them."