Renowned artist Andy Eccleshall starts new masterpiece at ArtWorks
by Edmonds Arts Festival Foundation
Andy Eccleshall, a local artist and muralist, is leasing space at ArtWorks from the Edmonds Arts Festival to create a nine-panel, 45-foot-long mural celebrating the history of Petersburg, Alaska. Hammer & Wikan, a company in Petersburg, Alaska, has commissioned a nine-panel, 45-foot-long mural by Eccleshall.
The business started 100 years ago as a delivery service for the community, bringing milk and eggs from a farm. The artwork will be installed in Petersburg to commemorate the City's centennial anniversary and to celebrate the history of the City and the Company.
"Originally, the plan was for me to go to Alaska to do the mural project, but the current health crisis meant we needed to find another way," Eccleshall said. "When I got the commission for the Alaska project, I knew I would need a bigger space than my studio to do the work. I reached out to ArtWorks to see if renting the space was a possibility, and as there are limited classes right now, the timing worked well."
The area at the north end of Mitkof Island, where Petersburg is located, was long inhabited by the Tlingit peoples, and archaeological evidence shows that earlier Indigenous cultures also used the land. In Tlingit, the area was named Séet Ká or Gantiyaakw Séedi—"Steamboat Channel" in English.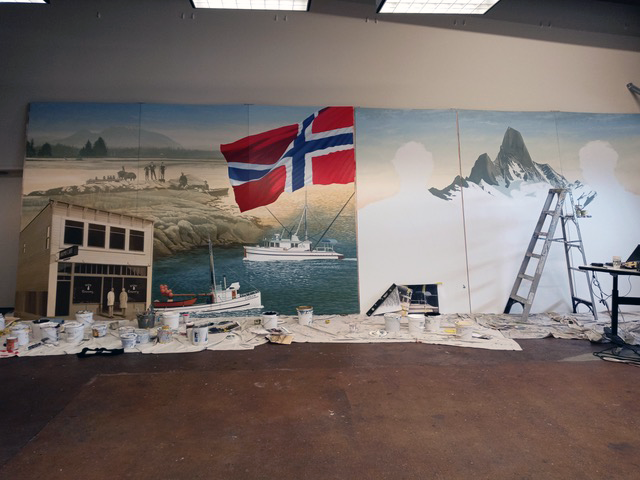 The first European colonist was Peter Buschmann, a Norwegian immigrant who settled there, building a cannery, sawmill, docks, and early structures. After Buschman and other Norwegian colonists arrived, they built a town that was subsequently named Petersburg. For many years, Petersburg flourished as a fishing port, and this continues today.
Eccleshall is well known in the Edmonds art community. His paintings are on display at Cole Gallery, as well as galleries in Edison, Washington; Albuquerque, New Mexico; Boulder, Colorado; and the Netherlands. He has been a muralist for 26 years and has painted several murals in Edmonds, including the historic Salish murals painted this summer.
ArtWorks, located at 201 2nd Ave S, Edmonds, is leased from the City and is a joint project between the Edmonds Arts Festival Foundation (non-profit) and the Edmonds Arts Festival. Monthly Festival Board meetings are held there, and storage space at ArtWorks is rented by the Festival for its use. Although art classes are conducted virtually at this time, they are typically held at ArtWorks.
For more information about ArtWorks and its classes, visit https://artworks-edmonds.org/ call (425) 774-6049, or email artworks@artworks-edmonds.org.