Women's History Month Spotlight: Hazel Miller
By Erin Freeman | Lynnwood Times Staff
With a love for Seattle and more specifically Edmonds, Hazel Miller left a generous gift to the South Snohomish County community after her passing, a legacy that will resonate for decades to come.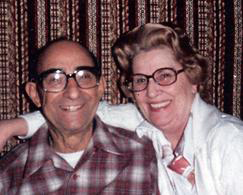 As a young woman, Miller, originally from Williston, North Dakota, moved to Seattle where she met, fell in love with, and married Morris Miller. Together, they ran a family business called Seattle Quilt Manufacturing Company, makers of the famous "comfy" sleeping bag.
"They were pioneers in making outdoor wear in the '60s and '70s in Pioneer Square," Investment Banker and friend Alan Lawrence said. "As a business owner, she was frugal but generous."
After many years of success, they sold the business to Olin Corporation, a conglomerate of sporting and other industrial holdings. The couple then moved to Edmonds where they spent the remainder of their lives. Miller, who was born in 1917, passed away in 2009.
Lawrence met Miller when she opened an investment account with him in the 1990s. In addition to thousands of shares of Olin, she had large holdings in AT&T and Medtronic, and her brother had suggested that she invest in a few companies, which "turned out to be wonderful for her," Lawrence said.
As time went on, the two began talking about her estate plans, and he recommended she consolidate her investments into one account. He recounts that on a summer day, she walked into her office with a grocery bag full of stock certificates that had been sitting in her bank deposit box for decades, amounting to over $10 million in value.
"I often reflect on how trusting she was to walk up the street in Edmonds from the bank with $10M of stock certificates in a shopping bag," Lawrence said.
With the help of her attorney, she donated $500K to Fred Hutch Cancer Research Center and the Seattle Children's Hospital to support families with medical costs, as well as the Millionaires Club in Seattle after she had seen firsthand the impact they had on helping people experiencing homelessness learn skills for employment.
"Growing up in North Dakota without much money made her more appreciative of people and how important kindness is," said Lawrence.
With an immense love for the Edmonds area, Miller created the Hazel Miller Foundation upon her death to continue as the committed community member she was.
"Hazel Miller was a wonderful person and a generous person," Foundation Board Member and friend of 60 years Richard Ellis said.
The Hazel Miller Foundation is a community-focused nonprofit, serving residents of Snohomish County through supporting programs and projects designed for public benefit. The organization is particularly dedicated to education and youth services, poverty alleviation and hunger, civic and community services and amenities, the environment, diversity, culture, and the arts.
Through her foundation, Miller has supported students in furthering their education through a variety of scholarship opportunities and has strengthened programs in the Edmonds School District at the primary and secondary levels. The foundation has also contributed to organizations that promote food stability and housing, youth afterschool clubs, child abuse centers, homeless teen centers, beds for kids, and foster care support. 
According to the Hazel Miller Foundation, it was important to Miller that the community come together in celebration, so it supports the City of Edmonds 4th of July celebration with fireworks, Shakespeare in the Park, and the City of Edmonds Summer Concert Series.  With cultural arts important to her, it also supports local theaters, ballets, and choirs, as well as an annual grant to Edmonds Center for the Arts for educational programming. Jazz festival grants have enabled the youth to become involved in the arts, allowing them to perform to a live audience.
Diversity grants funded by the foundation allow the community to celebrate diversity as well as acknowledge and move forward with the expressed need for change. At the Becoming Brave event hosted by the Life Every Voice Legacy and the Communities of Color Coalition, the Hazel Miller foundation received the Beloved Community award.
Its environmental grants are somewhat smaller, says the foundation, but offer paid summer positions for youth to weed and clean up community parks, enable students to explore the marine life on the Salish Sea Expedition, and promote all age levels with the Sound Stewards program through Earth Corps.
"I have always envisioned her as a strong, independent, courageous woman who believed that her legacy was best served by helping the community she and Morris loved, rather than to a single or a few individuals or family members," Board member Maria Montalvo said. "It was a simple act of selflessness that will resonate in Edmonds and South Snohomish County for decades to come."